Abstract
Community food production in the form of home gardening, community gardening, school gardening, and urban farming continues to increase in popularity in many parts of the world. This interest has led to public and private investment in community food production and increased need for urban agricultural planning as a way to manage growth and prioritize resource allocation. Municipal planning and thoughtful institutional support for the practice will require program evaluation and greater attention to the spatial composition and configuration of this widely dispersed practice. This article explores the results of community-supported landscape socio-ecological research in Madison, WI (USA) to assess the spatial and social dynamics of community food production. Results indicate that community food production resources are unevenly distributed across the study area. Historic community garden placement does appear to be consistent with community prioritization which dictates placing resources in areas with low median household income. However, home garden presence and recent community garden placement both occur in areas of higher than average median household income. Specific focus is placed on how an understanding of landscape placement and pattern has helped inform attempts to meet municipal and regional objectives in addressing urban food insecurity.
Access options
Buy single article
Instant access to the full article PDF.
USD 39.95
Price includes VAT (USA)
Tax calculation will be finalised during checkout.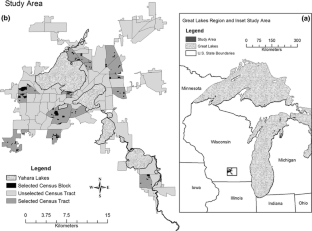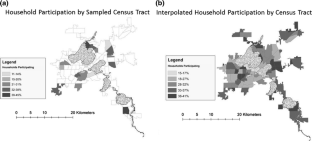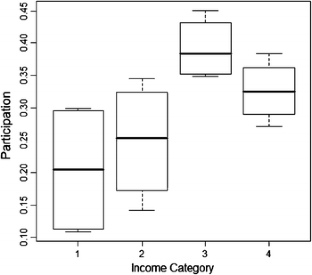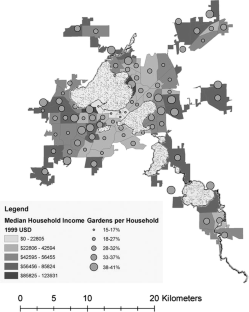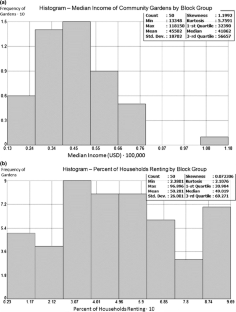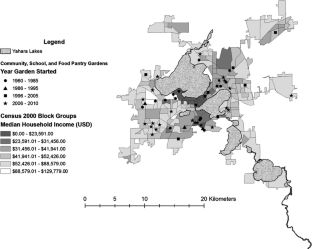 References
Adler ES, Clark R (2011) An Invitation to Social Research: How It's Done. Wadsworth Cengage Learning, Belmont

Bruinsma W, Hertog W (2003) Annotated Bibliography on Urban Agriculture. ETC Urban Agriculture Programme, Leusden

Butterfield B (2009) The Impact of Home and Community Gardening in America. National Gardening Association, Burlington

Cumming GS (2011) Spatial resilience: integrating landscape ecology, resilience, and sustainability. Landscape Ecol 26:899–909

D'Abundo ML, Carden AM (2008) Growing wellness: the possibility of promoting collective wellness through community garden education programs. Community Dev 39(4):83–94

Golley FB (1996) A state of transition. Landscape Ecol 11(6):321–323

Hamm MW, Bellows AC (2003) Community food security and nutrition educators. J Nutr Education Behavior 35(1):37–43

Hynes HP, Howe G (2004) Urban horticulture in the contemporary United States: personal and community benefits. Paper presented at the International Society of Horticultural Science conference on urban horticulture, Wadenswil, 2–6 Sept 2002

Koc M, Macrae R, Mougeot L, Welsh J (1999) Introduction: Food Security is a Global Concern. In: Koc M (ed) For Hunger Proof Cities: Sustainable Urban Food Systems. International Development Research Center, Ottawa

Lovell ST (2010) Multifunctional urban agriculture for sustainable land use planning in the United States. Sustainability 2(8):2499–2522

Lyson TA (2000) Moving toward civic agriculture. Choices 15(3):42–45

Lyson TA (2004) Civic agriculture: reconnecting farm, food, and community. In: Lyson TA (ed) Civil Society. Tufts University Press, Medford

Mannion A (2009) Green acres in the big city: increase in urban agriculture leads to new ordinances. Am City Ctry 124(7):16

Mendes W, Balmer K, Kaethler T, Rhoads A (2008) Using land inventories to plan for urban agriculture: experiences from Portland and Vancouver. J Am Plan Assoc 74(4):435–449

Mougeot LJA (2000) Urban agriculture: definition, presence, potentials and risks. In: Bakker N, Dubbeling M, Gundel S, Sabel-Koschella U, Zeeuw HD (eds) Growing Cities, Growing Food: Urban Agriculture on the Policy Agenda: a Reader on Urban Agriculture. International Development Research Centre, Ottawa

Mougeot LJA (2006) Growing Better Cities: Urban Agriculture for Sustainable Development. International Development Research Centre, Ottawa

Mukherji N, Morales A (2010) Zoning for urban agriculture. Zoning Pract 26(3):1–8

Mullinix K, Fallick A, Henderson D (2009) Beyond food security: urban agriculture as a form of resilience in Vancouver, Canada. Urban Agric Mag 22:41–42

Nord M, Andrews M, Carlson S (2008) Household Food Security in the United States, 2007. USDA, Washington DC

Patel IC (1991) Gardening's socioeconomic impacts: community gardening in an urban setting. J Ext 29(4):7–8

Pijanowski BC, Iverson LR, Drew CA, Bulley HNN, Rhemtulla JM, Wimberly MC, Bartsch A, Peng J (2010) Addressing the interplay of poverty and the ecology of landscapes: a grand challenge topic for landscape ecologists? Landscape Ecol 25:5–16

Smith VM (2011) Growing Our Own: the Socioeconomic Value of Community Food Production Dissertation. University of Wisconsin–Madison, Madison

The Food Research and Action Center (2009) Ending Childhood Hunger by 2015: The Essential Strategies for Achieving the President's Goal. The Food Research and Action Center, Washington DC

Veenhuizen RV (2006) Cities Farming for the Future: Urban Agriculture for Green and Productive Cities. International Institute of Rural Reconstruction, Cavite
About this article
Cite this article
Smith, V.M., Greene, R.B. & Silbernagel, J. The social and spatial dynamics of community food production: a landscape approach to policy and program development. Landscape Ecol 28, 1415–1426 (2013). https://doi.org/10.1007/s10980-013-9891-z
Received:

Accepted:

Published:

Issue Date:
Keywords
Urban agriculture

Urban planning

Community food security

Community food production

Socioeconomics

Spatial pattern