Abstract
The expansion of roads, and the subsequent changes to the surrounding landscape not only lead to landscape fragmentation but also have been shown to be a key driver of biodiversity loss and ecosystem degradation. Local declines of species abundance as well as changes in animal behaviour have drawn attention to wider ecosystem effects including altered species composition and a degradation of ecosystem functioning. However, methods for measuring and quantifying the distribution and environmental impacts of roads are not yet fully developed. We present a new technique for assessing the potential impacts of roads on biodiversity using a spatial road disturbance index (SPROADI). The index is calculated from three sub-indices: traffic intensity as a measure of traffic volume per time and space; vicinity impact, which is the assessment of edge effect of roads on adjacent habitats (the road-effect zone); and fragmentation grade, which provides an indication of the degree to which the landscape is intersected by roads. SPROADI was then tested using data from the Federal State of Brandenburg in north-eastern Germany. A sensitivity analysis was carried out on the results to assess the robustness of the index. The findings revealed expected patterns of high road disturbance in urban and peri-urban landscapes surrounding Berlin. Less obvious were the high levels of road density and impacts in forest plantations across the southern region of Brandenburg, and low levels of road disturbance in agricultural crop lands of the north-western region. Results were variable for areas under some form of protection. The only national park displayed substantially lower SPROADI values in contrast to the surrounding non-protected areas whilst other protected area categories, which were landscape conservation areas and nature parks, revealed SPROADI values that were equally high as those for non-protected areas. The results of this study demonstrate the strengths and potential applications of SPROADI as a quantitative means for identifying low-traffic areas in the context of conservation and sustainable transport planning.
Access options
Buy single article
Instant access to the full article PDF.
US$ 39.95
Tax calculation will be finalised during checkout.
Subscribe to journal
Immediate online access to all issues from 2019. Subscription will auto renew annually.
US$ 79
Tax calculation will be finalised during checkout.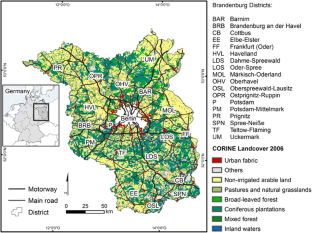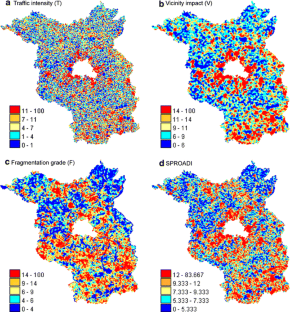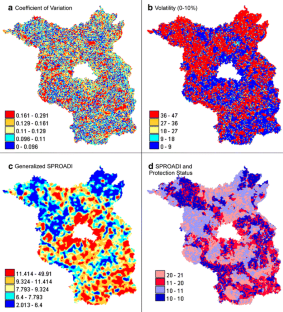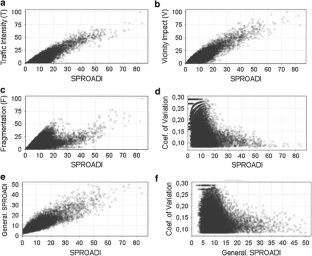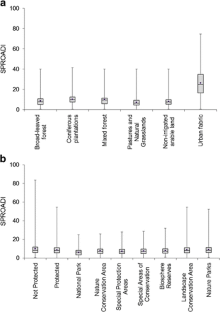 References
Alkemade R, Oorschot M, Miles L, Nellemann C, Bakkenes M, ten Brink B (2009) GLOBIO3: a framework to investigate options for reducing global terrestrial biodiversity loss. Ecosystems 12(3):374–390

Amusan A, Bada, ASB, Salami, AT (2009) Effect of traffic density on heavy metal content of soil and vegetation along roadsides in Osun state, Nigeria. W Afr J Appl Ecol 4(1):107–114

Benitez-Lopez A, Alkemade R, Verweij PA (2010) The impacts of roads and other infrastructure on mammal and bird populations: a meta-analysis. Biol Conserv 143(6):1307–1316

BfN (2008) Natura 2000—Sachdaten. Bundesamt für Naturschutz

BfN (2009) Schutzgebietskataster. Bundesamt für Naturschutz

Biber D, Freudenberger L (2011) INSENSA-GIS: an open-source software tool for GIS index development and sensitivity analysis. www.insensa.org. Accessed 28 Sept 2012

BMU (2007) Nationale Strategie zur Biologischen Vielfalt. Bundesministerium für Umwelt, Naturschutz und Reaktorsicherheit

BNatSchG (2010) Gesetz über Naturschutz und Landschaftspflege—Bundesnaturschutzgesetz, i.d.F. vom 1.3.2010

Bundesamt für Kartographie und Geodäsie (BKG) (2006) ATKIS DLM 250

Chen J, Franklin JF, Spies TA (1993) Contrasting microclimates among clearcut edge, and interior of old-growth Douglas-fir forest. Agric For Meterol 63:219–237

Cousins SA (2006) Plant species richness in midfield islets and road verges—the effect of landscape fragmentation. Biol Conserv 127(4):500–509

Crist MR, Wilmer B, Aplet GH (2005) Assessing the value of roadless areas in a conservation reserve strategy: biodiversity and landscape connectivity in the northern Rockies. J Appl Ecol 42(1):181–191

DDS Digital Data Services GmbH (2010a) Digital Data Streets Brandenburg: Spezifikation GIS, DDS Digital Data Services GmbH, Stumpfstr. 1, 76131 Karlsruhe, Germany

DDS Digital Data Services GmbH (2010b) FAW-FREQUENZATLAS Brandenburg

EEA (2011) Landscape fragmentation in Europe; joint EEA-FOEN report. EEA report

EEA and ETC–SIA (2013) NOISE, Noise Observation and Information Service for Europe maintained by the European Environment Agency (EEA) and the European Topic Centre on Spatial Information and Analysis (ETC-SIA, previously ETC-LUSI) on behalf of the European Commission in accordance with the European Directive 2002/49/EC http://noise.eionet.europa.eu. Accessed 22 March 2013

Eigenbrod F, Hecnar SJ, Fahrig L (2009) Quantifying the road-effect zone: threshold effects of a motorway on anuran populations in Ontario. Can Ecol Soc 14(1):24

Ellis EC, Ramankutty N (2008) Putting people in the map: anthropogenic biomes of the world. Front Ecol Environ 6(8):439–447

ESRI (2008) Arc GIS, Version 9.3.1 Environmental Systems Research Institute

European Commission (2010) Green infrastructure. Publications Office, Luxembourg

Ewers RM, Didham RK (2007) The effect of fragment shape and species' sensitivity to habitat edges on animal population size. Conserv Biol 21(4):926–936

Fahrig L, Rytwinski T (2009) Effects of roads on animal abundance: an empirical review and synthesis. Ecol Soc 14(1):21

Forman RTT, Deblinger RD (2000) The ecological road-effect zone of a Massachusetts (USA) suburban highway. Conserv Biol 14(1):36–46

Forman RTT, Sperling D, Bissonette JA, Clevenger AP, Cutshall CD, Dale VH, Fahrig L, France R, Goldman CR, Heanue K, Jones J, Swanson F, Turrentine T, Winter TC (2003) Road ecology: science and solutions. Island Press, Washington, DC

Girvetz EH, Thorne JH, Berry AM, Jaeger JAG (2008) Integration of landscape fragmentation analysis into regional planning: a statewide multi-scale case study for California, USA. Landscape Urban Plan 86:205–218

Hawbaker TJ, Radeloff VC (2004) Roads and landscape pattern in northern Wisconsin based on a comparison of four road data sources. Conserv Biol 18(5):1233–1244

Holderegger R, Di Giulio M (2010) The genetic effects of roads: a review of empirical evidence. Basic Appl Ecol 11(6):522–531

Hoskin CJ, Goosem MW (2010) Road impacts on abundance, call traits, and body size of rainforest frogs in northeast Australia. Ecol Soc 15(3):15

Jaeger JAG (2000) Landscape division, splitting index, and effective mesh size: new measures of landscape fragmentation. Landscape Ecol 15(2):115–130

Jaeger JAG, Raumer HS, Esswein H, Mueller M, Schmidt-Luettman M (2007) Time series of landscape fragmentation caused by transportation infrastructure and urban development: a case study from Baden-Wurttemberg, Germany. Ecol Soc 12(1):22

Joly M, Pascale B, Gbangou RY, White MC, Dubé J, Lavoie C (2011) Paving the way for invasive species: road type and the spread of common rageweed (Ambrosia artemisiifolia). Environ Manage 48:514–522

Jump AS, Peñuelas J (2005) Running to stand still: adaptation and the response of plants to rapid climate change. Ecol Lett 8(9):1010–1020

Köhler P, Chave J, Riera B, Huth A (2003) Simulating the long-term response of tropical wet forests to fragmentation. Ecosystems 6(2):114–128

Kunze B, Kreft S, Ibisch PL (2013) Naturschutz im Klimawandel: Risiken und generische Handlungsoptionen für einen integrativen Naturschutz. In: Vohland K, Badeck F, Böhning-Gaese K, Ellwanger G, Hanspach J, Ibisch PL, Klotz S, Kreft S, Kühn I, Schröder E, Trautmann S, Cramer W (eds) Schutzgebiete Deutschlands im Klimawandel—Risiken und Handlungsoptionen. Naturschutz und Biologische Vielfalt. Bundesamt für Naturschutz (BfN), Bonn

Laurance SGW, Stouffer PC (2004) Effects of road clearings on movement patterns of understory rainforest birds in central Amazonia. Conserv Biol 18(4):1099–1109

LBG (2008) Basis-DLM, ATKIS: Verkehr: Strasse, Weg, Strassenkörper, Fahrbahn, Rollbahn. Landesvermessung und Geobasisinformation Brandenburg (LBG), Potsdam

Liu SL, Cui BS, Dong SK, Yang ZF, Yang M, Holt K (2008) Evaluating the influence of road networks on landscape and regional ecological risk—a case study in Lancang River Valley of Southwest China. Ecol Eng 34(2):91–99

Malhi Y, Aragão LEOC, Galbraith D, Huntingford C, Fisher R, Zelazowski P, Sitch S, McSweeney C, Meir P (2009) Exploring the likelihood and mechanism of a climate-change-induced dieback of the Amazon rainforest. P Natl Acad Sci USA 106(49):20610–20615

Moser B, Jaeger JAG, Tappeiner U, Tasser E, Eiselt B (2007) Modification of the effective mesh size for measuring landscape fragmentation to solve the boundary problem. Landscape Ecol 22:44–459

Nepstad D, Carvalho G, Barros AC, Alencar A, Capobianco JP, Bishop J, Moutinho P, Lefebvre P, Silva UL, Prins E (2001) Road paving, fire regime feedbacks, and the future of Amazon forests. For Ecol Manage 154(3):395–407

Opdam P, Verboom J, Pouwels R (2003) Landscape cohesion: an index for the conservation potential of landscapes for biodiversity. Landscape Ecol 18:113–126

Parris KM, Schneider A (2009) Impacts of traffic noise and traffic volume on birds of roadside habitats. Ecol Soc 14(1):29

Pascual-Hortal L, Saura S (2006) Comparison and development of new graph-based landscape connectivity indices: towards the prioritization of habitat patches and corridors for conservation. Landscape Ecol 21:959–967

Rico A, Kindelmann P, Sedlacek F (2007) Barrier effects of roads on movements of small mammals. Folia Zool Praha 56(1):1

Riley SPD, Pollinger JP, Sauvajot RM, York EC, Bromley C, Fuller TK, Wayne RK (2006) A southern California freeway is a physical and social barrier to gene flow in carnivores. Mol Ecol 15(7):1733–1741

Rodrigues P, Aubrecht C, Gil A, Longcore T, Elvidge C (2012) Remote sensing to map influence of light pollution on Cory's shearwater in São Miguel Island, Azores Archipelago. Eur J Wildl Res 58(1):147–155

Saisana M, Saltelli A (2010) Uncertainty and Sensitivity Analysis of the 2010 Environmental Performance Index. JRC Scientific and Technical Reports EUR 24269 EN 2010 Joint Research Centre European Commission, Institute for the Protection and Security of the Citizen

Saisana M, Srebotnjak T (2006) Robustness assessment for composite indicators of environmental control policies. 17th annual meeting of the International Environmetrics Society, Kalmar-Sweden, 18–22 June 2006

Sanderson EW, Jaiteh M, Levy MA, Redford KH, Wannebo AV, Woolmer G (2002) The human footprint and the last of the wild. Bioscience 52(10):891–904

Selva N, Kreft S, Kati V, Schluck M, Jonsson B, Mihok B, Okarma H, Ibisch PL (2011) Roadless and low-traffic areas as conservation targets in Europe. Environ Manage 48(5):865–877

Selva N, Switalski A, Kreft S, Ibisch PL (in prep) Why keep areas road free? the importance of roadless areas. In: van der Ree R, Grilo C, Smith D (eds.) Ecology of roads: a practitioners guide to impacts and mitigation

Spear SF, Balkenhol N, Fortin M, McRae BH, Scribner KI (2010) Use of resistance surfaces for landscape genetic studies: considerations for parameterization and analysis. Mol Ecol 19(17):3576–3591

Strittholt JR, Dellasala D (2001) Importance of roadless areas in biodiversity conservation in forested ecosystems: case study of the Klamath-Siskiyou ecoregion of the United States. Conserv Biol 15(6):1742–1754

Takahata C, Amin R, Sarma P, Banerjee G, Oliver W, Fa JE (2010) Remotely-sensed active fire data for protected area management: eight-year patterns in the Manas National Park, India. Environ Manage 45(2):414–423

Taylor BD, Goldingay RL (2010) Roads and wildlife: impacts, mitigation and implications for wildlife management in Australia. Wildl Res 37(4):320–331

Theobald DM (2008) Network and accessibility methods to estimate the human use of ecosystems. 11th AGILE international conference on geographic information science 2008

Trombulak SC, Frissell CA (2000) Review of ecological effects of roads on terrestrial and aquatic communities. Conserv Biol 14(1):18–30

Umweltbundesamt (2009) CORINE Land Cover (CLC2006). DLR-DFD

UNEP (2001) Globio: global methodology for mapping human impacts on the biosphere the Arctic 2050 scenario and global application. UNEP-DEWA, Nairobi

van der Ree R, Jaeger JAG, van der Grift EA, Clevenger AP (2011) Effects of roads and traffic on wildlife populations and landscape function: road ecology is moving toward larger scales. Ecol Soc 16(1):48

van Langevelde F, van Dooremalen C, Jaarsma CF (2009) Traffic mortality and the role of minor roads. J Environ Manage 90(1):660–667

von der Lippe M, von der Kowarik I (2007) Long-distance dispersal of plants by vehicles as a driver of plant invasions. Conserv Biol 21(4):986–996

Watkins RZ, Chen JQ, Pickens J, Brosofske KD (2003) Effects of forest roads on understory plants in a managed hardwood landscape. Conserv Biol 17(2):411–419

Wilkie D, Shaw E, Rotberg F, Morelli G, Auzel P (2000) Roads, development, and conservation in the Congo basin. Conserv Biol 14(6):1614–1622

Zurita GA, Pe'er G, Hansbauer MM, Bellocq (2012) Edge effects and the suitability of anthropogenic habitats for forest birds: taking a continuous approach. J Appl Ecol 49:503–512
Acknowledgments
This research project was part of the 'roadless areas initiative' of the Policy Committee of the Society for Conservation Biology—Europe Section and has been partially carried out within the framework of the cooperative graduate program 'Adaptive Nature Conservation under Climate Change'. We would like to thank all funding partners and collaborators. The research project was partially funded by the Ministry of Science, Research and Culture of the Federal State of Brandenburg with resources from the European Social Fund. It has also been developed in the context of the project on climate change adaptation in nature conservation, Innovation Network Climate Change Adaptation Brandenburg Berlin (INKA BB), funded by the Federal Ministry for Education and Research. We are grateful to Wolfgang Cramer for comments on an earlier version of this paper. The leader and supervisor of the research team (PLI) acknowledges the awarding of the research professorship "Biodiversity and natural resource management under global change" by Eberswalde University for Sustainable Development. We appreciate the comments by two anonymous reviewers and the editor Jochen Jaeger, which greatly improved our paper.
Additional information
Lisa Freudenberger led the manuscript elaboration. Slaven Rupic and Lisa Freudenberger conducted the research. Pierre L. Ibisch established the research approach and supervised the project. Lisa Freudenberger, Peter R. Hobson, Slaven Rupic, Guy Pe'er, Nuria Selva, Stefan Kreft and Pierre L. Ibisch wrote the manuscript. Martin Schluck and Julia Sauermann supported the research project through GIS related tasks.
About this article
Cite this article
Freudenberger, L., Hobson, P.R., Rupic, S. et al. Spatial road disturbance index (SPROADI) for conservation planning: a novel landscape index, demonstrated for the State of Brandenburg, Germany. Landscape Ecol 28, 1353–1369 (2013). https://doi.org/10.1007/s10980-013-9887-8
Received:

Accepted:

Published:

Issue Date:
Keywords
Buffer effect

Landscape indices

Landscape fragmentation

Road impact

Roadless areas

Traffic volume

Traffic disturbance

Road ecology