Abstract
The twenty-first century global population will be increasingly urban-focusing the sustainability challenge on cities and raising new challenges to address urban resilience capacity. Landscape ecologists are poised to contribute to this challenge in a transdisciplinary mode in which science and research are integrated with planning policies and design applications. Five strategies to build resilience capacity and transdisciplinary collaboration are proposed: biodiversity; urban ecological networks and connectivity; multifunctionality; redundancy and modularization, adaptive design. Key research questions for landscape ecologists, planners and designers are posed to advance the development of knowledge in an adaptive mode.
Access options
Buy single article
Instant access to the full article PDF.
USD 39.95
Price excludes VAT (USA)
Tax calculation will be finalised during checkout.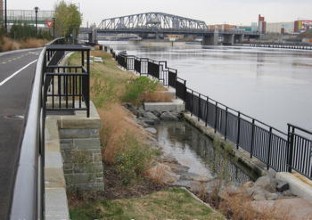 References
Adams WM (2006) The future of sustainability: re-thinking environment and development in the twenty-first century. Report of the IUCN renowned thinkers meeting, 29–31 January 2006

Ahern J (2010) Planning and design for sustainable and resilient cities: theories, strategies, and best practices for green infrastructure. In: Novotny V, Ahern J, Brown P (eds) Water-centric sustainable communities. Wiley, Hoboken, pp 135–176

Ahern J (2011) From fail-safe to safe-to-fail: sustainability and resilience in the new urban world. Landsc Urban Plan 100(4):341–343

Ahern J, Leduc E, York ML (2006) Biodiversity planning and design: sustainable practices. Island Press, Washington

Aminzadeh B, Khansefid M (2010) A case study of urban ecological networks and a sustainable city: Tehran's metropolitan area. Urban Ecosyst 13:23–36

Beatley T (2000) Green urbanism learning from European cities. Island Press, Washington

Bengtsson J, Angelstam P, Elmqvist T, Emanuelsson U, Folke C, Ihse M, Moberg F, Nyström M (2003) Reserves, resilience and dynamic landscapes. Ambio 32(6):389–396

Botkin D (1990) Discordant harmonies: a new ecology for the twenty-first century. Oxford University Press, New York

Bryant M (2006) Urban landscape conservation and the role of ecological greenways at local and metropolitan scales. Landsc Urban Plan 76:23–44

Chivian E, Bernstein A (2008) Sustaining life: how human health depends on biodiversity. Oxford University Press, New York

Colding J (2007) Ecological land-use complementation' for building resilience in urban ecosystems. Landsc Urban Plan 81:46–55

Corner J (2006) Terra fluxus. In: Waldheim C (ed) The landscape urbanism reader. Princeton University Press, Princeton, pp 13–33

Dearborn DC, Kark S (2009) Motivations for conserving urban biodiversity. Conserv Biol 24(2):432–440

Dramstad W, Olson J, Forman R (1996) Landscape ecology principles in landscape architecture and land use planning. Island Press, Washington

Felson AJ, Pickett STA (2005) Designed experiments: new approaches to studying urban ecosystems. Frontiers Ecol Environ 3(10):549–566

Forman RTT (1995) Land mosaics. Cambridge University Press, Cambridge

Goddard MA, Dougill AJ, Benton TG (2010) Scaling up from gardens: biodiversity conservation in urban environments. Trends Ecol Evol 25(2):90–98

Grimm N, Grove JM, Pickett STA, Redman CL (2000) Integrated approaches to long-term studies of urban ecological systems. Bioscience 50(7):571–584

Gunderson L (1999) Resilience, flexibility and adaptive management—antidotes for spurious certitude? Conserv Ecol 3(1):7

Hellmund PC, Smith DS (2006) Designing greenways: sustainable landscapes for nature and people. Island Press, Washington

Holling CS (1978) Adaptive environmental assessment and management, Wiley international series on applied systems analysis, vol 3. Wiley, Chichester

Ignatieva M, Stewart GH, Meurk C (2011) Planning and design of ecological networks in urban areas. Landsc Ecol Eng 7:17–25

Kato S, Ahern J (2008) Learning by doing: adaptive planning as a strategy to address uncertainty in planning. Environ Plan 51(4):543–559

Kato S, Ahern J (2009) Multifunctional landscapes as a basis for sustainable landscape development. Landsc Res Jpn 72(5):799–804

LEED, United States Green Building Council, Introduction to LEED. http://www.usgbc.org/DisplayPage.aspx?CMSPageID=1988. Accessed March 31, 2012

LID, Low Impact Development Center. http://www.lowimpactdevelopment.org/. Accessed July 25, 2012

Lister NM (2007) Sustainable large parks: ecological design or designer ecology? In: Hargreaves G, Czerniak J (eds) Large parks. Architectural Press, New York, pp 35–54

Lovell ST, Johnston DM (2009) Creating multifunctional landscapes: how can the field of ecology inform the design of the landscape? Front Ecol Environ 7(4):212–220

Metropolitan Waterfront Alliance. Design the edge. http://www.waterfrontalliance.org/projects/designtheedge. Accessed March 31, 2012

MetropoleRuhr (2010) Under the open sky: Emscher landscape park. Birkhäuser, Basel

Müller N, Werner P (2010) Urban biodiversity and the case for implementing the convention on biological diversity in towns and cities. In: Müller N, Werner P, Kelcey JG (eds) Urban biodiversity and design. Wiley-Blackwell, West Sussex, pp 1–33

Musacchio LR (2009) The scientific basis for the design of landscape sustainability: a conceptual framework for translational landscape research and practice of designed landscapes and the six Es of landscape sustainability. Landscape Ecol 24:993–1013

Nassauer JI, Opdam P (2008) Design in science: extending the landscape ecology paradigm. Landscape Ecol 23:633–644

Naveh Z (2001) Ten major premises for a holistic conception of multifunctional landscapes. Landsc Urban Plan 57:269–284

Noss RF (1993) Wildlife corridors. In: Smith DS, Hellmund PS (eds) Ecology of greenways. University of Minnesota Press, Minneapolis, pp 43–68

Opdam P, van Apeldoorn R, Schotman A, Kalkhoven J (1993) Population response to landscape fragmentation. In: Vos CC, Opdam P (eds) Landscape ecology of a stressed environment. Chapman and Hall, London, pp 147–171

Opdam P, Verboom J, Pouwels R (2003) Landscape cohesion: an index for the conservation potential of landscapes for biodiversity. Landscape Ecol 18:113–126

Otte A, Simmering D, Wolters V (2007) Biodiversity at the landscape level concepts for multifunctional land use. Landscape Ecol 22:639–642

Pickett STA, Cadenassso ML, Grove JM, Nilon CH, Pouyat RV, Zipperer WC, Costanza R (2001) Urban ecological systems: linking terrestrial, ecological, physical, and socioeconomic components of metropolitan areas. Annu Rev Ecol Syst 32:127–157

Pickett STA, Cadenassso ML, Morgan GJ (2004) Resilient cities: meaning, models, and metaphor for integrating the ecological, socio-economic, and planning realms. Landsc Urban Plan 69(4):369–384

Potschin M, Haines-Young R (2006) Rio+10, sustainability and landscape ecology. Landsc Urban Plan 75:162–174

Rottle N, Yocom K (2010) Ecological design. AVA Publishing, Lausanne

Soulé ME (1991) Land use planning and wildlife maintenance: guidelines for conserving wildlife in an urban landscape. J Am Plan Assoc 3:313–323

Sukkop H, Wurzel A (2003) The effects of climate change on the vegetation of central European cities. Urban Habitats 1:66–86

Sustainable Sites. The Sustainable Sites Initiative. http://www.sustainablesites.org/. Accessed March 31, 2012

Taleai M, Sharifi A, Sliuzas R, Mesgar M (2007) Evaluating the compatibility of multifunctional and intensive land uses. Int J Appl Earth Obs Geoinform 9:375–391

Tress B, Tress G, Fry G (2005) Integrative studies on rural landscapes: policy expectations and research practices. Landsc Urban Plan 70:177–191

Tzoulas K, James P (2009) Making biodiversity measures accessible to non-specialists: an innovative method for rapid assessment of urban biodiversity. Urban Ecosyst 13:113–127

ULTRA (2009) Urban long-term research area (ULTRA) exploratory awards (ULTRA-Ex). http://www.nsf.gov/pubs/2009/nsf09551/nsf09551.htm. Accessed September 25, 2011

UN Habitat (2006) State of the world's cities 2006/07. Earthscan, London

Waldheim C (2006) Landscape as urbanism. In: Waldheim C (ed) The landscape urbanism reader. Princeton University Press, Princeton, pp 37–51

Walker B (1995) Conserving biological diversity through ecosystem resilience. Conserv Biol 9(4):747–752

Walker B, Salt D (2006) Resilience thinking: sustaining ecosystems and people in a changing world. Island Press, Washington, DC
About this article
Cite this article
Ahern, J. Urban landscape sustainability and resilience: the promise and challenges of integrating ecology with urban planning and design. Landscape Ecol 28, 1203–1212 (2013). https://doi.org/10.1007/s10980-012-9799-z
Received:

Accepted:

Published:

Issue Date:

DOI: https://doi.org/10.1007/s10980-012-9799-z
Keywords
Urban sustainability

Urban resilience

Strategic planning

Urban biodiversity