Abstract
The pan European biological and landscape diversity strategy (PEBDLS) was developed under the auspices of the Council of Europe in order to achieve the effective implementation of the convention of biological diversity (CBD) at the European level. A key element of PEBLDS has been the development of the Pan European Ecological Network (PEEN) as a guiding vision for coherence in biodiversity conservation. PEEN has been developed in three subprojects: Central and Eastern Europe, completed in 2002; South-eastern Europe, completed in 2006; and Western Europe, also completed in 2006. The methodology of the development of the three maps has been broadly comparable but data availability, differences in national databases, technical developments and geographical differences caused variations in the detailed approach. One of the challenges was to find common denominators for the habitat data in Europe; this was solved differently for the subprojects. The project has resulted in three maps that together constitute the PEEN. They differ in terms of ecological coherence and the need for ecological corridors; for example, in Central and Western Europe corridors are essential to provide connectivity, while in Northern, Eastern and South-eastern Europe larger, coherent natural areas still exist. The future steps in developing PEEN should include the implementation of national ecological networks and, in particular, the pursuit of international coherence through the development of trans-European ecological corridors. The big challenge is to develop a common approach among the over 100 European-wide agencies that are responsible for biodiversity conservation.
This is a preview of subscription content, log in to check access.
Access options
Buy single article
Instant access to the full article PDF.
US$ 39.95
Price includes VAT for USA
Subscribe to journal
Immediate online access to all issues from 2019. Subscription will auto renew annually.
US$ 99
This is the net price. Taxes to be calculated in checkout.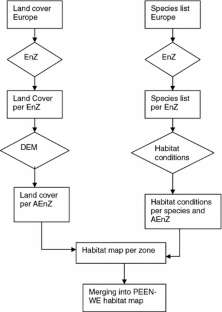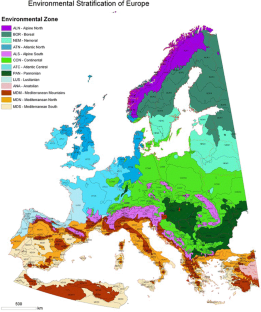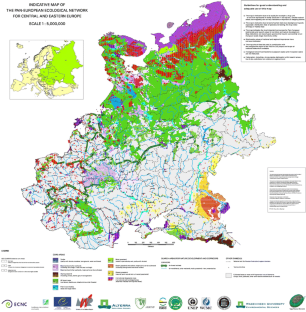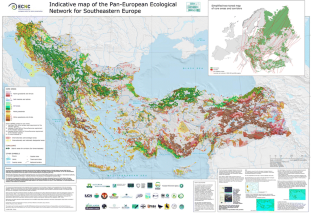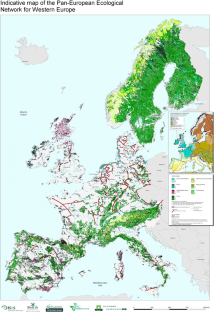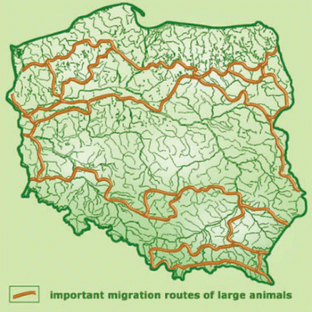 References
Ahern JF (2004) Greenways in the USA, theory, trends and prospects. In: Jongman RHG, Pungetti GP (eds) Ecological networks and greenways, concept, design and implementation. Cambridge University Press, Cambridge, pp 34–55

Bennett G (2004) Integrating biodiversity conservation and sustainable use, lessons learnt from ecological networks. IUCN Gland, Switzerland

Bennett G, Wit P (2001) The development and application of ecological networks, a review of proposals. Lessons learnt from ecological networks. IUCN/AIDEnvironment, Amsterdam

Biró E, Bouwma I, Grobelnik V (2006) Indicative map of the Pan European Ecological Network in South-eastern Europe. Technical Background document, Tilburg, ECNC-European Centre for Nature Conservation, ECNC Technical Report series

Boere GC, Galbraith CA, Stroud DA (eds) (2006) Waterbirds around the world. The stationery office, Edinburgh, p 960

Bonnin M, Bruszik A, Delbaere B, Lethier H, Richard D, Rientjes S, Van Uden G, Terry A (2007) The Pan European Ecological Network: taking stock. Counc Europe nat environ 146:116

Bouwma IM, Jongman RHG Butovsky RO (2002) Indicative map of the pan-European ecological network for central and Eastern Europe. Technical background document. ECNC, Technical report series, Tilburg/Budapest, p 101

Bunce RGH, Pérez-Soba M, Jongman RHG, Gómez-Sal A, Herzog F Austad I (2004) Transhumance and biodiversity in European mountains. Report of the EU FP5 project Transhumount. IALE publication series nr 1. p 321

Bunce RHG, De Aranzabal I, Schmitz MF, Pineda FD (2006) A review of the role of Drove Roads (Cañadas) as ecological corridors. Alterra-report 1428

Bunce RHG, Metzger MJ, Jongman RHG, Brandt J, de Blust G, Elena Rossello R, Groom GB, Halada L, Hofer G, Howard DC, Kovář P, Mücher CM, Padoa-Schioppa E, Paelinx D, Palo A, Perez-Soba M, Ramos IL, Roche P, Skånes H, Wrbka T (2008) A standardized procedure for surveillance and monitoring European habitats and provision of spatial data. Landscape Ecol 23:11–25

Catchpole R (2007) England Habitat Network Briefing Note, Natural England, p 23

Commission of the European Communities (2003) Council directive 92/43/EEC of 21 May 1992 on the conservation of natural habitats and of wild fauna and flora. As amended by the Accession Act of Austria, Finland and Sweden (1995); Accession Act of the Czech Republic, the Republic of Estonia, the Republic of Cyprus, the Republic of Latvia, the Republic of Lithuania, the Republic of Hungary, the Republic of Malta, the Republic of Poland, the Republic of Slovenia and the Slovak Republic (2003) and Council Directive 2006/105/EC 20 November 2006 adapting Directives 73/239/EEC, 74/557/EEC and 2002/83/EC in the field of environment, by reason of the accession of Bulgaria and Romania. http://eur-lex.europa.eu/LexUriServ/LexUriServ.do?uri=CONSLEG:1992L0043:20070101:EN:HTM

Commission of the European Communities (2007) Guidance document on Article 6 (4) of the Habitat Directive' 92/43/EEC: Clarification of the concepts of: alternative solutions, imperative reasons of overriding public interest, compensatory measures, overall coherence, opinion of the Commission. European Commission, Brussels

Council of Europe (1996) Pan-European biological and landscape diversity strategy. Nature and environment No 74. Council of Europe Press, Strasbourg, p 50

Council of Europe (2009) The Emerald Network. Network of areas of special conservation interest. Council of Europe, Strasbourg. http://www.coe.int/t/dg4/cultureheritage/nature/econetworks/Presentation_en.asp

Devictor V, Julliard R, Couvet D, Jiguet F (2008) Birds are tracking climate warming, but not fast enough. Proc R Soc B 275:2743–2748

Evans D (2006) The habitats of the European Union Habitats Directive. Biol Env: Proc Royal Irish Acad 106b:167–173

Harris LD (1984) The fragmented forest: island biogeography theory and the preservation of biotic diversity. University of Chicago Press, Chicago, p 229

Hepcan S, Coskun Hepkan Ç, Bouwma IM, Jongman RHG, Özkan B (2009) Ecological networks as a new way to nature conservation in Turkey; a case study for Izmir province. Landsc Urban Plan 90(3/4):143–155

Jedrzejewski B, Jedrzejewski W (2008) The influence of the fragmentation of nature on populations of animals. Conference proceedings: implementation of the concept of ecological networks in Poland

Jędrzejewski W, Nowak S, Stachura K, Skierczyński M, Mysłajek RW, Niedziałkowski K, Jędrzejewska B, Wójcik JM, Zalewska H, Pilot M (2005) Projekt korytarzy ekologicznych łączących Europejską Sieć Natura 2000 w Polsce. (Proprosal for ecological corridors linking Natura 2000). Phare Project PL0105.02 Implementation of the European Ecological Network in Poland, p 86

Jongman RHG (2002) Homogenisation and fragmentation of the European landscape: ecological consequences and solutions. Landsc Urban Plan 58:211–221

Jongman RHG, Pungetti GP (2004) Ecological networks and greenways, concept, design and implementation. Cambridge University Press, Cambridge

Jongman RHG, Külvik M, Kristiansen I (2004) European ecological networks and greenways. Landsc Urban Plan 68:305–319

Jongman RHG, Bouwma IM, Van Doorn A (2006a) Indicative map of the pan-European ecological network in Western Europe. Technical Background Document. Alterra Report 1429, p 103

Jongman RHG, Bunce RGH, Metzger MJ, Mücher CA, Howard DC, Mateus VL (2006b) A statistical environmental stratification of Europe: objectives and applications. Landscape Ecol 21:409–419

Loveland TR, Belward AS (1997) The IGBP-DIS global 1 km land cover data set, DISCover first results. Int J Remote Sens 18(5):3289–3295

Mander Ü, Külvik M, Jongman RHG (2003) Scaling in territorial ecological networks. Landschap 20(2):113–127

Manzano P, Malo JE, Peco B (2005) Sheep gut passage and survival of Mediterranean shrub seeds. Seed Sci Res 15(1):21–28

Metzger MJ, Bunce RGH, Jongman RHG, Mücher CA, Watkins JW (2005) A statistical stratification of the environment of Europe. J Glob Ecol Biogeogr 14:549–563

Ministry of Agriculture, Nature and Food Quality (2006) Agenda voor een vitaal platteland, Meerjarenprogramma 2007–2013. Government document presented to the Parliament, p 156

Mücher CA, Champeaux JL, Steinnocher KT, Griguolo S, Wester K, Heunks C, Winiwater W, Kressler P, Goutorbe JP, ten Brink B, van Katwijk VF, Furberg O, Perdigao V, Nieuwenhuis GJA (2001) Development of a consistent methodology to derive land cover information on a European scale from remote sensing for environmental monitoring. The PELCOM report, p 160

Noss RF (1992) The wildlands project: land conservation strategy. Wild Earth (Special Issue), 10–25

Rientjes S, Roumelioti K (2003) Support for ecological networks in European nature conservation, an indicative social map. ECNC Technical report series, p 55

Rodoman BB (1974) Polarization of landscape as a manage agent in protection of biosphere and recreational resources. In: Resursy, Sreda, Rasselenije Moscow, Nauka, pp 150–162 (in Russian)

Sobolev NA, Shvarts EA, Kreindlin ML, Mokievsky VO, Zubakin VA (1995) Russia's protected areas: a survey and identification of development problems. Biodivers Conserv 4:964–983

Somma D, Aued MB, Bachman L (2004) The ecological Networks development in the Yungas, Argentina: planning, economic and social aspects. In: Jongman RHG, Pungetti G (eds) Ecological networks and greenways, concept, design and implementation. Cambridge University Press, Cambridge, pp 251–269

Ssymank A, Balzer S, Ulrich K (2005) Biotopverbund und Kohärenz nach Artikel 10 der flora-fauna-habitat richtlinie; ergebnisse eines internationalen workshops auf der Insel Vilm. Natursch Landsch 38(2):45–49

Swenson JE (2000) Action plan for the conservation of the Brown Bear (Ursus arctos) in Europe group of experts on conservation of large Carnivores, Oslo, p 9

Von Haaren C, Reich M (2006) The German way to greenways and habitat networks. Landsc Urban Plan 76:7–22

Vos CC, Berry P, Opdam P, Baveco H, Nijhof B, O'Hanley J, Bell C, Kuipers H (2008) Adapting landscapes to climate change: examples of climate-proof ecosystem networks and priority adaptation zones. J Appl Ecol 45:1722–1731
Acknowledgments
The preparation of an indicative PEEN maps started in 1999, was finalised in 2006 and reported to the European Ministers of Environment in 2007. We acknowledge all those who made the work possible by funding it, the Ministry of Agriculture Nature and Food Quality of The Netherlands through its Policy Supporting Research Instrument, the Dutch BBI-MATRA fund, the Council of Europe and the Swiss Government. We also acknowledge the Walloon Government for their support as well as the national and international data providers that made the technical development of the maps possible, the Committee of Experts for the development of the Pan-European Ecological Network that supported the process from its inception, and the hundreds of policy advisors who have been consulted. We are also grateful to the stakeholders who made their knowledge and data available for this project. Without their willingness to support and contribute the project would have been impossible in the context of the complex situation in Europe that has prevailed throughout this decade.
About this article
Cite this article
Jongman, R.H.G., Bouwma, I.M., Griffioen, A. et al. The Pan European Ecological Network: PEEN. Landscape Ecol 26, 311–326 (2011). https://doi.org/10.1007/s10980-010-9567-x
Received:

Accepted:

Published:

Issue Date:
Keywords
Ecological network

Europe

Ecological corridors

Indicator species

Habitat suitability

Ecological data