Abstract
Urban areas are a particular landscape matrix characterized by a fine-grained spatial arrangement of very diverse habitats (urban mosaic). We investigated arthropods to analyse biodiversity-habitat associations along five environmental gradients (age, impervious area, management, configuration, composition) in three Swiss cities (96 study sites). We considered total species richness and species richness within different functional groups (zoophagous, phytophagous, pollinator, low mobility, and high mobility species). Information theoretical model selection procedures were applied and predictions were calculated based on weighted models. Urban areas yielded on average 284 arthropod species (range: 169–361), with species richness correlating mostly with heterogeneity indices (configuration and composition). Species richness also increased with age of urban settlement, while enlarged proportions of impervious area and intensified habitat management was negatively correlated. Functional groups showed contrasted, specific responses to environmental variables. Overall, we found surprisingly little variation in species richness along the gradients, which is possibly due to the fine-grained spatial interlinkage of good (heterogeneous) and bad (sealed) habitats. The highly fragmented nature of urban areas may not represent a major obstacle for the arthropods currently existing in cities because they have probably been selected for tolerance to fragmentation and for high colonisation potential. Given that built areas are becoming denser, increasing spatial heterogeneity of the urban green offers potential for counteracting the detrimental effects of densification upon urban biodiversity. By quantifying the expected effects along environmental gradients, this study provides guidance for managers to set priorities when enhancing urban arthropod species richness.
Access options
Buy single article
Instant access to the full article PDF.
USD 39.95
Price excludes VAT (USA)
Tax calculation will be finalised during checkout.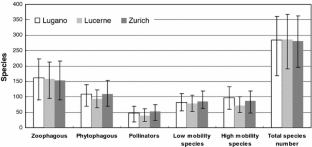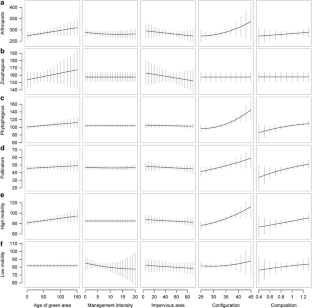 References
Angold PG, Sadler JP, Hill MO, Pullin A, Rushton S, Austin K, Small E, Wood B, Wadsworth R, Sanderson R, Thompson K (2006) Biodiversity in urban habitat patches. Sci Total Environ 360:196–204

Bächli G, Flückiger PF, Obrist MK, Duelli P (2006) On the microdistribution of species of Drosophilidae and some other Diptera across a forest edge. Mitteilungen der Schweizerischen Entomologischen Gesellschaft 79:117–126

Bornstein RD (1968) Observations of the urban heat island effect in New York City. J Appl Meteorol 7:575–582

Bundesamt für Statistik (2005) Arealstatistik Schweiz: Zahlen––Fakten––Analysen, Neuchâtel, p 99

Burnham KP, Anderson DR (2002) Model selection and multimodel inference: a practical information-theoretic approach. Springer-Verlag, New York

Connell JH (1978) Diversity in tropical rain forests and coral reefs. Science 199:1302–1310

Crawley MJ (2007) The R book. John Wiley & Sons Ltd, Chichester

Cushman SA, McGariyal K, Neel MC (2008) Parsimony in landscape metrics: strength, universality, and consistency. Ecol Indic 8:691–703

de Vries S, Verheij RA, Groenewegen PP, Spreeuwenberg P (2003) Natural environments––healthy environments? An exploratory analysis of the relationship between greenspace and health. Environ Plan A 35:1717–1731

Dennis P, Young MR, Gordon IJ (1998) Distribution and abundance of small insects and arachnids in relation to structural heterogeneity of grazed, indigenous grasslands. Ecol Entomol 23:253–264

Denys C, Schmidt H (1998) Insect communities on experimental mugwort (Artemisia vulgaris L.) plots along an urban gradient. Oecologia 113:269–277

Duelli P (1997) Biodiversity evaluation in agricultural landscapes: an approach at two different scales. Agric Ecosyst Environ 62:81–91

Duelli P, Obrist MK (2003) Biodiversity indicators: the choice of values and measures. Agric Ecosyst Environ 98:87–98

Duelli P, Obrist MK (2005) Eine preiswerte Methode zur Abschätzung der lokalen Arthropodenfauna: "rapid biodiversity assessment" (RBA). Schriftenreihe der Forschungsanstalt Reckenholz 56:132–138

Duelli P, Obrist MK, Schmatz DR (1999) Biodiversity evaluation in agricultural landscapes: above-ground insects. Agric Ecosyst Environ 74:33–64

Duelli P, Obrist MK, Flückiger PF (2002) Forest edges are biodiversity hotspots––also for neuroptera. Acta Zoologica Academiae Scientiarum Hungaricae 48:75–87

Dunn RR, Gavin MC, Sanchez MC, Solomon JN (2006) The pigeon paradox: dependence of global conservation on urban nature. Conserv Biol 20:1814–1816

Folke C, Holling CS, Perrings C (1996) Biological diversity, ecosystems, and the human scale. Ecol Appl 6:1018–1024

Folke C, Carpenter S, Walker B, Scheffer M, Elmqvist T, Gunderson L, Holling CS (2004) Regime shifts, resilience, and biodiversity in ecosystem management. Annu Rev Ecol Evol Syst 35:557–581

Fuller RM, Smith GM, Sanderson JM, Hill RA, Thomson AG, Cox R, Brown NJ, Clarke RT, Rothery P, Gerard FF (2002) Countryside survey 2000 module 7. Land cover map 2000. Final report CSLCM. Centre for Ecology and Hydrology, Monks Wood, UK

Fuller RA, Irvine KN, Devine-Wright P, Warren PH, Gaston KJ (2007) Psychological benefits of greenspace increase with biodiversity. Biol Lett 3:390–394

Germann C, Sattler T, Obrist MK, Moretti M (2008) Xero-thermophilous and grassland ubiquist species dominate the weevil fauna of Swiss cities (Coleoptera, Curculionoidea). Mitteilungen der Schweizerischen Entomologischen Gesellschaft 81:141–154

Grimm NB, Faeth SH, Golubiewski NE, Redman CL, Wu JG, Bai XM, Briggs JM (2008) Global change and the ecology of cities. Science 319:756–760

Hartley DJ, Koivula MJ, Spence JR, Pelletier R, Ball GE (2007) Effects of urbanization on ground beetle assemblages (Coleoptera, Carabidae) of grassland habitats in western Canada. Ecography 30:673–684

Helden AJ, Leather SR (2004) Biodiversity on urban roundabouts––Hemiptera, management and the species-area relationship. Basic Appl Ecol 5:367–377

Holling CS (1973) Resilience and stability of ecological systems. Annu Rev Ecol Syst 4:1–23

Home R, Keller C, Nagel P, Bauer N, Hunziker M (2009) Selection criteria for species as representatives of conservation organizations. Environ Conserv 36:139–148

Hunter L, Rinner L (2004) The association between environmental perspective and knowledge and concern with species diversity. Soc Nat Resour 17:517–532

Johnson JB, Omland KS (2004) Model selection in ecology and evolution. Trends Ecol Evol 19:101–108

Jonsen ID, Fahrig L (1997) Response of generalist and specialist insect herbivores to landscape spatial structure. Landscape Ecol 12:185–197

Kouakou D, Sattler T, Obrist MK, Duelli P, Moretti M (2008) Recent Swiss records of rare bee species (Hymenoptera, Apidae) with two species new to Switzerland. Mitteilungen der Schweizerischen Entomologischen Gesellschaft 81:191–198

Legendre P, Legendre L (1998) Numerical ecology. Elsevier Science PV, Amsterdam

Marzluff JM (2005) Island biogeography for an urbanizing world: how extinction and colonization may determine biological diversity in human-dominated landscapes. Urban Ecosyst 8:157–177

Matteson KC, Ascher JS, Langellotto GA (2008) Bee richness and abundance in New York city urban gardens. Ann Entomol Soc Am 101:140–150

McDonnell MJ, Hahs AK (2008) The use of gradient analysis studies in advancing our understanding of the ecology of urbanizing landscapes: current status and future directions. Landscape Ecol 23:1143–1155

McGarigal K, Marks BJ (1995) FRAGSTATS: spatial pattern analysis program for quantifying landscape structure. General technical report PNW-GTR-351. USDA Forest Service. Pacific North West Research Station 351, Portland, OR, p 141

McGarigal K, Cushman SA, Neel MC, Ene E (2002) FRAGSTATS: spatial pattern analysis program for categorical maps. University of Massachusetts, Amherst

McIntyre NE (2000) Ecology of urban arthropods: a review and a call to action. Ann Entomol Soc Am 93:825–835

McIntyre NE, Rango J, Fagan WF, Faeth SH (2001) Ground arthropod community structure in a heterogeneous urban environment. Landscape Urban Plan 52:257–274

McKinney ML (2006) Urbanization as a major cause of biotic homogenization. Biol Conserv 127:247–260

Miller JR (2005) Biodiversity conservation and the extinction of experience. Trends Ecol Evol 20:430–434

Morris MG, Lakhani KH (1979) Responses of grassland invertebrates to management by cutting: 1. species-diversity of Hemiptera. J Appl Ecol 16:77–98

Murcia C (1995) Edge effects in fragmented forests: implications for conservation. Trends Ecol Evol 10:58–62

Naeem S, Li SB (1997) Biodiversity enhances ecosystem reliability. Nature 390:507–509

Naeem S, Thompson LJ, Lawler SP, Lawton JH, Woodfin RM (1994) Declining biodiversity can alter the performance of ecosystems. Nature 368:734–737

Niemela J (1999) Is there a need for a theory of urban ecology? Urban Ecosyst 3:57–65

Niemela J, Haila Y, Punttila P (1996) The importance of small-scale heterogeneity in boreal forests: variation in diversity in forest-floor invertebrates across the succession gradient. Ecography 19:352–368

Obrist MK, Duelli P (in press) Rapid biodiversity assessment of arthropods for monitoring average local species richness and related ecosystem services. Biodivers Conserv. doi:10.1007/s10531-010-9832-y

Oliver I, Beattie AJ (1993) A possible method for the rapid assessment of biodiversity. Conserv Biol 7:562–568

Peres-Neto PR, Legendre P, Dray S, Borcard D (2006) Variation partitioning of species data matrices: estimation and comparison of fractions. Ecology 87:2614–2625

Pinheiro J, Bates D, DebRoy S, Sarkar D, R Core team (2008) nlme: linear and nonlinear mixed effects models

R Development Core Team (2007) R: a language and environment for statistical computing. R Foundation for Statistical Computing, Vienna, Austria

Rebele F (1994) Urban ecology and special features of urban ecosystems. Glob Ecol Biogeogr Lett 4:173–187

Sattler T, Borcard D, Arlettaz R, Bontadina F, Legendre P, Obrist M, Moretti M (in press) Spider, bee and bird communities in cities are shaped by environmental control and high stochasticity. Ecology. doi:10.1890/09-1810

Shaffer ML (1981) Minimum population sizes for species conservation. Bioscience 31:131–134

Smith RM, Gaston KJ, Warren PH, Thompson K (2006a) Urban domestic gardens (VIII): environmental correlates of invertebrate abundance. Biodivers Conserv 15:2515–2545

Smith RM, Warren PH, Thompson K, Gaston KJ (2006b) Urban domestic gardens (VI): environmental correlates of invertebrate species richness. Biodivers Conserv 15:2415–2438

United Nations (2008) World urbanization prospects: the 2007 revision. United Nations, New York

Ward DF, Harris RJ (2005) Invasibility of native habitats by argentine ants, Linepithema humile, in New Zealand. N Z J Ecol 29:215–219

Wermelinger B, Flückiger PF, Obrist MK, Duelli P (2007) Horizontal and vertical distribution of saproxylic beetles (Col., Buprestidae, Cerambycidae, Scolytinae) across sections of forest edges. J Appl Entomol 131:104–114

Whittaker RJJWK, Field R (2001) Scale and species richness: towards a general, hierarchical theory of species diversity. J Biogeogr 28:453–470

Wu JG (2004) Effects of changing scale on landscape pattern analysis: scaling relations. Landscape Ecol 19:125–138

Xu RH (2003) Measuring explained variation in linear mixed effects models. Stat Med 22:3527–3541

Zanette LRS, Martins RP, Ribeiro SP (2005) Effects of urbanization on Neotropical wasp and bee assemblages in a Brazilian metropolis. Landscape Urban Plan 71:105–121
Acknowledgements
We thank the house owners that provided access to their properties and the authorities of Lucerne, Lugano and Zurich for their support of the project. We are grateful to V. Albin, J. Ambrosini, J. Bolliger, F. Bontadina, T. Fabbro, B. Fecker, F. Fibbioli, S. Fontana, F. Gebreselassie, D. Häring, R. Home, W. Kastenholz, F. Kienast, M. Cooke Kindermann, S. Klopfstein, L. Milani, A. Niederer, J. Pellet, M. Ryf, M. Schaub, A. Schulz, R. Siegwart, R. Tester and P. Wirz who helped in the field, in the lab, with statistical questions or the organization of the project. The following arthropod specialists supported us by determining the species: C. Canepari (Coccinelidae), Y. Chittaro (Carabidae), P. Duelli (Neuroptera), C. Germann (Curculionidae), X. Heer (Araneae), C. Pradella (Lucanidae, Buprestidae, Cerambycidae). F. Bontadina, R. Home and M. Schaub and two anonymous reviewers improved earlier versions of the manuscript. Special thanks go to M. Lehmann. This study forms part of the interdisciplinary project 'BiodiverCity' (www.biodivercity.ch) which aims at the identification, maintenance and enhancement of biodiversity and their acceptance in the urban development process. BiodiverCity was funded by the Swiss National Science Foundation as a project of NRP54 'Sustainable development of the built environment' (www.nrp54.ch).
Electronic supplementary material
Below is the link to the electronic supplementary material.
About this article
Cite this article
Sattler, T., Duelli, P., Obrist, M.K. et al. Response of arthropod species richness and functional groups to urban habitat structure and management. Landscape Ecol 25, 941–954 (2010). https://doi.org/10.1007/s10980-010-9473-2
Received:

Accepted:

Published:

Issue Date:

DOI: https://doi.org/10.1007/s10980-010-9473-2
Keywords