Abstract
Changes in forest landscape structure have been suggested as a likely contributing factor behind the long-term decline in the numbers of cyclic grey-sided voles (Clethrionomys rufocanus) in northern Fennoscandian lowland regions in contrast to mountain regions due to the absence of forest management in the mountains. This study, for the first time, formally explored landscape structure in 29 lowland (LF) and 14 mountain forest (MF) landscapes (each 2.5 × 2.5 km) in northern Sweden, and related the results to the cumulated spring trapping index of the grey-sided vole in 2002–2006. The grey-sided vole showed striking contrasts in dynamics close in space and time. The MF landscapes were characterized by larger patches and less fragmentation of preferred forest types. The grey-sided vole was trapped in all of 14 analyzed MF landscapes but only in three out of 29 of the LF landscapes. MF and LF landscapes with grey-sided vole occurrence were characterized by similar focal forest patch size (mean 357 ha, minimum 82 ha and mean 360 ha, minimum 79 ha, respectively). In contrast, these MF compared to the LF landscapes were characterized by larger patches of preferred forest types and less fragmented preferred forest types and by a lower proportion of clear-cut areas. The present results suggest that landscape structure is important for the abundance of grey-sided voles in both regions. However, in the mountains the change from more or less seasonal dynamics to high-amplitude cycles between the mid 1990s and 2000s cannot be explained by changes in landscape structure.
This is a preview of subscription content,
to check access.
Access this article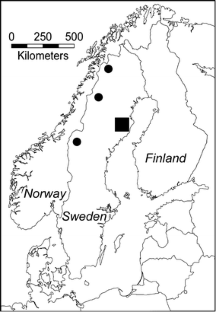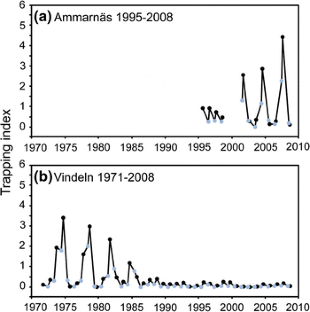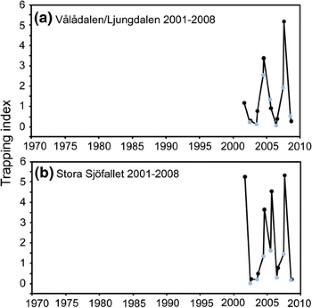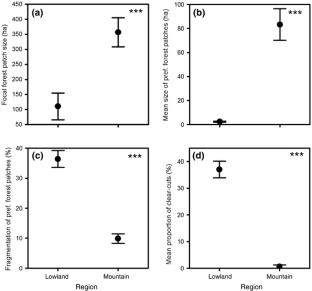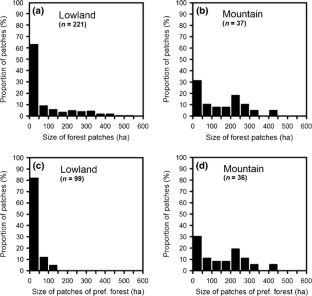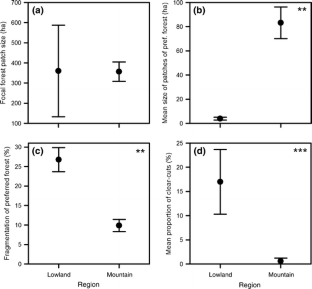 References
Andersson M, Jonasson S (1986) Rodent cycles in relation to food resources on an alpine heath. Oikos 46:93–106

Andrén H (1994) Effects of habitat fragmentation on birds and mammals in landscapes with different proportions of suitable habitat: a review. Oikos 71:355–366

Arnborg T (1990) Forest types of northern Sweden. Introduction to and translation of "Det nordsvenska skogstypsschemat". Vegetatio 90:1–13

Bierman SM, Fairbairn JP, Petty SJ, Elston DA, Tidhar D, Lambin X (2006) Changes over time in the spatiotemporal dynamics of cyclic populations of field voles (Microtus agrestis L.). Am Nat 167:583–590

Christensen P, Hörnfeldt B (2006) Habitat preferences of Clethrionomys rufocanus in boreal Sweden. Landscape Ecol 21:185–194

Christensen P, Ecke F, Sandström P, Nilsson M, Hörnfeldt B (2008) Can landscape properties predict occurrence of grey-sided voles? Popul Ecol 50:169–179

Dahlgren J, Oksanen L, Sjödin M, Olofsson J (2007) Interactions between gray-sided voles (Clethrionomys rufucanus) and bilberry (Vaccinium myrtillus), their main winter food plant. Oecologia 152:525–532

Ecke F, Löfgren O, Hörnfeldt B, Eklund U, Ericsson P, Sörlin D (2001) Abundance and diversity of small mammals in relation to structural habitat factors. Ecol Bull 49:165–171

Ecke F, Hörnfeldt B, Christensen P, Löfgren O (2003) Habitat selection and population dynamics of small mammals at different spatial scales in a Swedish mountain region. In: Ecke F (ed) Effects of landscape patterns on small mammal abundance. PhD thesis, Paper V, Luleå University of Technology

Ecke F, Christensen P, Sandström P, Hörnfeldt B (2006a) Identification of landscape elements related to local declines of a grey-sided vole population. Landscape Ecol 21:485–497

Ecke F, Christensen P, Sandström P, Nilsson M, Hörnfeldt B (2006b) Change in landscape structure 1970–2005 and its potential effect for biodiversity in boreal Sweden. In: Abstracts of the 13th scientific conference of the international forest research association, Umeå, Sweden, 28–30 Aug 2006

Ecke F, Christensen P, Sandström P, Nilsson M, Hörnfeldt B (2006c) Decline of grey-sided voles in managed boreal forests tracks long-term habitat fragmentation. In: Abstracts of the 1st European congress of conservation biology, Eger, Hungary, 22–26 Aug 2006

ESRI (Environmental Systems Research Institute Inc.) (2005) ArcGIS 9.2. ArcInfo, Redlands, California

Hambäck PA, Schneider M, Oksanen T (1998) Winter herbivory by voles during a population peak: the relative importance of local factors and landscape pattern. J Anim Ecol 67:544–553

Hansen TF, Stenseth NC, Henttonen H, Tast J (1999) Interspecific and intraspecific competition as causes of direct and delayed density dependence in a fluctuating vole population. Proc Natl Acad Sci USA 96:986–991

Hanski I (1994) A practical model of metapopulation dynamics. J Anim Ecol 63:151–162

Hanski I, Henttonen H (1996) Predation on competing rodent species: a simple explanation of complex patterns. J Anim Ecol 65:220–232

Hansson L (1999) Intraspecific variation in dynamics: small rodents between food and predation in changing landscapes. Oikos 86:159–169

Henttonen H (2000) Long-term dynamics of the bank vole Clethrionomys glareolus at Pallasjärvi, northern Finnish taiga. In: Bujalska G, Hansson L (eds) Bank vole biology: recent advances in the population biology of a model species. Polish Journal of Ecology 48:87–96

Henttonen H (2007) Long-term patterns in arvicoline dynamics at Pallasjärvi and Kilpisjärvi, northern Finnish Lapland. In: Prigioni C (ed) V European congress of mammalogy, Hystrix. The Italian Journal of Mammology, p 498. Associazione Teriologica Italiana, Siena, Italy

Hörnfeldt B (1978) Syncronous population fluctuations in voles, small game, owls, and tularemia in nothern Sweden. Oecologia 32:141–152

Hörnfeldt B (1991) Cycles of voles, predators and alternative prey in boreal Sweden. PhD thesis, Umeå University

Hörnfeldt B (1994) Delayed density dependence as a determinant of vole cycles. Ecology 75:791–806

Hörnfeldt B (1998) Miljöövervakningen visar på minskande sorkstammar! Fauna och Flora 93:137–144 (in Swedish with English summary)

Hörnfeldt B (2004) Long-term decline in numbers of cyclic voles in boreal Sweden: analyses and presentation of hypotheses. Oikos 107:376–392

Hörnfeldt B (2008) Miljöövervakning av smådäggdjur. URL: http://www.emg.umu.se/projects/hornfeldt/bh/sidor/NMOHEMSV.html

Hörnfeldt B, Christensen P, Sandström P, Ecke F (2006) Long-term decline and local extinction of Clethrionomys rufocanus in boreal Sweden. Landscape Ecol 21:1135–1150

Ims RA, Henden J-A, Killengreen ST (2008) Collapsing population cycles. Trends Ecol Evol 23:79–86

Kausrud KL, Mysterud A, Steen H, Vik JO, Østbye E, Cazelles B, Framstad E, Eikeset AM, Mysterud I, Solhøy T, Stenseth NC (2008) Linking climate change to lemming cycles. Nature 456:93–97

Lambin X, Bretagnolle V, Yoccoz NG (2006) Vole population cycles in northern and southern Europe: is there a need for different explanations for single pattern? J Anim Ecol 75:340–349

McGarigal K, Marks BJ (1995) FRAGSTATS: spatial pattern analysis program for quantifying landscape structure. General Technical Report, US Department of Agriculture, Forest Service 351

Östlund L, Zackrisson O, Axelsson A-L (1997) The history and transformation of a Scandinavian boreal forest landscape since the 19th century. Can J For Res 27:1198–1206

Raab B, Vedin H (1995) Sveriges Nationalatlas–klimat, sjöar och vattendrag. Bra Böcker, Höganäs

Reese H, Nilsson M, Granqvist Pahlén T, Hagner O, Joyce S, Tingelöf U, Egberth M, Olsson H (2003) Countrywide estimations of forest variables using satellite data and field data from the national forest inventory. Ambio 32:542–548

Saitoh T, Cazelles B, Vik JO, Viljugrein H, Stenseth NC (2006) Effects of regime shifts on the population dynamics of the grey-sided vole in Hokkaido, Japan. Clim Res 32:109–118

Sjörs H (1999) The background: geology, climate and zonation. In: Rydin H, Snoeijs P, Diekmann M (eds) Swedish plant geography. Svenska Växtgeografiska Sällskapet, Uppsala, pp 5–14

Solonen T (2004) Are vole-eating owls affected by mild winters in southern Finland? Ornis Fennica 81:65–74

StatSoft (2008) STATISTICA (data analysis software system) version 8.0. Statsoft Incorporation, Tulsa
Acknowledgments
Åsa Sehlstedt and Henrik Berg, Swedish National Land Survey, Luleå, produced the lowland vegetation maps. The vole monitoring was funded by grants from the Swedish Natural Science Research Centre to A. Lindroth, from Stiftelsen Seth M. Kempes Minne to A. Lindroth and B. Hörnfeldt, from C. F. Lundströms Stiftelse, Längmanska kulturfonden, Hierta-Retzius Fond, Resestipendiefonden, Olle och Signhild Engkvists Stiftelser and by the Swedish Environmental Protection Agency via their National Environmental Monitoring Program to B. Hörnfeldt, from 'Carl Tryggers Stiftelse för Vetenskaplig Forskning' and the Swedish Research Council for Environment, Agricultural Sciences and Spatial Planning (Formas) to F. Ecke and B. Hörnfeldt (21.0/2004-0393) and from the Technical Faculty Board of Luleå University of Technology to F. Ecke.
About this article
Cite this article
Ecke, F., Christensen, P., Rentz, R. et al. Landscape structure and the long-term decline of cyclic grey-sided voles in Fennoscandia. Landscape Ecol 25, 551–560 (2010). https://doi.org/10.1007/s10980-009-9441-x
Received:

Accepted:

Published:

Issue Date:

DOI: https://doi.org/10.1007/s10980-009-9441-x
Keywords