Abstract
Landscapes surrounding parks in most of the developing world, while still containing considerable biodiversity, also have rapidly growing human populations and associated agricultural development. Since the establishment of Kibale National Park first as a Crown Forest Reserve in 1932 and later as a park in 1993 in western Uganda, most access and resource extraction has been prohibited. The park has become nearly a complete island of forested land cover surrounded by intensive small-scale agriculture and some large-scale tea plantations, along with a network of wetland and forest patches. As the population grows outside the park and land becomes more scarce, remaining forests and wetlands are being used more intensively for material resources (e.g., fuelwood, building poles) and converted to other land uses (e.g., pasture, agriculture). This study uses both discrete and continuous data analyses of satellite imagery to examine these diminishing resource bases at the landscape level placing the results within the social context of conservation and parks. Findings reveal that the park boundaries have remained fairly intact whereas, the landscape surrounding the park has become increasingly fragmented. From a landscape perspective, while the park has indeed maintained its forest cover, it has become increasingly islandized with wetland and forest patches in the surrounding landscape becoming smaller in number and size. Those that have survived are now more isolated and even lower productivity than in 1984, which may be a precursor to their eventual loss in this landscape.
Access options
Buy single article
Instant access to the full article PDF.
USD 39.95
Price excludes VAT (USA)
Tax calculation will be finalised during checkout.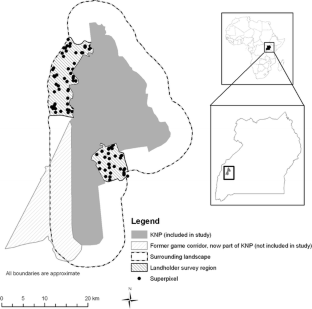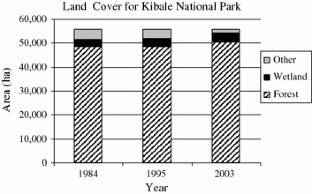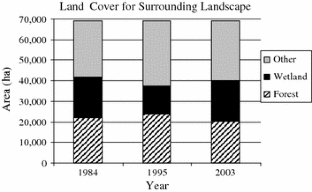 References
Bakema RJ, Iyango L (2000) Engaging local users in the management of wetland resources: the case of the National Wetlands Programme, Uganda. IUCN Eastern Africa Regional Office, Nairobi, Kenya

Banana AY, Gombya-Ssembajjwe W (1998) Successful forest management: the importance of security of tenure and rule enforcement in Ugandan forests. In: Gibson C, McKean M, Ostrom E (eds) Forest resources and institutions. Working paper 3. Food and agricultural organization of the united nations, Rome. http://www.fao.org/docrep/005/ac694e/AC694E00.HTM

Basset TJ, Koli Bi Z (2000) Environmental discourses and the Ivorian savanna. Ann Assoc Geogr 90(1):67–95

Brown DG, Duh J-D, Drzyzga SA (2000) Estimating error in an analysis of forest fragmentation change using North American landscape characterization (NALC) data. Remote Sens Environ 71:106–117. doi:10.1016/S0034-4257(99)00070-X

Chapman C, Lambert J (2000) Habitat alteration and the conservation of African primates: a case study of Kibale National Park, Uganda. Am J Primatol 50:169–186. doi:10.1002/(SICI)1098-2345(200003)50:3<169::AID-AJP1>3.0.CO;2-P

Chapman LJ, Balirwa J, Bugenyi FWB, Chapman C, Crisman TL (2001) Wetlands of East Africa: biodiversity, exploitation, and policy perspectives. In: Gopal B, Junk WJ, Davis JA (eds) Biodiversity in wetlands: assessment, function and conservation, vol 2. Backhuys Publishers, Leiden, pp 101–131

Chapman CA, Wasserman MD, Gillespie TR, Speirs ML, Lawes MJ, Saj TL, Zieglers TE (2006) Do food availability, parasitism, and stress have synergistic effects on red colobus populations living in forest fragments? Am J Phys Anthropol 131:525–534. doi:10.1002/ajpa.20477

Chatelain C, Gautier L, Spichiger R (1996) A recent history of forest fragmentation in southwestern Ivory Coast. Biodiv Cons 5:37–53. doi:10.1007/BF00056291

Chavez PS Jr (1996) Image-based atmospheric corrections—revisited and improved. Photogramm Eng Remote Sens 62(9):1025–1036

Cihlar J (2000) Land cover mapping of large areas from satellites: status and research priorities. Int J Remote Sens 21(6 & 7):1093–1114. doi:10.1080/014311600210092

Crisman TL, Chapman LJ, Chapman CA, Kaufman LS (2003) Conservation, ecology and management of African fresh waters. University Press of Florida, Gainesville

Duncan BW, Boyle S, Breininger DR, Schmalzer PA (1999) Coupling past management practice and historic landscape change on John F. Kennedy Space Center, Florida. Land Ecol 14:291–309. doi:10.1023/A:1008029831187

Foody GM (2002) Status of land cover classification accuracy assessment. Remote Sens Environ 80:185–201. doi:10.1016/S0034-4257(01)00295-4

Forman RTT (1995) Land mosaics. The ecology of landscapes and regions. Cambridge University Press, Cambridge

Fox J, Rindfuss RR, Walsh SJ, Mishra V (2003) People and the environment. Approaches for linking household and community surveys to remote sensing and GIS. Kluwer Academic Publishers, Boston

Fuller RM, Groom GB, Mugisha S, Ipulet P, Pomeroy D, Katende A, Bailey R, Ogutu-Ohwayo R (1998) The integration of field survey and remote sensing for biodiversity assessment: a case study in the tropical forests and wetlands of Sango Bay, Uganda. Biol Conserv 86:379–391

Gascon C, Williamson GB, da Fonseca GAB (2000) Receding forest edges and vanishing reserves. Science 288:1356–1358. doi:10.1126/science.288.5470.1356

Geist HJ, Lambin E (2001) What drives tropical deforestation? A meta-analysis of proximate causes of deforestation based on subnational case study evidence. LUCC Report Series No. 4. http://www.geo.ucl.ac.be/LUCC/lucc.html. Accessed 11 Jan 2005

Geist HJ, Lambin EF (2002) Proximate causes and underlying driving forces of tropical deforestation. Bioscience 52:143–150. doi:10.1641/0006-3568(2002)052[0143:PCAUDF]2.0.CO;2

Gillespie TR, Chapman CA (2006) Prediction of parasite infection dynamics in primate metapopulations based on attributes of forest fragmentation. Cons Bio 20(2):441–448. doi:10.1111/j.1523-1739.2006.00290.x

Goldman A, Hartter J, Southworth J, Binford M (2008) Studying the human landscape around Kibale National Park. In: Wrangham R, Ross E (eds) Science and conservation in a Ugandan forest: how long-term research can help habitat management. Cambridge University Press, Cambridge, pp 129–144

Haack B (1996) Monitoring wetland changes with remote sensing: an East African example. Environ Manag 20:411–419. doi:10.1007/BF01203848

Hartter J (2007) Landscape change around Kibale National Park, Uganda: impacts on land cover, land use, and livelihoods. PhD Dissertation, University of Florida, Gainesville

Hayes TM (2006) Parks, people, and forest protection: an intuitional assessment of the effectiveness of protected areas. World Dev 34(12):2064–2075. doi:10.1016/j.worlddev.2006.03.002

Hill J, Curran P (2003) Area, shape and isolation of tropical forest fragments: effects on tree species diversity and implications for conservation. J Biogeogr 30(9):1391–1403. doi:10.1046/j.1365-2699.2003.00930.x

Howard P, Davenport T, Kigenyi F, Viskanic P, Baltzer M, Dickinson C, Lwanga J, Matthews R, Mupada E (2000) Protected area planning in the tropics: Uganda's national system of forest nature reserves. Cons Bio 14(3):858–875. doi:10.1046/j.1523-1739.2000.99180.x

Hulme D, Murphree M (eds) (2001) African wildlife and livelihoods: the promise and performance of community conservation. James Curry, Oxford

Jensen JR (1996) Introductory digital image processing: a remote sensing perspective. Prentice Hall, Upper Saddle River

Lambin EF (1997) Modelling and monitoring land cover change processes in tropical regions. Prog Phys Geogr 21(3):375–393. doi:10.1177/030913339702100303

Laurance WF, Bierregaard RO Jr (eds) (1997) Tropical forest remnants—ecology, management, and conservation of fragmented communities. The University of Chicago Press, Chicago

Laurance WF, Lovejoy TE, Vasconcelos HL, Bruna E, Didham R, Stouffer P, Gascon C, Bierregaard R, Laurance S, Sampiao E (2002) Ecosystem decay of Amazonian forest fragments: a 22-year investigation. Cons Bio 16:605–618. doi:10.1046/j.1523-1739.2002.01025.x

Lepp A, Holland S (2006) A comparison of attitudes toward state-led conservation and community-based conservation in the village of Bigodi, Uganda. Soc Nat Resour 19:609–623. doi:10.1080/08941920600742377

MacLean I, Tinch R, Hassal M, Boar R (2003) Social and economic use of wetland resources: a case study from Lake Bunyonyi, Uganda. Centre for Social and Economic Research on the Global Environment, Norwich

Marsh LK, Chapman CA, Norconk M, Wallis J, Umapathy G, Bicca-Marques JC, Gilbert K, Ferarri S, Scott S (2003) Fragmentation: specter of the future of the spirit of conservation? In: Marsh LK (ed) Primates in fragments: ecology and conservation. Kluwer Academic/Plenum Publishers, New York, pp 381–398

McGarigal K, Marks BJ (1995) FRAGSTATS: spatial pattern analysis program for quantifying landscape structure. Gen. Tech. Rep. PNW-GTR-351. U.S. Department of agriculture, forest service. Pacific Northwest Research Station, Portland

Nagendra HJ, Southworth J, Tucker C (2003) Accessibility as a determinant of landscape transformation in western Honduras: linking pattern and process. Landscape Ecol 18(2):141–158. doi:10.1023/A:1024430026953

Nagendra H, Pareeth S, Ghate R (2006) People within parks–forest villages, land-cover change and landscape fragmentation in the Tadoba Andhari Tiger Reserve, India. Appl Geogr 26:96–112. doi:10.1016/j.apgeog.2005.11.002

Naughton-Treves L (1998) Predicting patterns of crop damage by wildlife around Kibale National Park, Uganda. Cons Bio 12(1):156–168. doi:10.1046/j.1523-1739.1998.96346.x

NEMA National Environment Management Authority (2001) State of environment report for Uganda 2000/2001. Kampala

NRC National Research Council, Board on Sustainable Development, Policy Division, Committee on Global Change Research (1999) Global environmental change: research pathways for the next decade. National Academy Press, Washington

Onderdonk DA, Chapman CA (2000) Coping with forest fragmentation: the primates of Kibale National Park, Uganda. Int J Primatol 21(4):587–611. doi:10.1023/A:1005509119693

Rey-Benayas JM, Pope KO (1995) Landscape ecology and diversity patterns in the seasonal tropics from Landsat TM imagery. Ecol Appl 5(2):386–394. doi:10.2307/1942029

Richardson BJ (1993) Environmental management in Uganda: the importance of property law and local government in wetlands conservation. J Afr Law 37(2):109–143

Riitters K, Wickham J, O'Neill R, Jones B, Smith E (2000) Global-scale patterns of forest fragmentation. Cons Ecol 4(2):3. http://www.consecol.org/vol4/iss2/art3/

Runte A (1997) National Parks. The American experience, 3rd edn. University of Nebraska Press, Lincoln

Schweik CM, Thomas C (2002) Using remote sensing for evaluating environmental institutions: a habitat conservation planning example. Soc Sci Quart 83:244–262

Serneels S, Said MY, Lambin EF (2001) Land cover changes around a major East African wildlife reserve: the Mara ecosystem (Kenya). Int J Remote Sens 22(17):3397–3420. doi:10.1080/01431160152609236

Shiva S, Bandyopadhyay J (1983) Eucalyptus—a disastrous tree for India. Ecologist 13(5):184–187

Southworth J, Munroe D, Nagendra H (2004) Land cover change and landscape fragmentation—comparing the utility of continuous and discrete analyses for a western Honduras Region. Agric Ecosyst Environ 101:185–205. doi:10.1016/j.agee.2003.09.011

Southworth J, Nagendra H, Munroe DK (2006) Introduction to the special issue: are parks working? Exploring human-environment tradeoffs in protected area conservation. Appl Geogr 26:87–95. doi:10.1016/j.apgeog.2005.11.001

Stouffer P, Bierregaard R (1995) Use of Amazonian forest fragments by understory insectivorous birds. Ecology 76:2429–2445. doi:10.2307/2265818

Struhsaker T (1997) Ecology of an African rain forest: logging in Kibale and the conflict between conservation and exploitation. University Press of Florida, Gainesville

Turner I, Corlett R (1996) The conservation value of small, isolated fragments of lowland tropical rain forest. Trends Ecol Evol 11(8):330–333. doi:10.1016/0169-5347(96)10046-X

Woodcock CE, Gopal S (2000) Fuzzy set theory and thematic maps: accuracy assessment and area estimation. Int J GIS 14(2):153–172

Woods CH, Skole D (1998) Linking satellite, census, and survey data to study deforestation in the Brazilian Amazon. In: Liverman D, Moran EF, Rindfuss RR, Stern PC (eds) People and pixels: linking remote sensing and social science. National Academy Press, Washington, pp 70–93
Acknowledgments
This research was supported by the National Science Foundation grant (#0352008), a Working Forests in the Tropics Field Research Grant, and the Center for African Studies David L. Niddrie Memorial Scholarship. Permission to conduct this research was granted by the University of Florida Institutional Review Board, Uganda National Council for Science and Technology, and the Uganda Wildlife Authority. We appreciate the continued cooperation with Makerere University Biological Field Station and colleagues Abe Goldman, Mike Binford, Colin and Lauren Chapman, Patrick Omeja, Dennis Twinomugisha, and Aventino Kasangaki. We are especially grateful to our field assistants Agaba Erimosi and Mwesigwe Peace for their hard work and diligence in data collection.
About this article
Cite this article
Hartter, J., Southworth, J. Dwindling resources and fragmentation of landscapes around parks: wetlands and forest patches around Kibale National Park, Uganda. Landscape Ecol 24, 643–656 (2009). https://doi.org/10.1007/s10980-009-9339-7
Received:

Accepted:

Published:

Issue Date:

DOI: https://doi.org/10.1007/s10980-009-9339-7
Keywords