Abstract
Investigations of land-cover change often employ metrics designed to quantify changes in landscape structure through time, using analyses of land cover maps derived from the classification of remote sensing images from two or more time periods. Unfortunately, the validity of these landscape pattern analyses (LPA) can be compromised by the presence of spurious change, i.e., differences between map products caused by classification error rather than real changes on the ground. To reduce this problem, multi-temporal time series of land-cover maps can be constructed by updating (projecting forward in time) and backdating (projecting backward in time) an existing reference map, wherein regions of change are delineated through bi-temporal change analysis and overlaid onto the reference map. However, this procedure itself creates challenges, because sliver patches can occur in cases where the boundaries of the change regions do not exactly match the land-cover patches in the reference map. In this paper, we describe how sliver patches can inadvertently be created through the backdating and updating of land-cover maps, and document their impact on the magnitude and trajectory of four popular landscape metrics: number of patches (NP), edge density (ED), mean patch size (MPS), and mean shape index (MSI). In our findings, sliver patches led to significant distortions in both the value and temporal behaviour of metrics. In backdated maps, these distortions caused metric trajectories to appear more conservative, suggesting lower rates of change for ED and inverse trajectories for NP, MPS and MSI. In updated maps, slivers caused metric trajectories to appear more extreme and exaggerated, suggesting higher rates of change for all four metrics. Our research underscores the need to eliminate sliver patches from any study dealing with multi-temporal LPA.
This is a preview of subscription content, log in to check access.
Access options
Buy single article
Instant access to the full article PDF.
US$ 39.95
Tax calculation will be finalised during checkout.
Subscribe to journal
Immediate online access to all issues from 2019. Subscription will auto renew annually.
US$ 99
Tax calculation will be finalised during checkout.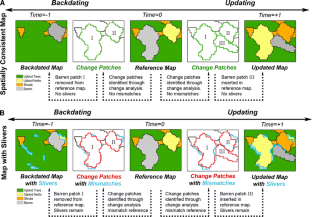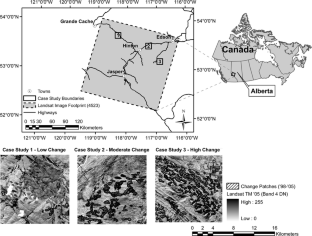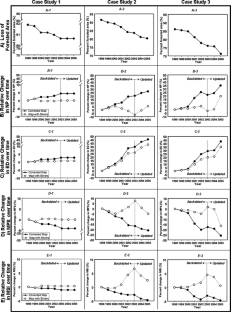 References
Blaschke T (2005) Towards a framework for change detection based on image objects. In: Erasmi S, Cyffka B, Kappas M (eds) Göttinger Geographische Abhandlungen, vol 113, pp 1–9

Boentje JP, Blinnikov MS (2007) Post-Soviet forest fragmentation and loss in the Green Belt around Moscow, Russia (1991–2001): a remote sensing perspective. Landsc Urban Plan 82:208–221. doi:10.1016/j.landurbplan.2007.02.009

Brown DG, Duh J-D, Drzyzga SA (2000) Estimating error in an analysis of forest fragmentation change using North American Landscape Characterization (NALC) data. Remote Sens Environ 71:106–117. doi:10.1016/S0034-4257(99)00070-X

Buyantuyev A, Wu J (2007) Effects of thematic resolution on landscape pattern analysis. Landscape Ecol 22:7–13. doi:10.1007/s10980-006-9010-5

Carmel Y, Dean DJ, Flather CH (2001) Combining location and classification error sources for estimating multi-temporal database accuracy. Photogramm Eng Remote Sens 67:865–872

Castilla G, Hay GJ, Ruiz-Gallardo JR (2008) Size-constrained region merging (SCRM): an automated delineation tool for assisted photointerpretation. Photogramm Eng Remote Sens 74:409–419

Cayuela L, Golicher DJ, Benayas JMR, Gonzalez-Espinosa M, Ramirez-Marcial N (2006) Fragmentation, disturbance and tree diversity conservation in tropical montane forests. J Appl Ecol 43:1172–1181. doi:10.1111/j.1365-2664.2006.01217.x

Chrisman NR (1989) Modelling error in overlaid maps. In: Goodchild MF, Goopal S (eds) Accuracy of spatial databases. CRC Press, London, UK

Cohen WC, Goward SN (2004) Landsat's role in ecological applications of remote sensing. Bioscience 54:535–546. doi:10.1641/0006-3568(2004)054[0535:LRIEAO]2.0.CO;2

Coppin PR, Bauer ME (1996) Digital change detection in forest ecosystems with remote sensing imagery. Remote Sens Rev 13:207–234

Definiens AG (2006) Definiens 5.0 Professional. User Guide. Document version 5.0.6.1. Munich, Germany

Desclée B, Bogaert P, Defourny P (2006) Forest change detection by statistical object-based method. Remote Sens Environ 102:1–11. doi:10.1016/j.rse.2006.01.013

Edwards G, Lowell KE (1996) Modelling uncertainty in photointerpreted boundaries. Photogramm Eng Remote Sens 62(4):337–391

ESRI 2005. Esri ArcMap 9.1. Redlands, CA, USA

Feranec J, Hazeu G, Christensen S, Jaffrain G (2007) Corine land-cover change detection in Europe (case studies of the Netherlands and Slovakia). Land Use Policy 24:234–247. doi:10.1016/j.landusepol.2006.02.002

Fortin M-J, Boots B, Csillag F, Remmel TK (2003) On the role of spatial stochasticmodels in understanding landscape indices in ecology. Oikos 102(1):203–212. doi:10.1034/j.1600-0706.2003.12447.x

Franklin SE, Lavigne MB, Moskal LM, McCaffrey TM (2001) Interpretation of forest harvest conditions in New Brunswick using Landsat TM enhanced wetness difference imagery (EWDI). Can J Remote Sens 27:118–128

Gardner RH, Milne BT, Turner MG, O'Neill RV (1987) Neutral models for the analysis of broad-scale landscape pattern. Landscape Ecol 1:19–28. doi:10.1007/BF02275262

Gergel SE (2006) New directions in landscape pattern analysis and linkages with remote sensing. In: Wulder MA, Franklin SE (eds) Understanding forest disturbance and spatial pattern. CRC, Taylor and Francis Group, Baton Rouge

Goodchild MF (1978) Statistical aspects of the polygon overlay problem. In: Dutton G (ed) Harvard papers on geographic information systems. Addison-Wesley, Reading, MA

Goodchild MF (1980) The effects of generalization in geographical data encoding. In: Freeman A, Pieroni G (eds) Map data processing. Academic Press, New York

Gustafson EJ (1998) Quantifying landscape spatial pattern: what is the state of the art? Ecosystems (NY, Print) 1:143–156. doi:10.1007/s100219900011

Hansen AJ, Neilson RP, Dale VH, Flather CH, Iverson LR, Currie DJ, Shafer S, Cook R, Bartlein PJ (2001) Global change in forests: responses of species, communities, and biomes. Bioscience 51(9):765–779

Hargis CD, Bissonette JA, David JL (1998) The behaviour of landscape metrics commonly used in the study of habitat fragmentation. Landscape Ecol 13:167–186

Hlavka CV, Livingston GP (1997) Statistical models of fragmented land cover and the effect of coarse spatial resolution on the estimation of area with satellite sensor imagery. Int J Remote Sens 18:2253–2259

Hobbs R, Wu J (2007) Perspectives and prospects of landscape ecology. In: Wu J, Hobbs R (eds) Key topics in landscape ecology. Cambridge University Press, Cambridge, UK

Houghton RA, Ding Y, Griggs DJ, Noguer M, van der Linden PJ, Dai X, Maskell K, Johnson CA (eds) (2001) Climate change 2001: the scientific basis. Contribution of Working Group I to the Third Assessment Report of the Intergovernmental Panel of Climate Change. Cambridge University Press, Cambridge, UK

Huang C, Kim S, Altstatt A, Townshend JRG, Davis P, Song K, Tucker CJ, Rodas O, Yanosky A, Clay R, Musinsky J (2006) Rapid loss of Paraguay's Atlantic forest and the status of protected areas—a Landsat assessment. Remote Sens Environ 106:460–466

Jeanjean H, Achard F (1997) A new approach for tropical forest area monitoring using multiple spatial resolution satellite sensor imagery. Int J Remote Sens 18:2455–2461

João EM (1998) Causes and consequences of map generalization. Taylor and Francis, London, UK

Kennedy RE, Cohen WB, Shroeder TA (2007) Trajectory-based change detection for automated characterization of forest disturbance dynamics. Remote Sens Environ 110:370–386

Kozak J, Estreguil C, Vogt P (2007) Forest cover and pattern changes in the Carpathians over the last decades. Eur J For Res 126:77–90

Langford WT, Gergel SE, Dietterich TG, Cohen W (2006) Map misclassification can cause large errors in landscape pattern indices: examples from habitat fragmentation. Ecosystems 9:474–488

Leitão AB, Miller J, Ahern J, McGarigal K (2006) Measuring landscapes. a planner's handbook. Island Press, Washington

Li H, Wu J (2004) Use and misuse of landscape indices. Landscape Ecol 19:389–399

Li H, Wu J (2007) Landscape pattern analysis: key issues and challenges. In: Wu J, Hobbs R (eds) Key topics in landscape ecology. Cambridge University Press, Cambridge, UK

Lu D, Mausel P, Brondizio E, Moran E (2004) Change detection techniques. Int J Remote Sens 25:2365–2407

Lung T, Schaab G (2006) Assessing fragmentation and disturbance of west Kenyan rainforests by means of remotely sensed time series data and landscape metrics. Afr J Ecol 44:491–506

Mas JF (2005) Change estimates by map comparison: a method to reduce erroneous changes due to positional error. Trans GIS 9:619–629

McDermid GJ (2005) Remote sensing for large-area, multi-jurisdictional habitat mapping. Dissertation, University of Calgary, Calgary, Alberta

McDermid GJ, Linke J, Pape AD, Laskin DN, McLane AJ, Franklin SE (2008) Object-based approaches to change detection and thematic map update: challenges and limitations. Can J Remote Sens (in press)

McGarigal K, Cushman SE, Neel MC, Ene E (2002) FRAGSTATS: spatial pattern analysis program for categorical maps. Computer software program produced by the authors at the University of Massachusetts, Amherst. Available at the following web site: www.umass.edu/landeco/research/fragstats/fragstats.html

Neel M, McGarigal K, Cushmann SA (2004) Behaviour of class-level landscape metrics across gradients of class aggregation and area. Landscape Ecol 19:435–455

O'Neill RV, Krummel JR, Gardner RH, Sugihara G, Jackson B, DeAngelis DL, Milne BT, Turner MG, Zygmunt B, Christensen SW, Dale VH, Graham RL (1988) Indices of landscape pattern. Landscape Ecol 1:153–162

Pearson SM, Turner MG, Drake JB (1999) Landscape change and habitat availability in the Southern Appalachian Highlands and Olympic Penninsula. Ecol Appl 9:1288–1304

Radke RJ, Andra S, Al-Kofahi O, Roysam B (2005) Image change detection algorithms: a systematic survey. IEEE Trans Image Process 14:294–307

Remmel TK, Csillag F (2003) When are two landscape pattern indices significantly different? J Geograph Syst 5:331–351

Roesch FA, Vandeusen PC, Zhu ZL (1995) A comparison of various estimators for updating forest area coverage using AVHRR and forest inventory data. Photogramm Eng Remote Sens 61:307–311

Shao G, Wu J (2008) On the accuracy of landscape pattern analysis using remote sensing data. Landscape Ecol 23:505–511

Shao G, Liu D, Zhao G (2001) Relationships of image classification accuracy and variation of landscape statistics. Can J Remote Sens 27:33–43

Skole DL, Tucker CJ (1993) Tropical deforestation and habitat fragmentation in the Amazon: satellite data from 1978 to 1988. Science 260:1905–1910

Staus NL, Strittholt JR, DellaSala DA, Robinson R (2002) Rate and pattern of forest disturbance in the Lamath-Siskiyo ecoregion, USA between 1972 and 1992. Landscape Ecol 17:455–470

Stenhouse G, Graham K (2007) Foothills model forest grizzly bear research program: 2006 annual report. Foothills Model Forest, Hinton, Alberta

Tinker DB, Resoir CAC, Beauvois GP, Kipfmueller KF, Fernandes CI, Baker WL (1998) Watershed analysis of forest fragmentation by clearcuts and roads in a Wyoming forest. Landscape Ecol 13:149–165

Tischendorf L (2001) Can landscape indices predict ecological processes consistently? Landscape Ecol 16:235–254

Trani MK, Giles RH Jr (1999) An analysis of deforestation: metrics used to describe pattern change. For Ecol Manage 114:459–470

Turner M, Pearson SM, Bolstad P, Wear DN (2003) Effects of landcover change on spatial pattern of forest communities in the Southern Appalachian Mountains (USA). Landscape Ecol 18:449–464

Ward K, Kromroy K, Juzwik J (2007) Transformation of the oak forest spatial structure in the Minneapolis/St. Paul metropolitan area, Minnesota, USA over 7 years. Landsc Urban Plan 81:27–33

Wickham JD, O'Neill RV, Riitters KH, Wade TG, Jones KB (1997) Sensitivity of selected landscape pattern metrics to land-cover misclassification in land-cover composition. Photogramm Eng Remote Sens 63(4):397–402

Wickham JD, Riitters HK, Wade TG, Coulston JW (2007) Temporal change in forest fragmentation at multiple scales. Landscape Ecol 22:481–489

Woodcock CE, Allen AA, Anderson M, Belward AS, Bindschadler R, Cohen WB, Gao F, Goward SN, Helder D, Helmer E, Nemani R, Oreapoulos L, Schott J, Thenkabail PS, Vermote EF, Vogelmann J, Wulder MA, Wynne R (2008) Free access to Landsat imagery. Science 320:1011

Wu J (2004) Effects of changing scale on landscape pattern analysis: scaling relations. Landscape Ecol 19:125–138

Yuan D, Elvidge C (1998) NALC land-cover change detection pilot study: Washington D.C. area experiments. Remote Sens Environ 66:166–178

Zhang J, Goodchild MF (2002) Uncertainty in geographical information. Taylor and Francis, London, UK
Acknowledgements
We gratefully acknowledge the support of the Natural Sciences and Engineering Research Council of Canada, the Alberta Innovation and Science Fund, and the many partners and colleagues in the Foothills Model Forest Grizzly Bear Research Program. Julia Linke was directly supported by a NSERC PGS B scholarship and an Alberta Ingenuity Award. Jerome Cranston offered technical support in the gathering and organizing of relevant geospatial materials and Guillermo Castilla provided many vital comments to this work. We also thank three anonymous reviewers and Dr. J. Wu for their constructive feedback to this analysis.
About this article
Cite this article
Linke, J., McDermid, G.J., Pape, A.D. et al. The influence of patch-delineation mismatches on multi-temporal landscape pattern analysis. Landscape Ecol 24, 157–170 (2009). https://doi.org/10.1007/s10980-008-9290-z
Received:

Accepted:

Published:

Issue Date:
Keywords
Backdating

Change analysis

Landscape metrics

Patch boundary

Slivers

Updating