Abstract
An understanding of how individual species are able to persist and move within fragmented landscapes is critical for elucidating the effects of fragmentation and aiding in the management of species. Here, we studied movement behaviour of the dasyurid Antechinus flavipes in a heavily fragmented landscape using trapping and radiotracking. We assessed the ability of animals to move within and amongst small (<6 ha) remnants and make use of the matrix, and investigated how females used the available space within remnants. Seventeen between-remnant movements were detected from 428 recaptures, ranging in length from 30 to 720 m and averaging 352 m. Most were by adult males during the breeding season, with 40% more than 500 m. Landscape types traversed would have included exotic pine plantations, open grazed areas and roads. Between-site movements of juveniles were only detected on three occasions. However, few young males were captured as adults, suggesting high dispersal rates and considerable matrix use. Conversely, despite high female recapture rates, again only three between-site movements were recorded. Radiotracking further indicated that females confined foraging to remnants, with occasional forays to isolated trees in paddocks. Female home range areas were similar for remnants and forest (0.04–0.66 ha). A. flavipes is clearly able to persist in very small patches of native vegetation in the landscape studied here. Its long-term persistence appears dependent on the ability of females to maintain a presence in the small remnants, and of unrelated males to move between remnants to breed with resident females. This study illustrates the importance of recognising the occurrence of metapopulations in fragmented landscapes for conservation management.
Access options
Buy single article
Instant access to the full article PDF.
US$ 39.95
Tax calculation will be finalised during checkout.
Subscribe to journal
Immediate online access to all issues from 2019. Subscription will auto renew annually.
US$ 79
Tax calculation will be finalised during checkout.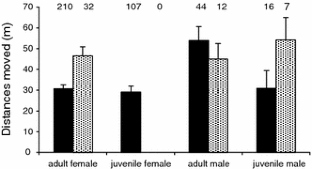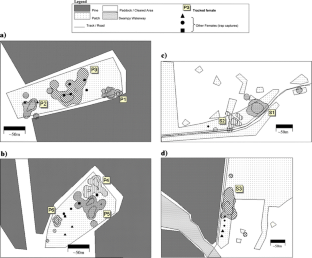 References
Andren H, Angelstam P (1988) Elevated predation rates as an edge effect in habitat islands: experimental evidence. Ecology 69:544–547. doi:10.2307/1940455

Banks SC, Finlayson GR, Lawson SJ, Lindenmayer DB, Paetkau D, Ward SJ et al (2005a) The effects of habitat fragmentation due to forestry plantation establishment on the demography and genetic variation of a marsupial carnivore, Antechinus agilis. Biol Conserv 122:581–597. doi:10.1016/j.biocon.2004.09.013

Banks SC, Lindenmayer DB, Ward SJ, Taylor AC (2005b) The effects of habitat fragmentation via forestry plantation establishment on spatial genotypic structure in the small marsupial carnivore, Antechnius agilis. Mol Ecol 14:1667–1680. doi:10.1111/j.1365-294X.2005.02525.x

Bennett AF (1998) Linkages in the landscape: the role of corridors and connectivity in wildlife conservation. IUCN, Gland, Switzerland and Cambridge, UK

Bentley JM, Catterall CP, Smith GC (2000) Effects of fragmentation of araucarian vine forest on small mammal communities. Conserv Biol 14:1075–1087. doi:10.1046/j.1523-1739.2000.98531.x

Bowers MA, Dooley JL (1999) A controlled, hierarchical study of habitat fragmentation: responses at the individual, patch and landscape scale. Landsc Ecol 14:381–389. doi:10.1023/A:1008014426117

Brown JH, Kodric-Brown A (1977) Turnover rates in insular biogeography: effect of immigration on extinction. Ecology 58:445–449. doi:10.2307/1935620

Claridge AW, Lindenmayer DB (1994) The need for a more sophisticated approach toward wildlife corridor design in the multiple use forests of southeastern Australia: the case for mammals. Pac Conserv Biol 1:301–307

Cockburn A, Scott MP, Scotts DJ (1985) Inbreeding avoidance and male-biased natal dispersal in Antechinus spp (Marsupialia: Dasyuridae). Anim Behav 33:908–915. doi:10.1016/S0003-3472(85)80025-7

Cox MP, Dickman CR, Hunter J (2003) Effects of rainforest fragmentation on non-flying mammals of the Eastern Dorrigo Plateau, Australia. Biol Conserv 115:175–189. doi:10.1016/S0006-3207(03)00105-8

Dickman CR (1986) Niche compression: two tests of an hypothesis using narrowly sympatric predator species. Aust J Ecol 11:121–134. doi:10.1111/j.1442-9993.1986.tb01383.x

Dickman CR (1991) Use of trees by ground-dwelling mammals: implications for management. In: Lunney D (ed) Conservation of Australia's forest fauna. Royal Zoological Society of NSW, Mosman, pp 125–136

Donovan TM, Jones PW, Annand EM, Thompson FRI (1997) Variation in local-scale edge effects: mechanisms and landscape context. Ecology 78:2064–2075

Dunn OJ (1964) Multiple contrasts using rank sums. Technometrics 6:241–252. doi:10.2307/1266041

Dunning JB, Danielson BJ, Pulliam HR (1992) Ecological processes that affect populations in complex landscapes. Oikos 65:169–175. doi:10.2307/3544901

Dunstan CE, Fox BJ (1996) The effects of fragmentation and disturbance of rainforest on ground-dwelling small mammals on the Robertson Plateau, New South Wales, Australia. J Biogeogr 23:187–201. doi:10.1046/j.1365-2699.1996.d01-220.x

Ewers RM, Didham RK (2006) Confounding factors in the detection of species responses to habitat fragmentation. Biol Rev Camb Philos Soc 81:117–142. doi:10.1017/S1464793105006949

Fahrig L (2003) Effects of habitat fragmentation on biodiversity. Annu Rev Ecol Evol Syst 34:487–515. doi:10.1146/annurev.ecolsys.34.011802.132419

Fisher DO (2005) Population density and presence of the mother are related to natal dispersal in male and female Antechinus stuartii. Aust J Zool 53:103–110. doi:10.1071/ZO04068

Gascon C, Lovejoy TE, Bierregaard RO, Malcolm JR, Stouffer PC, Vasconcelos HL et al (1999) Matrix habitat and species richness in tropical forest remnants. Biol Conserv 91:223–229. doi:10.1016/S0006-3207(99)00080-4

Harrington GN, Freeman AND, Crome FHJ (2001) The effects of fragmentation of an Australian tropical rain forest on populations and assemblages of small mammals. J Trop Ecol 17:225–240. doi:10.1017/S0266467401001158

Harris SW, Cresswell WJ, Forde GP, Trewhella WJ, Woollard T, Wray S (1990) Home-range analysis using radio-tracking data—a review of problems and techniques particularly as applied to the study of mammals. Mammal Rev 20:97–123. doi:10.1111/j.1365-2907.1990.tb00106.x

Haynes KJ, Cronin JT (2006) Interpatch movement and edge effects: the role of behavioral responses to the landscape matrix. Oikos 113:43–54. doi:10.1111/j.0030-1299.2006.13977.x

Holland GJ, Bennett AF (2007) Occurrence of small mammals in a fragmented landscape: the role of vegetation heterogeneity. Wildl Res 34:387–397. doi:10.1071/WR07061

Hooge PN, Eichenlaub W, Solomon E (1999) The animal movements program 2.0. USGS Alaska Biological Science Centre

Knight EH, Fox BJ (2000) Does habitat structure mediate the effects of forest fragmentation and human-induced disturbance on the abundance of Antechinus stuartii? Aust J Zool 48:577. doi:10.1071/ZO00018

Kraaijeveld-Smit FJL, Lindenmayer DB, Taylor AC (2002) Dispersal patterns and population structure in a small marsupial, Antechinus agilis, from two forests analysed using microsatellite markers. Aust J Zool 50:325–338. doi:10.1071/ZO02010

Kupfer JA, Malanson GP, Franklin SB (2006) Not seeing the ocean for the islands: the mediating influence of matrix-based processes on forest fragmentation effects. Glob Ecol Biogeogr 15:8–20. doi:10.1111/j.1466-822X.2006.00204.x

Lande R (1988) Genetics and demography in biological conservation. Science 241:1455–1460. doi:10.1126/science.3420403

Laurance WF (1994) Rainforest fragmentation and the structure of small mammal communities in tropical Queensland. Biol Conserv 69:23–32. doi:10.1016/0006-3207(94)90325-5

Laurance WF, Lovejoy TE, Vasconcelos HL, Bruna EM, Didham RK, Stouffer PC et al (2002) Ecosystem decay of Amazonian forest fragments: a 22 year investigation. Conserv Biol 16:605–618. doi:10.1046/j.1523-1739.2002.01025.x

Lazenby-Cohen K, Cockburn A (1991) Social and foraging components of the home range in Antechinus stuartii (Dasyuridae: Marsupialia). Aust J Ecol 16:301–307. doi:10.1111/j.1442-9993.1991.tb01058.x

Lee AK, Woolley P, Braithwaite RW (1982) Life history strategies of dasyurid marsupials. In: Archer M (ed) Carnivorous marsupials. Royal Zoological Society of New South Wales, Sydney, pp 1–11

Lindenmayer D, Lacy R (1995) Metapopulation viability of arboreal marsupials in fragmented old-growth forests: comparison among species. Ecol Appl 5:183–199. doi:10.2307/1942062

Lindenmayer DB, Cunningham RB, Donnelly CF (1993) The conservation of arboreal marsupials in the Montane Ash forests of the central highlands of Victoria, south-east Australia. IV. The presence and abundance of arboreal marsupials in retained linear habitats (wildlife corridors) within logged forest. Biol Conserv 66:207–221. doi:10.1016/0006-3207(93)90006-M

Lindenmayer DB, Cunningham RB, Pope ML (1999) A large-scale experiment to examine the effects of landscape context and habitat fragmentation on mammals. Biol Conserv 88:387–403. doi:10.1016/S0006-3207(98)00111-6

Lomolino MV, Perault DR (2007) Body size variation of mammals in a fragmented, temperate rainforest. Conserv Biol 21:1059–1069. doi:10.1111/j.1523-1739.2007.00727.x

MacDonald DW, Amlaner CJ (1980) A practical guide to radiotracking. In: Amlaner CJ, MacDonald DW (eds) A handbook on biotelemetry and radiotracking. Pergamon Press, Oxford, pp 143–159

Marchesan D (2002) Presence, breeding activity and movement of the yellow-footed antechinus (Antechinus flavipes), in a fragmented landscape of the southern Mt Lofty Ranges. MSc thesis, University of Adelaide, Australia

Marchesan D, Carthew SM (2004) Autecology of the yellow-footed antechinus (Antechinus flavipes) in a fragmented landscape in southern Australia. Wildl Res 31:273–282. doi:10.1071/WR02038

Merriam G (1991) Corridors and connectivity: animal populations in heterogeneous environments. In: Saunders DA, Hobbs RJ (eds) Nature conservation 2: the role of corridors. Surrey Beatty and Sons, Chipping Norton, NSW, pp 133–142

Otis DL, White GC (1999) Autocorrelation of location estimates and the analysis of radiotracking data. J Wildl Manage 63:1039–1044. doi:10.2307/3802819

Riley SPD, Pollinger JP, Sauvajot RM, York EC, Bromley C, Fuller TK et al (2006) A southern California freeway is a physical and social barrier to gene flow in carnivores. Mol Ecol 15:1733–1741. doi:10.1111/j.1365-294X.2006.02907.x

Seaman DE, Millspaugh JJ, Kernohan BJ, Brundige GC, Raedeke KJ, Gitzen RA (1999) Effects of sample size on kernel home range estimates. J Wildl Manage 63:739–747. doi:10.2307/3802664

Smith GC (1984) The biology of the yellow-footed antechinus, Antechinus flavipes (Marsupialia: Dasyuridae), in a swamp forest on Kinaba Island, Cooloola, Qld. Aust Wildl Res 11:465–480. doi:10.1071/WR9840465

Specht RL (1972) The vegetation of South Australia. British Science Guild Handbooks Committee, South Australia

Swihart RK, Slade NA (1997) On testing for independence of animal movements. J Agric Biol Environ Stat 2:48–63. doi:10.2307/1400640

Taylor S (1987) Conservation strategies for human-dominated land areas: the South Australian example. In: Saunders DA, Arnold GA, Burbidge AA, Hopkins AJM (eds) Nature conservation: the role of remnants of native vegetation. Surrey Beatty and Sons, Chipping Norton, NSW, pp 313–322

Taylor AC, Tyndale-Biscoe H, Lindenmayer DB (2007) Unexpected persistence on habitat islands: genetic signatures reveal dispersal of a eucalypt-dependent marsupial through a hostile pine matrix. Mol Ecol 16:2655–2666. doi:10.1111/j.1365-294X.2007.03331.x

Viveiros de Castro EB, Fernandez FAS (2004) Determinants of differential extinction vulnerabilities of small mammals in Atlantic forest fragments in Brazil. Biol Conserv 119:73–80. doi:10.1016/j.biocon.2003.10.023
Acknowledgments
Thanks go to Forestry SA, NPWS SA, Yankalilla District Council and private landholders who provided support, equipment and permission to conduct this study on their land. Funding was provided by the Wildlife Conservation Fund, Native Vegetation Council Fund, Australian Geographic Society and The University of Adelaide. The project was completed under a scientific permit (M24354 1-3) issued by the Department for Environment and Heritage SA, with approval from the University of Adelaide's Animal Ethics Committee (W/17/00, W/17/00A).
About this article
Cite this article
Marchesan, D., Carthew, S.M. Use of space by the yellow-footed antechinus, Antechinus flavipes, in a fragmented landscape in South Australia. Landscape Ecol 23, 741–752 (2008). https://doi.org/10.1007/s10980-008-9234-7
Received:

Accepted:

Published:

Issue Date:
Keywords
Habitat fragmentation

Landscape connectivity

Movements

Metapopulation

Antechinus flavipes

Remnant vegetation