Abstract
Three phase change paraffinic materials (PCMs) were thermophysically (phase-transition temperatures, latent heat, heat capacity at constant pressure, density, and thermal conductivity) investigated in order to be used as latent heat storage media in a pilot plant developed in Plovdiv Bulgaria. Raman structural investigation probes aliphatic character of the E53 sample, while the E46 and ECP samples contain also unsaturated components due to their Raman features within 1,500–1,700 cm−1 range. Orthorhombic structure of the three PCMs was evidenced by the Raman modes at the 1,417 cm−1. The highest latent heat value, ΔH, of phase transitions among the three materials was represented by summation of a solid order–disorder, and melting latent heat was encountered by the E53 paraffin, i.e., 194.32 J g−1 during a μ-DSC scan of 1 °C min−1. Conversely, the ECP composite containing ceresin component shows the lowest latent heat value of 143.89 J g−1 and the highest thermal conductivity of 0.46 W m−1 K−1 among the three phase change materials (PCMs). More facile melt-disordered solid transition with the activation energy of 525.45 kJ mol−1 than the lower temperature transition of disorder–order (E a of 631.73 kJ mol−1) during the two-step process of solidification for the E53 melt are discussed in terms of structural and molecular motion changes.
Access options
Buy single article
Instant access to the full article PDF.
USD 39.95
Price excludes VAT (USA)
Tax calculation will be finalised during checkout.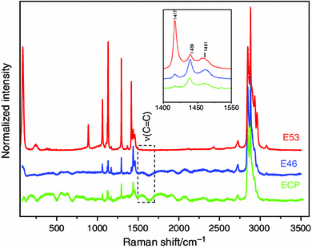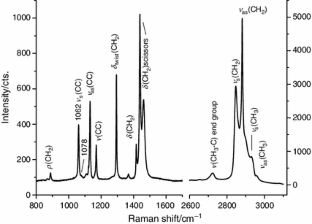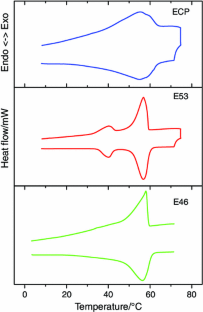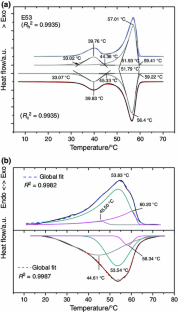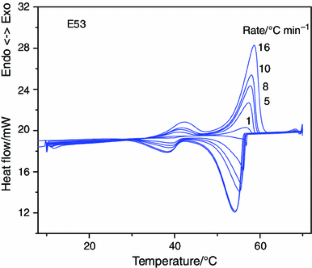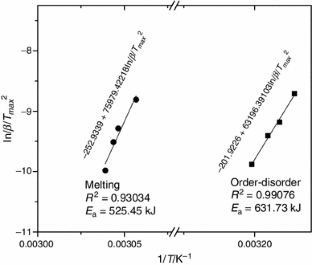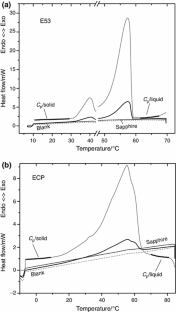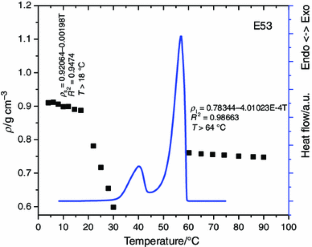 References
Jeon J, Lee J-H, Seo J, Jeong S-G, Kim S. Application of PCM thermal energy storage system to reduce building energy consumption. J Therm Anal Calorim. 2013;111:279–88.

Farid MM, Khudhair AM, Razack SAK, Al-Hallaj S. A review on phase change energy storage: materials and applications. Energy Convers Manag. 2004;45(9–10):1597–615.

Jeon J, Jeong SG, Lee JH, Seo J, Kim S. High thermal performance composite PCMs loading xGnP for application to building using radiant floor heating system. Sol Energy Mat Sol C. 2012;101:51–6.

Soares N, Costa JJ, Gaspar AR, Santos P. Review of passive PCM latent heat thermal energy storage systems towards buildings' energy efficiency. Energy Build. 2013;59:82–103.

Shukla A, Buddhi D, Sawhney RL. Thermal cycling test of few selected inorganic and organic phase change materials. Renew Energy. 2008;33(12):2606–14.

Zhang P, Song Y, Hu L, Lu HD, Wang J, Liu QQ. Synergistic effect of iron and intumescent flame retardant on shape-stabilized phase change material. Thermochim Acta. 2009;487:74–9.

Xu B, Li Z. Paraffin/diatomite composite phase change material incorporated cement-based composite for thermal energy storage. Appl Energy. 2013;105:229–37.

Xiao X, Zhang P, Li M. Preparation and thermal characterization of paraffin/metal foam composite phase change material. Appl Energy. 2013;112:1357–66.

Aydın AA, Okutan H. High-chain fatty acid esters of myristyl alcohol with even carbon number: novel organic phase change materials for thermal energy storage –1. Sol Energy Mat Sol C. 2011;95(8):2752–62.

Zhu JQ, Bai LG, Chen BH, Fei WY. Thermodynamical properties of phase change materials based on ionic liquids. Chem Eng J. 2009;147:58–62.

Cabeza LF. Materials used as PCM in thermal energy storage in buildings: a review. Renew Sustain Energy Rev. 2011;15(3):1675–95.

Py X, Olivès R, Mauran S. Paraffin/porous-graphite-matrix composite as a high and constant power thermal storage material. Int J Heat Mass Tran. 2001;44:2727–37.

Wu SY, Wang H, Xiao S, Zhu DH. An investigation of melting/freezing characteristics of nanoparticle-enhanced phase change materials. J Therm Anal Calorim. 2012;110:1127–31.

Ungar G, Zeng X-b. Learning polymer crystallization. Chem Rev. 2001;101(12):4157–88.

Sullivan PK. Solid-phase behavior of several long-chain n-paraffins, esters, and a ketone. J Res NBS A Phys Ch. 1974;78A(2):129–41.

Tyagi VV, Buddhi D. PCM thermal storage in buildings: a state of art. Renew Sustain Energy Rev. 2007;11(6):1146–66.

Fernandez AI, Sole A, Barreneche C, Martinez M, Martonell I, Miro L, Hadjeva M, Boudenne A, Bey Sana S, Magali F, Constantinescu M, Anghel EM, Malikova M, Krupa I, Penelosa C, Delgado M, Lazaro A, Paksoy HO, Yilmaz B, Bajare D, Sumiga B, Boh B, Haussmann T, Stefan S, Weber R, Fumarski P, Jarowski M, Cabeza LF. Characterization of PCM conventional and non-conventional technologies, Proceedings of the 2nd International Energy Storage Conference, Trinity College Dublin. 19–21 June 2013. pp. 85–91.

Giavarini C, Pochetti F. Characterization of petroleum products by DSC analysis. J Therm Analysis. 1973;5:83–94.

Mehling H, Cabeza LF. Heat and cold storage with PCM. Heat and Mass Transfer. Berlin Heidelberg: Springer Verlag; 2008.

Popov R, Georgiev A, SCADA system for study of the installation with solar collectors, charging phase change materials and borehole storage, Proceedings of the 2th International Energy Storage Conference, Trinity College Dublin. 19–21 June 2013. pp. 206–212.

Georgiev A, Tabakova S, Popov R, Valkov I, Moev S, Barzilova S, Lishev S, Takev M, Vassilev A, Boichev A. Construction and modeling of heat energy storage with phase change materials. J Technic Univ Sofia, branch Plovdiv. 2011;16(2):45–51.

Constantinescu M, Dumitrache L, Constantinescu D, Anghel EM, Popa VT, Stoica A, Olteanu M. Latent heat nano composite building materials. Eur Polym J. 2010;6:2247–54.

Kissinger HE. Variation of peak temperature with heating rate in differential thermal analysis. J Res Nat Bur Stan. 1956;57:217–21.

Wagner W, Kleinrahm R, Losch HW, Watson JTR. Hydrostatic Balance Densimeter with Magnetic Suspension. In: Goodwin A, Marsh KN, editors. Measurement of the "Measurement of the Thermodynamic Properties of Single Phases", Elsevier, 2003. Amsterdam: Elsevier; 2003. p. 125–219.

Edwards HGM, Falk MJP. Fourier-transform Raman spectroscopic study of unsaturated and saturated waxes. Spectrochim Acta, Part A. 1997;53(14):2685–94.

Zheng M, Du W. Phase behavior, conformations, thermodynamic properties, and molecular motion of multicomponent paraffin waxes: a Raman spectroscopy study. Vib Spectrosc. 2006;40:219–24.

Jehlicka J, Edwards HGM, Jorge Villar SE. Raman spectroscopy of natural accumulated paraffins from rocks: evenkite, ozokerite and hatchetine. Spectrochim Acta, Part A. 2007;68:1143–8.

Boerio FJ, Koening JL. Raman scattering in crystalline polyethylene. J Chem Phys. 1970;52:3425–31.

Dirand M, Bouroukba M, Chevallier V, Petitjean D, Behar E, Ruffier-Meray V. Normal alkanes, multialkane synthetic model mixtures, and real petroleum waxes: crystallographic structures, thermodynamic properties and crystallization. J Chem Eng Data. 2002;47:115–43.

Abbate S, Wunder SL, Zerbi G. Conformational dependence of Fermi resonances in n-alkanes. Raman spectra of 1,1,1,4,4,4-hexadeuteriobutane. J Phys Chem. 1984;88(3):593–600.

Hacura A, Kaczorowska B. Raman microscopic characterization of phase separation in binary n-alkane mixtures. J Mol Struct. 2005;744–747:581–4.

Zuckerman JL, Pushaw RJ, Perry BT, Wyner DM. Fabric coating containing energy absorbing phase change material and method of manufacturing same. US Pat. 2003;6660667:B2.

Pavel PM, Constantinescu M, Anghel EM, Olteanu M. Solidification of a PEG 1500-epoxy nanocomposite around a horizontal pipe. App Energy. 2012;89:482–9.

Hadjieva M, Kanev St, Argirov J. Thermophysical properties of some paraffins applicable to thermal energy storage. Sol Energy Mat Sol C. 1992;27(2):181–7.

Vyazovkin S, Burnham AK, Criado JM, Perez-Maqueda LA, Popescu C, Sbirrazzuoli N. ICTAC Kinetics Committee recommendations for performing kinetic computations on thermal data. Termochim Acta. 2011;520:1–19.

Assis E, Ziskind G, Letan R. Numerical and experimental study of solidification in a spherical shell. J Heat Trans-T ASME. 2009;131:024502-1-5.

Tyagi VV, Pandey AK, Kaushik C, Tyagi SK. Thermal performance evaluation of a solar air heater with and without thermal energy storage. J Therm Anal Calorim. 2012;107:1345–52.
Acknowledgements
Partially support of the EU (ERDF) and Romanian Government that allowed for acquisition of the research infrastructure under POS-CCE O 2.2.1 project INFRANANOCHEM - Nr. 19/01.03.2009, and Bulgarian research project 102ni063-24/05.05.2010 of the Technical University of Sofia, is gratefully acknowledged. Results were presented in frame of COST Action TU0802 NeCoE-PCM.
About this article
Cite this article
Anghel, E.M., Georgiev, A., Petrescu, S. et al. Thermo-physical characterization of some paraffins used as phase change materials for thermal energy storage. J Therm Anal Calorim 117, 557–566 (2014). https://doi.org/10.1007/s10973-014-3775-6
Received:

Accepted:

Published:

Issue Date:

DOI: https://doi.org/10.1007/s10973-014-3775-6
Keywords
Latent heat storage

Phase change material

Raman spectroscopy

DSC

Paraffin

Composite