Abstract
In this work, we presented plasma modification of low-density polyethylene (PE) powder using unconventional chemicals. This work focused on the thermal behavior of modified PE. Plasma modification of PE was carried out using unconventional chemical vapor i.e., acetone, toluene, ethanol, methanol, isopropanol, and chloroform, respectively. For all the process, the modification time was kept constant for 2 min. Chamber pressure of 100 Pa was used for the study. The thermal behavior of the plasma-modified and unmodified PE was carried out by differential scanning calorimetry and thermogravimetric analysis. We have found that there is a maximum improvement of crystallinity and thermal stability of PE when ethanol is used for plasma modification. Results obtained from DSC showed that plasma modification of PE in ethanol vapors increases the crystallinity of the PE without damaging the surface properties. Thermal stability of PE plasma modified in ethanol gives maximum thermal improvement to almost 25 °C at 5 mass% mass loss compared to unmodified PE.
Access options
Buy single article
Instant access to the full article PDF.
USD 39.95
Price includes VAT (USA)
Tax calculation will be finalised during checkout.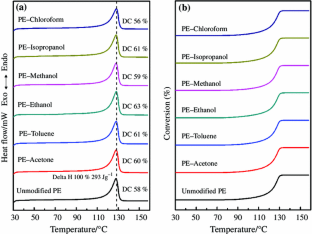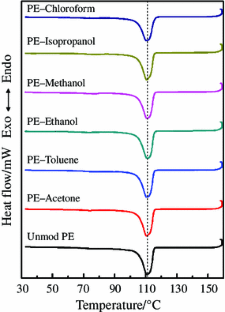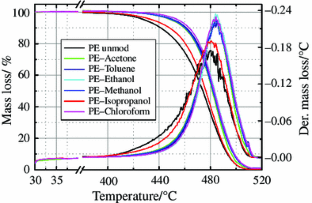 References
1.

Patra N, Barone AC, Salerno M. Solvent effects on the thermal and mechanical properties of poly (methyl methacrylate) casted from concentrated solutions. Adv Polym Technol. 2011;30:12–20.

2.

Patra N, Salerno M, Cozzoli PD, Barone AC, Ceseracciu L, Pignatelli F, Carzino R, Marini L, Athanassiou A. Thermal and mechanical characterization of poly(methyl methacrylate) nanocomposites filled with TiO2 nanorods. Compos Part B Eng. 2012;43:3114–9.

3.

Patra N, Salerno M, Cozzoli PD, Athanassiou A. Surfactant-induced thermomechanical and morphological changes in TiO2-polystyrene nanocomposites. J Colloid Interface Sci. 2013;405:103–8.

4.

Patra N, Salerno M, Diaspro A, Athanassia A. Effect of solvents on the dynamic viscoelastic behavior of poly(methyl methacrylate) film prepared by solvent casting. J Mater Sci. 2011;46:5044–9.

5.

Patra N, Salerno M, Diaspro A, Athanassiou A. Study of dynamic viscoelastic behavior of polystyrene films on addition of oleic acid. Microelectron Eng. 2011;88:1849–51.

6.

Patra N, Salerno M, Malerba M, Cozzoli PD, Athanassia A. Improvement of thermal stability of poly(methyl methacrylate) by incorporation of colloidal TiO2 nanorods. Polym Degrad Stab. 2011;96:1377–81.

7.

Patra N, Hladik J, Pavlatová M, Militký J, Martinová L. Investigation of plasma-induced thermal, structural and wettability changes on low density polyethylene powder. Polym Degrad Stab. 2013;98:1489–94.

8.

Piringer OG. Plastics packaging: interactions with food and pharmaceuticals, vol. 2. Weinheim: Wiley; 2008.

9.

Shenton MJ, Lovell-Hoare MC, Stevens GC. Adhesion enhancement of polymer surfaces by atmospheric plasma treatment. J Phys D Appl Phys. 2001;34:2754.

10.

Mothé CG, Vieira CR, Mothé MG. Thermal and surface study of phenolic resin from cashew nut shell liquid cured by plasma treatment. J Therm Anal Calorim. 2013;114:821–6.

11.

Pascu CI, Gingu O, Rotaru P, Vida-Simiti I, Harabor A, Lupu N. Bulk titanium for structural and biomedical applications obtaining by spark plasma sintering (SPS) from titanium hydride powder. J Therm Anal Calorim. 2012;113:849–57.

12.

WO.98/28117. Installation for Low pressure plasma processing. 1996.

13.

Píchal J, Hladík J, Špatenka P. Atmospheric-air plasma surface modification of polyethylene powder. Plasma Process Polym. 2009;6:148–53.

14.

Hladik J, Spatenka P, Aubrecht L, Pichal J. New method of microwave plasma treatment of HDPE powders. Czechoslov J Phys. 2006;56:1120–5.

15.

Dayss E, Leps G, Meinhardt J. Surface modification for improved adhesion of a polymer–metal compound. Surf Coat Technol. 1999;116–119:986–90.

16.

Horakova M, Spatenka P, Hladik J, Hornik J, Steidl J, Polachova A. Investigation of adhesion between metal and plasma-modified polyethylene. Plasma Process Polym. 2011;8:983–8.

17.

Bretagnol F, Tatoulian M, Arefi-Khonsari F, Lorang G, Amouroux J. Surface modification of polyethylene powder by nitrogen and ammonia low pressure plasma in a fluidized bed reactor. React Funct Polym. 2004;61:221–32.

18.

France RM, Short RD. Plasma treatment of polymers: the effects of energy transfer from an argon plasma on the surface chemistry of polystyrene, and polypropylene. A high-energy resolution X-ray photoelectron spectroscopy study. Langmuir. 1998;14:4827–35.

19.

Kim JW, Choi HS. Surface crosslinking of high-density polyethylene beads in a modified plasma reactor. J Appl Polym Sci. 2002;83:2921–9.

20.

Tajima S, Komvopoulos K. Surface modification of low-density polyethylene by inductively coupled argon plasma. J Phys Chem B. 2005;109:17623–9.

21.

Mathot VBF. Temperature dependence of some thermodynamic functions for amorphous and semi-crystalline polymers. Polymer (Guildf). 1984;25:579–99.
Acknowledgements
The research reported in this paper was supported in part by the Project OP VaVpI Centre for Nanomaterials, Advanced Technologies and Innovation CZ.1.05/2.1.00/01.0005 and by the Project Development of Research Teams of R&D Projects at the Technical university of Liberec CZ.1.07/2.3.00/30.0024.
About this article
Cite this article
Patra, N., Hladik, J. & Martinová, L. Investigating the thermal properties of polyethylene plasma modified by using unconventional chemical vapors. J Therm Anal Calorim 117, 229–234 (2014). https://doi.org/10.1007/s10973-014-3728-0
Received:

Accepted:

Published:

Issue Date:
Keywords
Polyethylene

Solvent

Plasma modification

Thermal properties

Crystallinity