Abstract
Pyrolysis and combustion characteristics of bio-oil derived from swine manure were investigated using thermogravimetry techniques. Thermogravimetric analysis of the bio-oils were carried out in O2 and N2 atmosphere under different heating rates (5–20 °C/min) to a maximum temperature of 900 °C. The results indicate that the combustion processes of bio-oil occurred in three stages, namely the water and the lighter compound evaporation, i.e., the release of the volatile compounds, ignition and burning of the heavier compounds (mainly carbon), and finally decomposition of the carbonate compounds. The effect of heating rate was also studied, and higher heating rates were found to facilitate the combustion process. Different reaction kinetic mechanisms were used to treat TG data, and showed that diffusion models are the best fit for describing the combustion of bio-oil in air. The kinetic parameters of the three stages were determined using Coats–Redfern method. The study provided reliable basic data for the burning of bio-oil.
This is a preview of subscription content,
to check access.
Access this article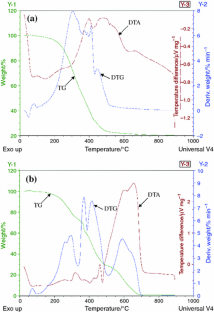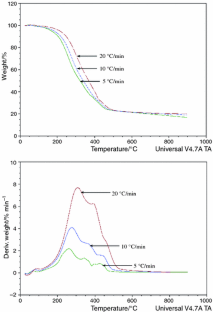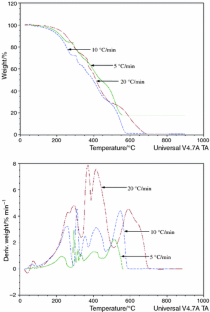 Similar content being viewed by others
References
Lu Q, Zhu XF, Li QX, Guo QX, Zhu QS. Biomass pyrolysis for liquid fuel. Prog Chem. 2007;19:1064–71.

Zhang RX, Zhong ZP, Huang YJ. Combustion characteristics and kinetics of bio-oil. Front Chem Eng China. 2009;3:119–24.

Li R, Jin BS, Jia X, Zhong ZP, Xiao G, Fu XF. Research on combustion characteristics of bio-oil from sewage sludge. Front Chem Eng China. 2007;3:161–6.

Li C, Yamanoto Y, Suzuki M, Hirabayashi D, Suzuki K. Study on the combustion kinetic characteristics of biomass tar under catalysts. J Therm Anal Calorim. 2009;95:991–7.

Kök MV, Acar C. Kinetics of crude oil combustion. J Therm Anal Calorim. 2006;83:445–9.

Aprameya A, Nader M, Norman F. Thermogravimetric studies on pyrolysis and combustion behavior of a heavy oil and its asphaltenes. Energy and Fuel. 2006;20:560–5.

Xiu S, Shahbazi A, Shirley VB, Mims MR, Wallace CW. Effectiveness and mechanisms of crude glycerol on the biofuel production from swine manure through hydrothermal pyrolysis. J Anal Appl Pyrolysis. 2010;87:194–8.

Xiu S, Shahbazi A, Shirley VB, Wang L. Swine manure/crude glycerol co-liquefaction: physical properties and chemical analysis of bio-oil product. Bioresour Technol. 2011;102:1928–32.

Ro KS, Cantrell KB, Hunt PG, Ducey TF, Vanotti MB, Szogi AA. Thermochemical conversion of livestock wastes: carbonization of swine solids. Bioresour Technol. 2009;100:5466–71.

Yuan HR, Liu RH. Study on pyrolysis kinetics of walnut shell. J Therm Anal Calorim. 2007;89:983–6.

Radhakrishnan Nair MN, Gopinathan Nair MR. Thermogravimetric analysis of PVC/NR-b-PU blends. J Therm Anal Calorim. 2010;103:863–72.

Kok MV, Pokol G, Keskin C, Madarász J, Bagci S. Combustion characteristics of lignite and oil shale samples by thermal analysis techniques. J Therm Anal Calorim. 2004;76:247–54.

Zouaoui N, Brilhac JF, Mechati F, Jeguirim M. Study of experimental and theoretical procedures when using thermogravimetric analysis to determine kinetic parameters of carbon black oxidation. J Therm Anal Calorim. 2010;102:837–49.

Yağmur S, Durusoy T. Kinetics of combustion of oil shale with polystyrene. J Therm Anal Calorim. 2009;96:189–94.

García-Nūňez JA, García-Pérez M, Das KC. Determination of kinetic parameters of thermal degradation of palm oil mill by-products using thermogravimetric analysis and differential scanning calorimetry. Trans ASABE. 2008;51:547–57.

Coats AW, Redfern JP. Kinetic parameters from thermogravimetric data. Nature. 1964;201:68–9.

Guo J, Lua AC. Kinetic study on pyrolytic process of oil-palm solid waste using two-step consecutive reaction model. Biomass Bioenergy. 2001;20:223–33.

He BJ, Zhang Y, Yin Y, Funk TL, Riskowski GL. Preliminary characterization of raw oil products from the thermochemical conversion of swine manure. Trans ASABE. 2001;44:1865–71.

Meesri C, Moghtaderi B. Lack of synergetic effects in the pyrolytic characteristics of woody biomass/coal blends under low and high heating rate regimes. Biomass Bioenergy. 2002;23:55–66.

Yu F, Ruan R, Steele P. Consecutive reaction model for the pyrolysis of corn cob. Trans ASABE. 2008;51:1023–8.

Niu SL, Han KH, Lu CM. Characteristic of coal combustion in oxygen/carbon dioxide atmosphere and nitric oxide release during this process. Energy Convers Manag. 2011;52:532–7.

Miao ZY, Wu GG, Li P, Zhao N, Wang PC, Meng XL. Combustion characteristics of Daqing oil shale and oil shale semi-cokes. Min Sci Technol. 2009;19:0380–4.
Acknowledgements
This article was partially funded by DOD-ARO (W911NF-08-1-0384) and by USDA-CSREES-Evans-Allen Project (NCX-238-5-09-130-1).
About this article
Cite this article
Xiu, S., Rojanala, H.K., Shahbazi, A. et al. Pyrolysis and combustion characteristics of Bio-oil from swine manure. J Therm Anal Calorim 107, 823–829 (2012). https://doi.org/10.1007/s10973-011-1604-8
Received:

Accepted:

Published:

Issue Date:

DOI: https://doi.org/10.1007/s10973-011-1604-8
Keywords