Abstract
The 'conceptual storyline' of a lesson refers to the flow and sequencing of learning activities such that science concepts align and progress in ways that are instructionally meaningful to student learning of the concepts. Research demonstrates that when teachers apply lesson design strategies to create a coherent science content storyline, student learning is positively impacted (Roth et al., 2011). Because the conceptual storyline is often implicit within a lesson, and teachers often have difficulty articulating this aspect of lesson design (Lo et al., 2014), our professional development program engages elementary teachers in analyzing and developing graphic representations of a lesson's conceptual storyline to make that element explicit. In this exploratory study, we present typologies that represent two primary challenges teachers faced in developing coherent conceptual storylines in their lesson design, and examine the extent to which professional development enhanced their capacity to develop a coherent conceptual storyline.
Access options
Buy single article
Instant access to the full article PDF.
USD 39.95
Price excludes VAT (USA)
Tax calculation will be finalised during checkout.
References
Abell, S. K., & Volkmann, M. J. (2006). Seamless assessment in science: A guide for elementary & middle school. Grades: K-8. Arlington, VA: NSTA Press.

Anderson, C. W., & Smith, E. L. (1987). Teaching science. In V. Richardson-Koehler (Ed.), Educators' handbook: A research perspective (pp. 84–111). New York: Longman.

Appleton, K. (2006). Science pedagogical content knowledge and elementary school teachers. In K. Appleton (Ed.), Elementary science teacher education: International perspectives on contemporary issues and practice (pp. 31–54). Mahwah, NJ: Lawrence Erlbaum.

Banilower, E. R., Smith, P. S., Weiss, I. R., Malzahn, K. A., Campbell, K. M., & Weis, A. M. (2013). Report of the 2012 National Survey of Science and Mathematics Education. Chapel Hill, NC: Horizon Research.

Beyer, C. J., & Davis, E. A. (2012). Developing preservice elementary teachers' pedagogical design capacity for reform-based curriculum design. Curriculum Inquiry, 42, 386–413. doi:10.1111/j.1467-873X.2012.00599.x

Brown, M. W. (2009). The teacher-tool relationship: Theorizing the design and use of curriculum materials. In J. T. Remillard, B. A. Herbel-Eisenmann, & G. M. Lloyd (Eds.), Mathematics teachers at work: Connecting curriculum materials and classroom instruction (pp. 17–36). New York, NY: Routledge.

Bybee, R. W. (1997). Achieving scientific literacy: From purposes to practices. Portsmouth, NH: Heinemann.

Bybee, R. W. (2015). The BSCS 5E instructional model—Creating teachable moments. Arlington, VA: NSTA Press.

Friedrichsen, P., van Driel, J., & Abell, S. K. (2010). Taking a close look at science teaching orientations. Science Education, 95, 358–376.

Grossman, P., Compton, C., Igra, D., Ronfeldt, M., Shahan, E., & Williamson, P. (2009). Teaching practice: A cross-professional perspective. The Teachers College Record, 111(9), 2055–2100.

Hanuscin, D. L., Lee, E. J., Gillstrom, K., Arnone, K. A., & de Araujo, Z. (2015). Conceptual storylines: Evaluating teachers construction and evaluation of science lessons. Paper presented at the 2015 annual meeting of NARST, Chicago, IL.

Lecompte, M. D. (2000). Analyzing qualitative data. Theory into Practice, 39(3), 146–154.

Lo, A. S., Krist, C., Reiser, B. J., & Novak, M. (2014, April) Examining shifts in teachers' understanding of NGSS and their impact on planned instruction. Paper presented at the annual meeting of NARST, Pittsburgh, PA.

Loughran, J., Mulhall, P., & Berry, A. (2006). Understanding and developing science teachers' pedagogical content knowledge. Rotterdam: Sense Publishers.

Magnusson, S. J., & Palinscar, A. S. (1995). The learning environment as a site of science education reform. Theory into Practice, 34, 43–50.

Moscovici, H., & Nelson, T. H. (1998). Shifting from activitymania to inquiry. Science and Children, 35(4), 14–17, 40.

National Research Council. (2005). How students learn: Science in the classroom. Committee on How People Learn, A targeted report for teachers. M. S. Donovan & J. D. Bransford (Eds.). Division of Behavioral and Social Sciences and Education. Washington, DC: The National Academies Press.

NGSS Lead States. (2013). Next Generation Science Standards: For States, By States.

Ramsey, J. (1993). Developing conceptual storylines with the learning cycle. Journal of Elementary Science Education, 5(2), 1–20.

Roth, K. J., Chen, C., Lemmens, M., Garnier, H. E., Wickler, N., Atkins, L. J., Barton, A. C., Roseman, J. E., Shouse, A. W., & Zembal-Saul, C. (2009). Coherence and science content storylines in science teaching: Evidence of neglect? Evidence of effect? Paper presented at the annual meeting  of NARST, Garden Grove, CA.

Roth, K. J., Garnier, H., Chen, C., Lemmens, M., Schwille, K., & Wickler, N. I. Z. (2011). Videobased lesson analysis: Effective science PD for teacher and student learning. Journal of Research in Science Teaching, 48, 117–148.

Stake, R. E. (2006). Multiple case study analysis. New York: Guilford Press.

Van der Valk, T., & Broekman, H. (1999). The lesson preparation method: A way of investigating pre-service teachers' pedagogical content knowledge. European Journal of Teacher Education, 22(1), 11–22.
Acknowledgments
This material is based upon work supported by the National Science Foundation under Grant No. DRL-1316683.
Additional information
Any opinions, findings, and conclusions or recommendations expressed in this material are those of the author(s) and do not necessarily reflect the views of the National Science Foundation.
Appendix
Appendix
Sample Conceptual Storyline Probe
Version #1

Version #2

As a group, students brainstorm everyday items they know that use magnets. They discuss what the item is, how it works, and what role magnets play

The teacher then provides each pair of students with a magnetic object to explore (e.g., magnetic fishing game)

S/he asks them to focus on the types of interactions (attracting/repelling) and whether magnets are interacting with other magnets or other objects. Afterward, pairs present their items to the class, explaining how they work

The teacher then shares a proposal for a 'magnetic recycling sorter' that claims to sort metal and nonmetal items for recycling, and asks groups to discuss whether they think the invention would work

Students critique this product and decide that it would not attract all metals and might accidentally trap nonmetals between the magnet and iron objects

Each student is then challenged to come up with their own working magnetic invention. They build prototypes and create a 'product pitch' to share at an Invention Convention

As a group, students brainstorm everyday items they know that use magnets. They discuss what the item is, how it works, and what magnetic interactions are involved

The teacher then provides each student a compass and asks them to explore and determine whether the compass is magnetic

Building on students' observation that the compass needle moves when a magnet is brought near it, the teacher asks students to record the maximum distance from the compass that different magnets influence its direction

Students then use this as evidence to support their arguments about which magnet is the strongest. Students agree that the farther the distance from which a magnet affects the compass needle's direction, the stronger it is

Students then watch a video on YouTube from the National High Magnetic Field Laboratory called the World's Strongest Magnet. In this video, scientists share how they build an electromagnet

Afterward, students are able to build their own electromagnets by wrapping wire around steel bolts and attaching these to a battery
Sample Conceptual Storyline Map from Program Curriculum (Adapted from Bybee, 2015)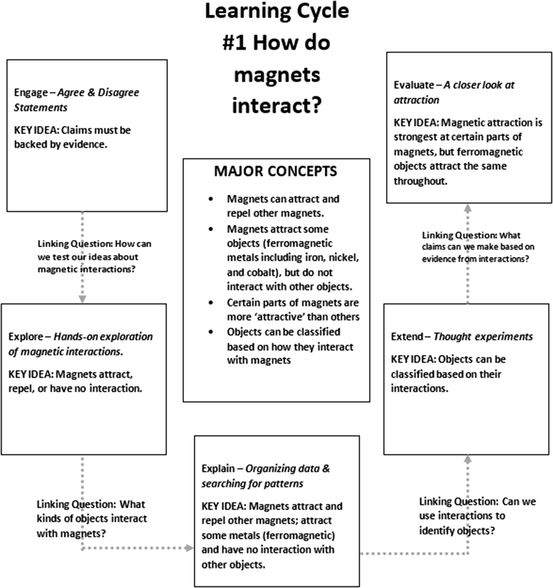 Sample Conceptual Storyline Maps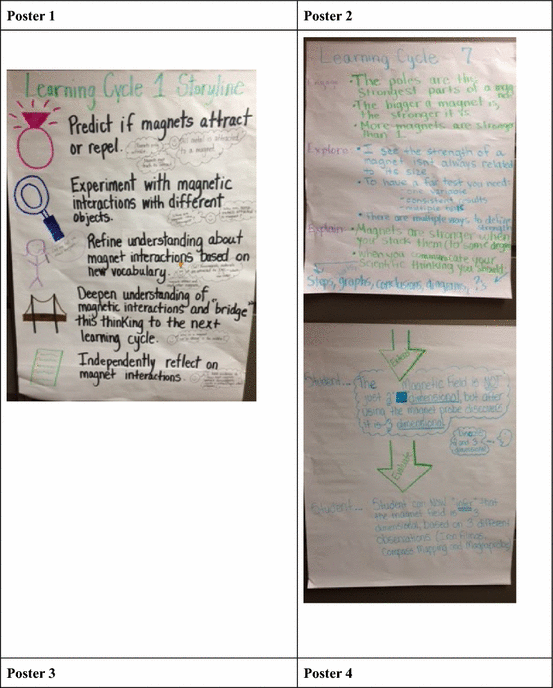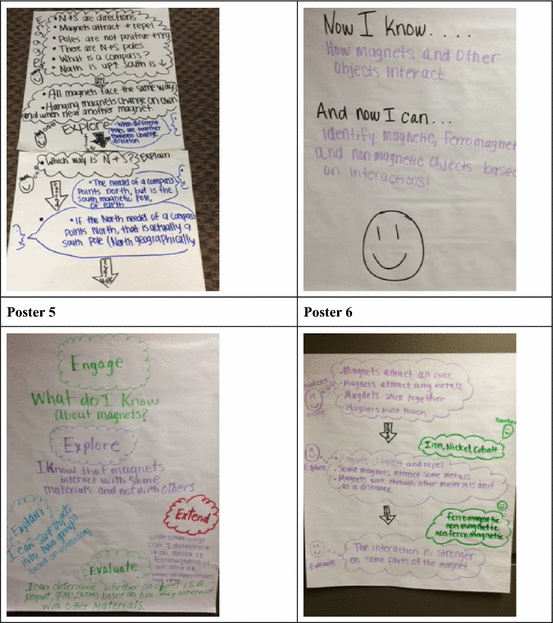 About this article
Cite this article
Hanuscin, D., Lipsitz, K., Cisterna-Alburquerque, D. et al. Developing Coherent Conceptual Storylines: Two Elementary Challenges. J Sci Teacher Educ 27, 393–414 (2016). https://doi.org/10.1007/s10972-016-9467-2
Published:

Issue Date:

DOI: https://doi.org/10.1007/s10972-016-9467-2
Keywords
Conceptual storylines

Professional development

Elementary science teaching

Pedagogical design capacity