Abstract
In this qualitative study, we identify the complexity of the transitioning identities of four STEM career changers to better inform teacher education programs on how to be more mindful of the needs of this population as they return to the life of a student again on their path toward a new career in teaching. Findings suggest the career changers relied upon their identities from their previous careers to engage students in science; however, support is needed, both in terms of the coursework and returning to be a student again. Additionally, support is necessary for intervening in difficult placements and work situations as these STEM career changers make the transition to their newly chosen career of teaching science.
We're sorry, something doesn't seem to be working properly.
Please try refreshing the page. If that doesn't work, please contact support so we can address the problem.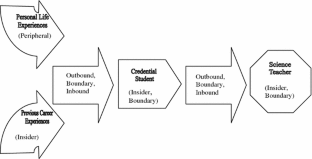 References
Barton, A. C. (1998). Feminist science education. New York, NY: Teachers College Press.

Berry, B. (2000). Quality alternatives in teacher preparation: Dodging the "Silver Bullet" and doing what is right for students. National Association of State Boards of Education. The State Education Standard, 1(4), 21–25.

Bogdan, R. C., & Biklen, S. K. (1982). Qualitative research for education: An introduction to theory and methods. Boston, MA: Allyn and Bacon, Inc.

Castro, A. J., & Bauml, M. (2009). Why now? Factors associated with choosing teaching as a second career and their implications for teacher education programs. Teacher Education Quarterly, 36, 113–126.

Chambers, D. (2002). The real world and the classroom: Second career teachers. The Clearinghouse, 75, 212–217.

Cunningham, C., & Helms, J. (1998). Sociology of science as a means to a more authentic, inclusive science education. Journal of Research in Science Teaching, 35, 483–484.

Darling-Hammond, L., Holtzman, D. J., Gatlin, S. J., & Heilig, J. V. (2005). Does teacher preparation matter? Evidence about teacher certification, Teach for America, and teacher effectiveness. Retrieved from http://bama.ua.edu/~jstallwo/CEE_Strand5/LDarling_Hammond.

Detert, J. R., & Pollock, T. G. (2008). Values, interests, and the capacity to act: Understanding professionals' responses to market-based improvement initiatives in highly institutionalized organizations. Journal of Applied Behavioral Science, 44, 186–214.

Eifler, K., & Potthoff, D. E. (1998). Nontraditional teacher education students: A synthesis of the literature. Journal of Teacher Education, 49, 187–195.

Grier, J. M., & Johnston, C. C. (2009). An inquiry into the development of teacher identities in STEM career changers. Journal of Science Teacher Education, 20, 57–75.

Lofland, J., & Lofland, L. H. (1984). Analyzing social settings. Belmont, CA: Wadsworth Publishing Company, Inc.

Miles, M. B., & Huberman, A. M. (1994). Qualitative data analysis (2nd ed.). Thousand Oaks, CA: Sage Publications.

Monk, D. H. (1994). Subject area preparation of secondary mathematics and science teachers and student achievement. Economics of Education Review, 13, 125–145.

Patton, M. Q. (1990). Qualitative evaluation and research methods (2nd ed.). Newbury Park, CA: Sage Publications, Inc.

Resta, V., Huling, L., & Rainwater, N. (2001). Preparing second career teachers. Educational Leadership, 58, 60–63.

Russ, R. S., Coffey, J. E., Hammer, D., & Hutchison, P. (2009). Making classroom assessment more accountable to scientific reasoning: A case for attending to mechanistic thinking. Science Education, 93, 875–891.

Schlossberg, N. K. (1981). A model for analyzing human adaptation to transition. The Counseling Psychologist, 9, 2–18.

Schulz, C. (2007). Alternative certification and the second career professional: How to get more of a good thing. Retrieved from www.stemtec.org/act/PAPERS/Christopher%20Schulz.doc.

Southerland, S. A., Gess-Newsome, J., & Johnston, A. (2003). Portraying science in the classroom: The manifestation of scientists' beliefs in classroom practice. Journal of Research in Science Teaching, 40, 669–691.

Stoddart, T., & Floden, R. (1996). Traditional and alternate routes to teacher certification: Issues, assumptions, and misconceptions. In K. Zeichner, S. Melnick, & M. L. Gomez (Eds.), Currents of reform in preservice teacher education (pp. 80–1060). New York, NY: Teachers College Press.

Varelas, M., House, R., & Wenzel, S. (2005). Beginning teachers immersed into science: Scientist and science teacher identities. Science Education, 89, 492–512.

Wenger, E. (1998). Communities of practice: Learning, meaning, and identity. Cambridge, UK: Cambridge University Press.

Wenger, E. (2000). Communities of practice and social learning systems. Organization, 7, 225–246.
About this article
Cite this article
Grier, J.M., Johnston, C.C. STEM Professionals Entering Teaching: Navigating Multiple Identities. J Sci Teacher Educ 23, 19–44 (2012). https://doi.org/10.1007/s10972-011-9260-1
Published:

Issue Date:

DOI: https://doi.org/10.1007/s10972-011-9260-1
Keywords
Career-changer

Identity

Science teaching

Teacher education