Abstract
The flexibly adaptive model of professional development, developed in the GIT Ahead project, enables secondary science teachers to incorporate a variety of geospatial technology applications into wide-ranging classroom contexts. Teacher impacts were evaluated quantitatively and qualitatively. Post-questionnaire responses showed significant growth in teachers' perceived technological expertise, interest, and ability to integrate geospatial technology into their science teaching. Application of the Technical Pedagogical Content Knowledge (TPACK) framework to three case studies illustrates such growth. Crucial aspects of professional development in support of teaching science with geospatial technology include intensive training, ongoing support, a supportive learning community, and flexibility in terms of support provided and implementation expectations. Implications are presented for design of professional development and use of TPACK in evaluating impacts.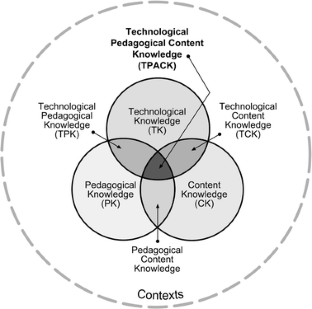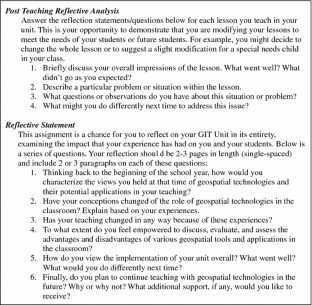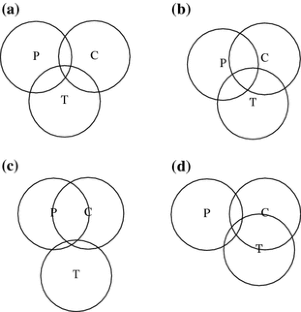 Notes
1.

For example, anonymous surveys at the end of each Saturday workshop included the question, "The day as a whole—was your time well spent?" Responses to this question averaged 3.8 across the six workshops, with 1 = Not useful, 2 = Slightly useful, 3 = Useful, and 4 = Very useful. (Similar responses reflected satisfaction in pace and degree of difficulty of the overall experience, and utility of individual activities at each workshop.)
References
Barab, S. A., & Duffy, T. (2000). From practice fields to communities of practice. In D. Jonassen & S. Land (Eds.), Theoretical foundations of learning environments. New York: Lawrence Erlbaum.

Brown, A. L. (1992). Design experiments: Theoretical and methodological challenges in creating complex interventions in classroom settings. The Journal of the Learning Sciences, 2, 141–178.

Brown, J. S., Collins, A., & Duguid, P. (1989). Situated cognition and the culture of learning. Educational Researcher, 18, 32–42.

Coulter, B., & Polman, J. L. (2004). Enacting technology-supported inquiry learning through mapping our environment. Paper presented at the American Educational Research Association, San Diego, CA.

Dedrick, R. (2009). Google Earth Tours. Retrieved December 9, 2009, from http://www.canandaiguaschools.org/webpages/dedrickr/index.cfm?subpage=10964.

Desimone, L. M. (2009). Improving impact studies of teachers' professional development: Toward better conceptualizations and measures. Educational Researcher, 38, 181–199.

Doering, A., & Veletsianos, G. (2007). An investigation of the use of real-time, authentic geospatial data in the K-12 classroom. Journal of Geography, 106, 217–225.

Drennon, C. (2005). Teaching geographic information systems in a problem-based learning environment. Journal of Geography in Higher Education, 29, 385–402.

Garmire, E., & Pearson, G. (Eds.). (2006). Tech tally: Approaches to assessing technological literacy. Washington, DC: National Academy Press.

Glaser, B. G., & Strauss, A. (1967). The discovery of grounded theory: Strategies for qualitative research. New York: Aldine De Gruyter.

Greeno, J. G. (1998). The situativity of knowing, learning, and research. American Psychologist, 53, 5–26.

Hall-Wallace, M. K., & McAuliffe, C. M. (2002). Design, implementation, and evaluation of GIS-based learning materials in an introductory geoscience course. Journal of Geoscience Education, 50, 5–14.

Kluge, S., Patrick, D., & Fermann, E. (2007). Designing and creating earth science lessons with Google Earth. Retrieved December 1, 2007, from http://stevekluge.com/projects/dlesege/dlesegemanual/manual.html.

Koehler, M. J., & Mishra, P. (2009). What is technological pedagogical content knowledge? Contemporary Issues in Technology and Teacher Education, 9, 60–70.

Lave, J., & Wenger, E. (1991). Situated learning: Legitimate peripheral participation. Cambridge, UK: Cambridge University Press.

Lincoln, Y. S., & Guba, E. G. (1985). Naturalistic inquiry. Beverly Hills, CA: Sage.

Loucks, S. F. (1983). Ensuring success: Good news from a study of school improvement. Educational Leadership, 41, 3–32.

Loucks-Horsley, S., Love, N., Stiles, K., Hewson, P., & Mundry, S. (2003). Designing professional development for teachers of science and mathematics (2nd ed.). Thousand Oaks, CA: Corwin Press.

Malone, L., Palmer, A. M., Voigt, C. L., Napoleon, E., & Feaster, L. (2005). Mapping our world: GIS lessons for educators (ArcGIS desktop edition). Redlands, CA: ESRI Press.

McClurg, P. A., & Buss, A. (2007). Professional development: Teachers use of GIS to enhance student learning. Journal of Geography, 106, 79–87.

Merchant, J. (2007). Using geospatial data in geographic education. Journal of Geography, 106, 215–216.

Mishra, P., & Koehler, M. J. (2006). Technological pedagogical content knowledge: A new framework for teacher knowledge. Teachers College Record, 108, 1017–1054.

National Research Council. (2006). Learning to think spatially: GIS as a support system in the K-12 curriculum. Washington, DC: National Academies Press.

Penuel, W. R., & Means, B. (2004). Implementation variation and fidelity in an inquiry science program: An analysis of GLOBE data reporting patterns. Journal of Research in Science Teaching, 41, 294–315.

Shulman, L. S. (1986). Those who understand: Knowledge growth in teaching. Educational Researcher, 15(2), 4–14.

Shulman, L. S. (1987). Knowledge and teaching: Foundations of the new reform. Harvard Educational Review, 57, 1–22.

Squire, K. D., MaKinster, J. G., Barnett, M., Leuhmann, A. L., & Barab, S. L. (2003). Designed curriculum and local culture: Acknowledging the primacy of classroom culture. Science Education, 87, 468–489.

Stake, R. E. (1995). The art of case study research. Thousand Oaks, CA: Sage Publications.

Strauss, A., & Corbin, J. (1990). Basics of qualitative research: Techniques and procedures for developing grounded theory. Thousand Oaks, CA: Sage Publications.

Wilder, A., Brinkerhoff, J. D., & Higgins, T. M. (2003). Geographic information technologies + project-based science: A contextualized professional development approach. Journal of Geography, 102, 255–266.

Zeichner, K. M., & Liston, D. (1996). Reflective teaching. Mahwah, NJ: Lawrence Erlbaum.
Acknowledgments
We appreciate the comments and suggestions offered by three anonymous reviewers and the editors of this journal. This material is based upon work supported by the National Science Foundation (NSF) under DUE Grant No 0602751. Any opinions, findings and conclusions or recommendations expressed in this material are those of the authors and do not necessarily reflect the views of NSF. For more information about GIT Ahead, see http://fli.hws.edu/gitahead/.
About this article
Cite this article
Trautmann, N.M., MaKinster, J.G. Flexibly Adaptive Professional Development in Support of Teaching Science with Geospatial Technology. J Sci Teacher Educ 21, 351–370 (2010). https://doi.org/10.1007/s10972-009-9181-4
Keywords
TPACK or TPCK

In-service education

Professional development

Geospatial technology

GIS

Google Earth