Abstract
In this study, undoped zinc oxide and cobalt-doped thin films were deposited on glass substrates using a sol–gel dip-coating technic. The effect of gamma irradiation on structural, morphological, and optical properties of the samples was investigated. Different analyses including X-ray diffraction (XRD), field emission scanning electron microscopy (FESEM), Raman spectroscopy, UV–Vis spectrophotometry, and photoluminescence spectroscopy (PL) were applied to evaluate the physical changes due to gamma irradiation of the 60Co gamma-ray source. Furthermore, the sensing performance of the samples toward ethylene glycol vapor was investigated before and after irradiation. The results revealed that under low and relatively long-term gamma irradiation, tangible effects on various physical properties (especially optical and sensing characteristics) can be observed. According to our data, in undoped zinc oxide, a higher sensitivity is observed (with an increase of 2.5 times), whereas in cobalt doped, the sensitivity is reduced (with a 1.8 times reduction).
Highlights
ZnO and ZnO:Co thin films have been prepared by the sol-gel dip coating method.

Physical properties were examined by exposing to gamma irradiation for 40 days.

Gamma irradiation effectively affected the optical properties of the samples.

Ethylene glycol sensing of ZnO is increased by 2.5 times after irradiation.
Access options
Buy single article
Instant access to the full article PDF.
USD 39.95
Price excludes VAT (USA)
Tax calculation will be finalised during checkout.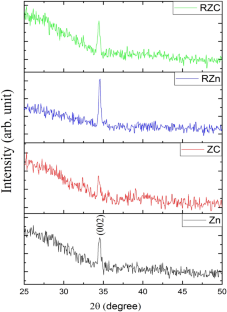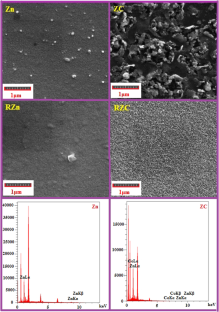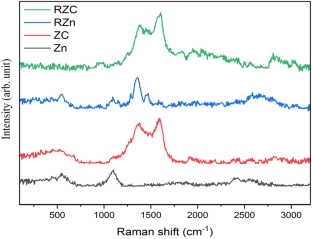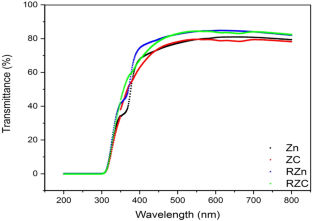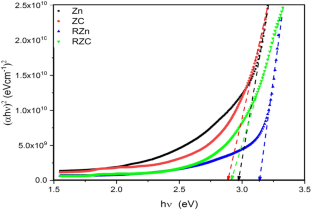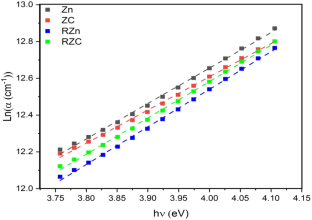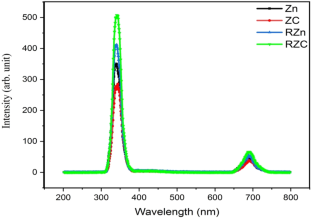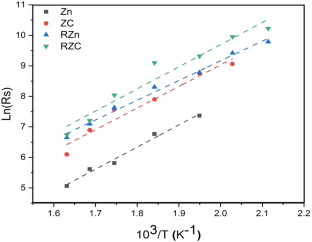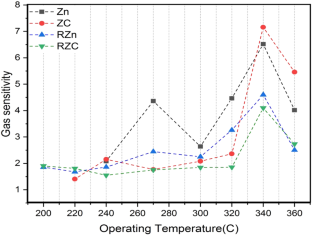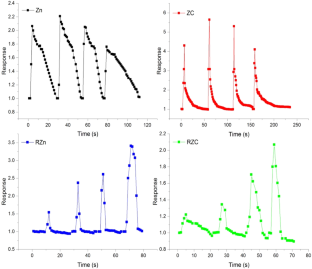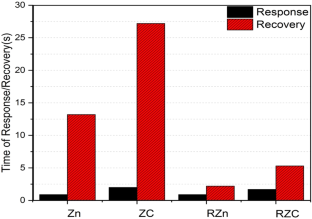 References
Azmy NAN, Abdullah H, Naim NM, Abdul Hamid A, Shaari S, Mokhtar WHMW (2014) Gamma irradiation effect on the structural, morphology and electrical properties of ZnO-CuO doped PVA nanocomposite thin Films for Escherichia coli sensor. Radiat Phys Chem 103:108–113

Abdolahpour Salari M, Sağlam M, Güzeldir B (2019) The protection from the effects of gamma rays of metal-semiconductor diodes by means of ZnO thin interface layer. Radiat Phys Chem 165:108416

Pervez MF, Mia MNH, Sazzad Hossain, Saha SMK, Alid MH, Pooja Sarker, Khalid Hossain M, Matin MA, M. Hoq MAM (2018) Chowdhury, Influence of total absorbed dose of gamma radiation on optical bandgap and structural properties of Mg-doped zinc oxide. Optik 162:140–150

Raut AV, Kurmude DV, Shengule DR, Jadhav KM (2015) Effect of gamma irradiation on the structural and magnetic properties of Co-Zn spinel ferrite nanoparticles. Mater Res Bull 63:123–128

Qindeel R (2017) Effect of gamma radiation on morphological & optical properties of ZnO Nanopowder. Results Phys 7:807–809

Reyhani A, Gholizadeh A, Vahedi V, Khanlari MR (2018) Effect of gamma radiation on the optical and structural properties of ZnO nanowires with various diameters. Opt Mater 75:236–242

Kavun Y, Eskalen H, Kavgaci M (2023) A study on gamma radiation shielding performance and characterization of graphitic carbon nitride. Chem Phys Lett 811:140246

Kavun Y, Kerli S, Eskalen H, Kavgaci M (2022) Characterization and nuclear shielding performance of Sm doped In2O3 thin films. Radiat Phys Chem 194:110014

Tarawneh MA, Saraireh SA, Chen RS, Ahmad SH, Al- Tarawni MAM, Yu LJ (2021) Gamma irradiation influence on mechanical, thermal and conductivity properties of hybrid carbon nanotubes/montmorillonite nanocomposites. Radiat Phys Chem 179:109168

Sen SK, Al Mortuza A, Manir MS, Pervez MF, Hossain SMAI, Alam MDS, Haque MAS, Matin MA, Hakim MA, Huda A (2020) Structural and optical properties of sol-gel synthesized h-MoO3 nanorods treated by gamma radiation. Nano Express 1:020026

Ranwa S, Barala SS, Fanetti M, Kumar M (2016) Effect of gamma irradiation on Schottky-contacted vertically aligned ZnO nanorod-based hydrogen sensor. Nanotechnology 27:345502

Bagheri Khatibani A, Shabankhah A (2021) Fabrication and ethanol sensing of sol–gel grown zinc oxide powder: the effect of cobalt and copper doping. Appl Phys A 127:308

Anbalagan AK, Gupta S, Kumar RR, Tripathy AR, Chaudhary M, Haw SC, Murugesan T, Lin HN, Chueh YL, Tai NH, Lee CH (2022) Gamma-ray engineered surface defects on zinc oxide nanorods towards enhanced NO2 gas sensing performance at room temperature. Sens Actuators B 369:132255

Eskalen H, Kavun Y, Kavgaci M (2023) Preparation and study of radiation shielding features of ZnO nanoparticle reinforced borate glasses. Appl Radiat Isot 198:110858

Bagheri Khatibani A (2021) Investigation of gas sensing property of zinc oxide thin films deposited by Sol-Gel method: effects of molarity and annealing temperature. Indian J Phys 95:243–252

Saadat Niavol S, Bagheri Khatibani A, Imani S, Milani Moghaddam H (2023) Ethylene glycol-sensing properties of hydrothermally grown feather-like ZnO nanopowder with abundant oxygen vacancies. J Mater Res 38:1211–1223

Lv J, Yang J, Li X, Chai Z (2019) Size dependent radiation-stability of ZnO and TiO2 particles. Dyes Pigm 164:87–90

Nejatinia S, Khadem Charvadeh S, Khatibani AB (2022) Khatibani, The effect of graphene and cobalt on ethanol sensing performance of ZnO based sensor prepared by sol-gel method. Jpn J Appl Phys 61:017001

Khadem Charvadeh S, Nejatinia S, Bagheri Khatibani A, Ahmadi MH (2022) Growth, characterization and investigation of gas-sensing performance of graphene and copper-doped zinc oxide prepared by sol–gel method. Bull Mater Sci 45:61

Amakali T, Daniel LS, Uahengo V, Dzade NY, de Leeuw NH (2020) Structural and optical properties of ZnO thin films prepared by molecular precursor and sol–gel methods. Crystals 10:132

Saleem M, Fang L, Wakeel A, Rashad M, Kong CY (2012) Simple preparation and characterization of nano-crystalline zinc oxide thin films by sol-gel method on glass substrate. World J Condens Matter Phys 2:10–15

Fareed S, Jamil A, Tiwari N, Rafiq MA (2019) Influence of Cr doping on Schottky barrier height and visible light detection of ZnO thin films deposited by magnetron sputtering. Micro Nano Eng 2:48–52

Huang L, Hao Y, Hu M (2018) Optical and magnetic properties of Co-doped ZnO synthesized by magnetic assisted hydrothermal method. Mater Sci Semicond Process 74:303–308

Poornaprakash B, Chalapathi U, Subramanyam K, Vattikuti SVP, Park SH (2020) Wurtzite phase Co-doped ZnO nanorods: morphological, structural, optical, magnetic, and enhanced photocatalytic characteristics. Ceram Int 46:2931–2939

Cuscó R, Lladó EA, Ibáñez J, Artús L (2007) Temperature dependence of Raman scattering in ZnO. Phys Rev B Condens Matter 75:165202

Saadat Niavol S, Milani Moghaddam H, Bagheri Khatibani A, Hashemi Karouei SF, Hermerschmidt F, Ligorio G, List-Kratochvil EJW (2022) Enhancing both methylene blue photocatalytic degradation and ethanol sensing performances of ZnO/rGO nanocomposite through the variation of GO amount. Appl Phys A 128:733

El-Badry BA, Madkhali N, Deghady AM (2022) Influence of eumelanin and gamma irradiation on ZnO nanocomposite properties. Radiat Phys Chem 191:109845

Khatibani AB (2019) Characterization and ethanol sensing performance of sol–gel derived pure and doped zinc oxide thin films. J Electron Mater 48:3784

Abdolahzadeh Ziabari A, Ghodsi FE (2013) Influence of Cu doping and post-heat treatment on the microstructure, optical properties and photoluminescence features of sol–gel derived nanostructured CdS thin films. J Lumin 141:121–129

Bagheri Khatibani A, Rozati SM, Bargbidi Z (2012) Preparation, study and nanoscale growth of indium oxide thin films. Acta Phys Pol A 122(1):220–223

Srivastava R (2012) Investigation on temperature sensing of nanostructured zinc oxide synthesized via oxalate route. J Sens Technol 2:8–12

Bagheri Khatibani A, Abbasi M (2015) Comparison of gas sensing properties of spray pyrolysed VOx thin films. J Mater Sci Mater Electron 26:5052

Khatibani AB, Abbasi M (2018) Effect of Fe and Co doping on ethanol sensing property of powder-based ZnO nanostructures prepared by sol–gel method. J Sol–Gel Sci Technol 86:255–265

Saadat Niavol S, Milani Moghaddam H (2021) SnO2 nanoparticles/reduced graphene oxide nanocomposite for fast ethanol vapor sensing at a low operating temperature with an excellent long-term stability. J Mater Sci Mater Electron 32:6550–6569
Acknowledgements
We would like to sincerely thank Dr. Somayeh Saadat Niavol for her responsible partnership to prepare this article, especially in the sensor section.
Author contributions
HB: Conceptualization/Methodology/Formal analysis/Investigation/Writing – Original Draft. MS: Conceptualization/Methodology/Formal analysis/Investigation/Writing – Original Draft. MHA: Writing – Original Draft/Writing – Review &; Editing. ABK: Validation/Investigation/Resources/Data Curation/Writing – Original Draft/Writing – Review &; Editing.
Ethics declarations
Conflict of interest
The authors declare no competing interests.
Additional information
Publisher's note Springer Nature remains neutral with regard to jurisdictional claims in published maps and institutional affiliations.
Rights and permissions
Springer Nature or its licensor (e.g. a society or other partner) holds exclusive rights to this article under a publishing agreement with the author(s) or other rightsholder(s); author self-archiving of the accepted manuscript version of this article is solely governed by the terms of such publishing agreement and applicable law.
About this article
Cite this article
Beigli, H., Shaddoust, M., Ahmadi, M.H. et al. Effect of low and relatively long-term gamma irradiation on physical properties of ZnO and ZnO:Co thin films. J Sol-Gel Sci Technol 108, 798–808 (2023). https://doi.org/10.1007/s10971-023-06229-0
Received:

Accepted:

Published:

Issue Date:

DOI: https://doi.org/10.1007/s10971-023-06229-0
Keywords