Abstract
In this work, hydrophobic surfaces on cotton fabrics were obtained using a sol–gel technique to produce coatings applied using a spray of precursor solution followed by drying and heat treatments. Different types of treatments using the sol–gel process were performed in order to assess the influence on fabric hydrophobicity, with alteration of parameters including the concentrations of citric acid and tetraethyl orthosilicate (TEOS), the number of sprays, and curing of the fabric after obtaining the hydrophobic coating. The absorption of water into material samples were tested according to the AATCC test method 79. Scanning electron microscopy, contact angle, and Fourier-transform infrared spectroscopy (FT-IR) analysis were also studied. Excellent results were obtained for the contact angle (>150°), hence characterizing all the treatments as super-hydrophobic. FT-IR analyses revealed differences according to the citric acid concentration employed. The best results were obtained for samples treated using a higher concentration of citric acid and spraying the sol–gel solution twice. Mathematical models of the contact angle and the time for water absorption by the fabric treated with TEOS and citric acid showed good agreement with the experimental data.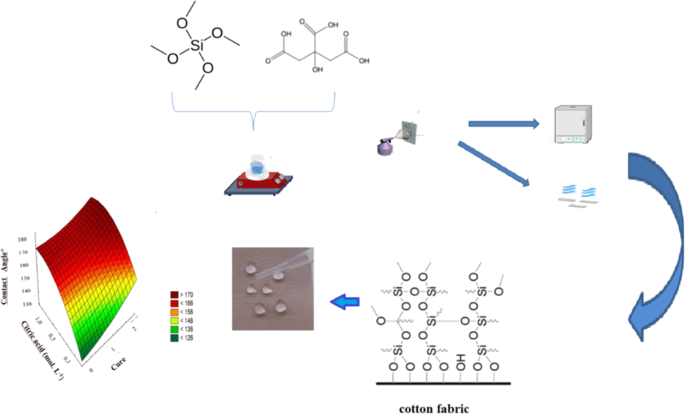 Highlights
A hydrophobic coating on porous materials was achieved using a simple, single-step, and inexpensive procedure employing TEOS, citric acid, and ethanol, without any fluorinated compounds.

The hydrophobic solution was applied using a spray of fine droplets released at a distance of 15 cm from the porous material.

Better resistance to washing processes was obtained using higher concentrations of citric acid for formation of the hydrophobic solution employed for the porous coating on the cotton fabric.
Access options
Buy single article
Instant access to the full article PDF.
USD 39.95
Price excludes VAT (USA)
Tax calculation will be finalised during checkout.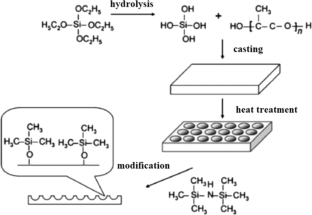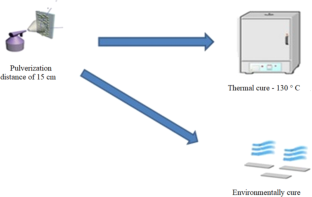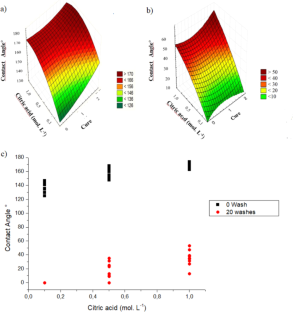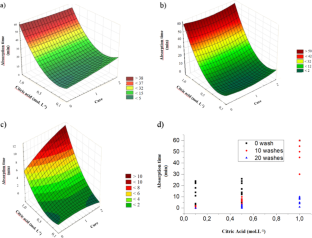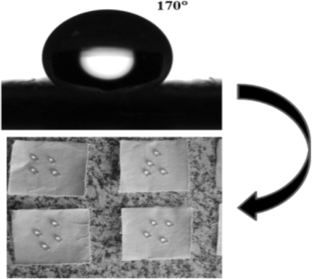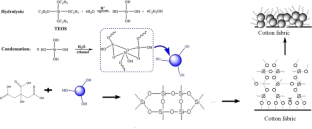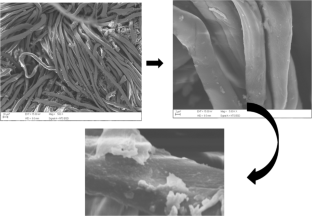 References
Xue C-H, Jia S-T, Zhang J, Ma J-Z (2010) Large-area fabrication of superhydrophobic surfaces for practical applications: an overview. Sci Technol Adv Mater 11:033002

Xue CH, Zhang P, Ma JZ, Ji PT, Li RY, Jia ST (2013) Long-lived superhydrophobic colorful surfaces. Chem Commun 49:3588–3590

Ismail WNW (2016) Sol–gel technology for innovative fabric finishing—a review. J Sol–Gel Sci Technol 78:698–707

Xiang T, Lv Z, Wei F, Liu J, Dong W, Li C, Zhao Y, Chen D (2019) Superhydrophobic civil engineering materials. Coatings 9:753

Leoni GB, Freitas DS De (2020) Multivariable analysis of electrodeposited silane based superhydrophobic coatings for corrosion protection of carbon steel. J Sol–Gel Sci Technol. https://doi.org/10.1007/s10971-020-05225-y

Tsvetkova IN, Krasil'nikova LN, Khoroshavina YV, Galushko AS, Frantsuzova Yu V, Kychkin AK, Shilova AO (2019) Sol–gel preparation of protective and decorative coatings on wood. J Sol–Gel Sci Technol 92:474–483

Yun L, Zhao J, Kang X, Du Y, Yuan X, Hou X (2017) Preparation and properties of monolithic and hydrophobic gelatin–silica composite aerogels for oil absorption. J Sol–Gel Sci Technol 83:197–206

Lee J, Ha JH, Song IH, Park JW (2019) Facile surface modification of ceramic membranes using binary TiO2/SiO2 for achieving fouling resistance and photocatalytic degradation. J Sol–Gel Sci Technol 91:198–207. https://doi.org/10.1007/s10971-019-04972-x

Zhang X, Shi F, Niu J, Jiang Y, Wang Z (2008) Superhydrophobic surfaces: from structural control to functional application. J Mater Chem 18:621–633

Adamson AW, Gast AP (1997) Physical chemistry of surfaces, 6th edn. A Wiley-Interscience Publication, New York.

Yuan Y, Lee TR (2013) Contact angle and wetting properties. In: Bracco G, Holst B. (eds) Springer series in surface sciences, vol 51. Springer, Berlin, Heiderberg

Crick CR, Parkin IP (2010) Preparation and characterisation of super-hydrophobic surfaces. Chem Eur J 16:3568–3588

Wenzel RN (1936) Resistance of solid surfaces to wetting by water. Ind Eng Chem 28:988–994

Cassie ABD, Baxter S (1944) Wettability of porous surfaces. Trans Faraday Soc 40:546–551

Sun D, Wang W, Yu D (2017) Highly hydrophobic cotton fabrics prepared with fluorine-free functionalized silsesquioxanes. Cellulose 24:4519–4531

Bae GY, Min BG, Jeong YG, Lee SC, Jang JH, Koo GH (2009) Superhydrophobicity of cotton fabrics treated with silica nanoparticles and water-repellent agent. J Colloid Interface Sci 337:170–175

Danks AE, Hall SR, Schnepp Z (2016) The evolution of "sol–gel" chemistry as a technique for materials synthesis. Mater Horiz 3:91–112

Mao N, Du M (2017) Sol–gel-based treatments of textiles for water repellence. Elsevier Ltd.

Wang G, Yang J, Shi Q (2011) Preparation of transparent ultrahydrophobic silica film by sol-gel process. J Coat Technol Res 130:3862–3868

Li Y, Cai Z (2012) Effect of acid-catalyzed sol-gel silica coating on the properties of cotton fabric. J Text Inst 103:1099–1107

Przybylak M, Maciejewski H, Dutkiewicz A, Dabeck A, Nowichi M (2016) Fabrication of superhydrophobic cotton fabrics by a simple chemical modification. Cellulose 23:2185–2197

Zhu Q, Gao Q, Guo Y, Yang CQ, Shen L (2011) Modified silica sol coatings for highly hydrophobic cotton and polyester fabrics using a one-step procedure. Ind Eng Chem Res 50:5881–5888

Tang X, Yan X (2017) Dip-coating for fibrous materials: mechanism, methods and applications. J Sol–Gel Sci Technol 81:378–404

Cheng QY, Liu MC, Li YD, Zhu J, Du AK, Zeng JB (2018) Biobased super-hydrophobic coating on cotton fabric fabricated by spray-coating for efficient oil/water separation. Polym Test 66:41–47

Sasaki K, Tenjimbayashi M, Manabe K, Shiratori S (2016) Asymmetric superhydrophobic/ superhydrophilic cotton fabrics designed by spraying polymer and nanoparticles. ACS Appl Mater Interfaces 8:651–9

Abbas A, Zhao Y, Ali U, Lin T (2017) Improving heat-retaining property of cotton fabrics through surface coatings. J Text Inst 108:1808–1814

Jeong SA, Kang TJ (2017) Superhydrophobic and transparent surfaces on cotton fabrics coated with silica nanoparticles for hierarchical roughness. Text Res J 87:552–560

Lee S, Obendorf SK (2007) Barrier effectiveness and thermal comfort of protective clothing materials. J Text Inst 98:87–97

Milionis A, Loth E, Bayer IS (2016) Recent advances in the mechanical durability of superhydrophobic materials. Adv Colloid Interface Sci 229:57–79

AATCC 79 (2014) Absorbancy of textiles, AATCC technical manual. AATCC, Research Triangle Park, N.C., USA

Daroux FY, Carr DJ, Kieser J et al. (2010) Effect of laundering on blunt force impact damage in fabrics. Forensic Sci Int 197:21–29

Espanhol-Soares M, Teodoro de Oliveira M, Machado-Neto JG (2017) Loss of effectiveness of protective clothing after its use in pesticide sprays and its multiple washes. J Occup Environ Hyg 14:113–126

Ghasemlou M, Daver F, Ivanova EP, Adhikari B (2019) Bio-inspired sustainable and durable superhydrophobic materials: from nature to market. J Mater Chem A 7:16643–16670

Liu J, Huang W, Xing Y et al. (2011) Preparation of durable superhydrophobic surface by sol-gel method with water glass and citric acid. J Sol–Gel Sci Technol 58:18–23

Periolatto M, Ferrero F, Montarsolo A, Mossotti R (2013) Hydrorepellent finishing of cotton fabrics by chemically modified TEOS based nanosol. Cellulose 20:355–364

Tasleem S, Sabah A, Cheema UA, Sabir A (2019) Transparent hydrophobic hybrid silica films by green and chemical surfactants. ACS Omega 4:13543–13552. https://doi.org/10.1021/acsomega.9b01894

Gao Q, Zhu Q, Guo Y, Yang CQ (2009) Formation of highly hydrophobic surfaces on cotton and polyester fabrics using silica sol nanoparticles and nonfluorinated alkylsilane. Ind Eng Chem Res 48:9797–9803

Coates J (2006) Interpretation of infrared spectra, a practical approach. In: Encyclopedia of Analytical Chemistry. John Wiley & Sons Ltd. https://doi.org/10.1002/9780470027318.a5606

Wang X, Xu S, Tan Y et al. (2016) Synthesis and characterization of a porous and hydrophobic cellulose-based composite for efficient and fast oil-water separation. Carbohydr Polym 140:188–194

Xue CH, Jia ST, Zhang J, Tian LQ (2009) Superhydrophobic surfaces on cotton textiles by complex coating of silica nanoparticles and hydrophobization. Thin Solid Films 517:4593–4598

Ren Y, Zhang Y, Gu Y, Zeng Q (2017) Flame retardant polyacrylonitrile fabrics prepared by organic-inorganic hybrid silica coating via sol-gel technique. Prog Org Coat 112:225–233
Ethics declarations
Conflict of interest
The authors declare that they have no conflict of interest.
Additional information
Publisher's note Springer Nature remains neutral with regard to jurisdictional claims in published maps and institutional affiliations.
About this article
Cite this article
Espanhol-Soares, M., Costa, L., Silva, M.R.A. et al. Super-hydrophobic coatings on cotton fabrics using sol–gel technique by spray. J Sol-Gel Sci Technol 95, 22–33 (2020). https://doi.org/10.1007/s10971-020-05307-x
Received:

Accepted:

Published:

Issue Date:

DOI: https://doi.org/10.1007/s10971-020-05307-x
Keywords
Hydrophobicity

Sol–gel

Contact angle

Optimization