Preparation of lithium ion conductive Li6PS5Cl solid electrolyte from solution for the fabrication of composite cathode of all-solid-state lithium battery
Original Paper: Sol–gel and hybrid materials for energy, environment and building applications
Abstract
An argyrodite type Li6PS5Cl was prepared by the solution process using a mixture of solvents with a fast evaporation rate. The crystal phase and ionic conductivity of the Li6PS5Cl solid electrolyte were examined by X-ray diffraction and electrochemical impedance spectroscopy, respectively. Li6PS5Cl derived from solution process shows an argyrodite structure with an ionic conductivity of 6 × 10-5 S cm−1 at room temperature. Composite cathode was directly prepared by dispersing LiNi1/3Mn1/3Co1/3O2 (84 wt%) and a conductive additive (2 wt%) into a Li6PS5Cl precursor solution (14 wt%), with subsequent heating at 150 °C. Morphology of the composite cathode was evaluated by scanning electron microscopy and energy-dispersive X-ray spectroscopy. The formation of Li6PS5Cl-layer on the active material particles was observed. A bulk-type all-solid-state cell was fabricated with composite cathode derived from the solution process, achieving an initial discharge capacity of 160 mAh g−1 and capacity retention of ~80% after 20 cycles with a capacity efficiency of 100%.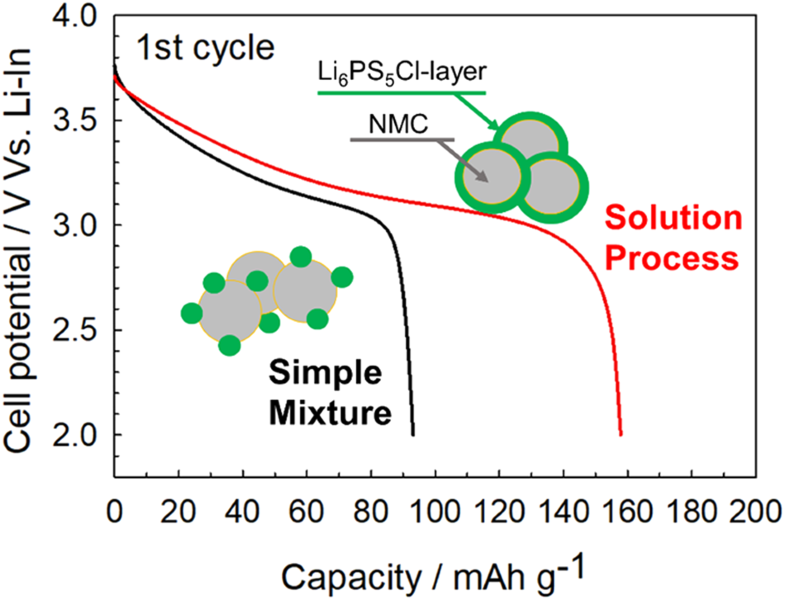 Highlights
An argyrodite type Li6PS5Cl was prepared by solution process using a mixture solvents with a fast evaporation rate.

Composite cathode for all solid state battery was directly prepared by dispersing a cathode material in the precursor solution.

The cell worked as a rechargeable battery with good cycle performance.
Keywords
All solid state lithium battery 
Solid electrolyte 
Composite electrode 
Argyrodite type 
Notes
Acknowledgements
The present work was supported by the Japan Science and Technology Agency (JST), Advanced Low Carbon Technology Research and Development Program (ALCA), and Specially Promoted Research for Innovative Next Generation Batteries (SPRING) project. The analysis of SEM was carried out with JIB4600F at the "Joint-use Facilities: Laboratory of Nano-Micro Material Analysis", Hokkaido University, supported by "Material Analysis and Structure Analysis Open Unit (MASAOU)".
Compliance with ethical standards
Conflict of interest
The authors declare that they have no conflict of interest.
Copyright information
© Springer Science+Business Media, LLC, part of Springer Nature 2018