Effects of S and Ta codoping on photocatalytic activity of rutile TiO2
Original Paper: Nano-structured materials (particles, fibers, colloids, composites, etc.)
Abstract
In this study, pure titanium dioxide (TiO2), Ta-doped TiO2, S-doped TiO2, and Ta-S-codoped rutile TiO2 photocatalysts were prepared by a sol-gel method. To evaluate the properties of the synthesized samples, X-ray diffraction analysis (XRD) and X-ray photoelectron spectroscopy (XPS) were applied. XRD detection results showed that the samples contained rutile phase basically. Scanning electron microscope observation showed that the morphology of Ta-S-TiO2 was nearly spherical. Transmission electron microscope investigation indicated that Ta-S-TiO2 had a flower-shaped structure consisting of many nanorods. The measurement of Brunauer-Emmett-Teller (BET)-specific surface areas (SBET) showed that tantalum and sulfur codoping can effectively increase the SBET of TiO2. XPS results indicated that Ta was in the form of Ta5+ in the TiO2 structure. Finally, the photocatalytic activities of synthesized photocatalyst samples were measured for the degradation of methylene blue in ultraviolet and visible light irradiation. The results demonstrated that the Ta-S-codoped rutile TiO2 photocatalyst had better photocatalytic performance than pure rutile TiO2, Ta-doped rutile TiO2 and S-doped rutile TiO2 photocatalyst.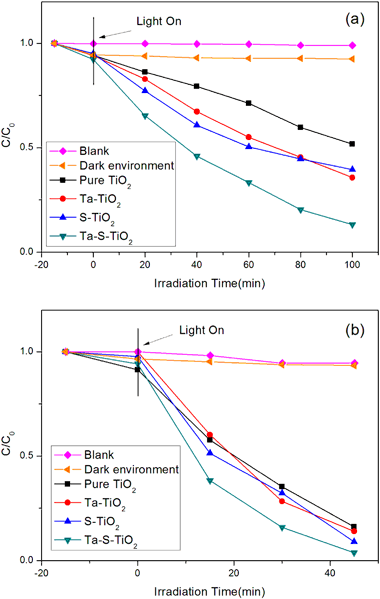 Keywords
Rutile 
TiO2 
S and Ta codoping 
Photocatalyst 
Sol-gel method 
Notes
Acknowledgements
This work was supported by the opening foundation of Jiangsu Key Laboratory of Vehicle Emissions Control (OVEC041).
Compliance with ethical standards
Conflict of interest
The authors declare that they have no conflict of interest.
Copyright information
© Springer Science+Business Media, LLC, part of Springer Nature 2018