Sol–gel preparation of ZrC–ZrO2 composite microspheres using fructose as a carbon source
Original Paper: Nano-structured materials (particles, fibers, colloids, composites, etc.)
Abstract
ZrC–ZrO2 composite ceramic microspheres were prepared by internal gelation combined with carbothermic reduction using fructose as a chelating agent and carbon source. Fructose in the precursor solution formed complex with zirconium ions, which was conducive to the refining of the microstructure of the sintered composite. ZrC–ZrO2 composite with ZrC content as high as 60 wt% could be prepared.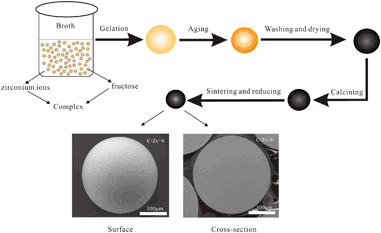 Keywords
Complex 
ZrC–ZrO2 composite microspheres 
Carbothermic reduction 
Notes
Acknowledgements
The authors acknowledge the financial support from Key Program for International S&T Cooperation Projects of China (no. 2016YFE0100700) and National Natural Science Foundation of China (no. 51420105006). "The Thirteenth Five-Year Plan" Discipline Construction Foundation of Tsinghua University (no. 2017HYYXKJS1) is also gratefully acknowledged.
Compliance with ethical standards
Conflict of interest
The authors declare that they have no conflict of interest.
Ethical approval
This article does not contain any studies with human participants or animals performed by any of the authors.
Copyright information
© Springer Science+Business Media, LLC, part of Springer Nature 2018