Study of precursor-solution purity for high-quality yttrium–barium–copper-oxide superconducting thin film
Original Paper: Sol-gel and hybrid materials for catalytic, photoelectrochemical and sensor applications
Abstract
Trifluoroacetic acid-metal-organic deposition (TFA-MOD) is an effective method to prepare high-quality yttrium–barium–copper oxide (YBCO) superconducting thin films with a large area. Chemical reactions and purification are the keys to the preparation of the precursor solution in the TFA-MOD method. In this study, the process of preparing the precursor solution was examined by the infrared spectra systematically, and each infrared spectrum was determined by Fourier-transform-infrared spectroscopy (FTIR) to judge the possible side reactions. The results show that organic functional groups have no side effects at room temperature (20 ± 2°C). And the purification process can remove excess water, acid, and so on. The purity of the precursor solution would increase with distillation. When the relative height ratio of CF3− and the C−OH absorption peak in the spectra of solution 3, which has been purified three times, reaches 0.664, and the relative ratio of C−F and the C−OH absorption peak is 0.418, a YBCO thin film can be obtained with a perfectly uniform surface. Its transition-onset temperature is approximately 90.9 K, the value of critical current density (Jc) is 2.32 mA/cm2 (77 K, 0 T), and the growth of the superconducting film is strongly oriented to the c-axis. In addition, it was found that distillation removes excess water, acetic acid, and other small molecules, and determines the quality of YBCO thin films. For this performance, a superconducting film has been successfully applied to filter the fabrication. Therefore, this method is essentially an effective method to study the content of impurities in the precursor solution in order to form a superconducting film with good quality.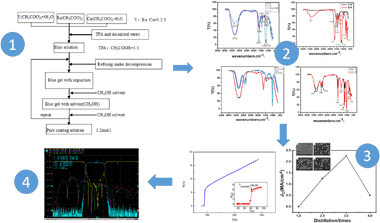 Keywords
YBCO thin film 
Precursor solution 
FTIR 
High-temperature superconductor 
Filter fabrication 
Notes
Acknowledgements
This work was supported by the National Natural Science Foundation of China under contract no. 61171003, the National High Technology Research and Development Program of China ("863 program") under contract no. 2014AA032703, the innovation funds of the Chinese Academy of Space Technology, and the Aviation Science Foundation.
Compliance with ethical standards
Conflict of interest
The authors declare that they have no conflict of interest.
Copyright information
© Springer Science+Business Media, LLC, part of Springer Nature 2018