Abstract
Amorphous Mg–Al–Eu–O thin films were prepared on silica glass substrates by a sol–gel dip-coating method with a heat treatment at 700 °C. Immersion of the oxide thin films in water or aqueous solutions at 90 °C resulted in precipitation of Mg–Al–Eu-layered double hydroxides around the film surface. Eu3+ ions doped in the oxide thin films exhibited photoluminescence by irradiation with ultraviolet light. Photoluminescence intensity was decreased after the immersion of the oxide thin films in water, which was associated with the precipitation of carbonate-intercalated layered double hydroxides. In contrast, when using aqueous solutions containing organic acid salts such as sodium benzoate or disodium terephthalate, photoluminescence intensity was remarkably increased after the immersion due to the precipitation of benzoate-intercalated or terephthalate-intercalated layered double hydroxides. The enhanced photoluminescence property was explained by the antenna effect with an efficient energy transfer from the intercalated anions to the Eu3+ ions. A possibility of applying this phenomenon to luminescence sensing was investigated using various conditions for the immersion of the thin films.
Graphical Abstract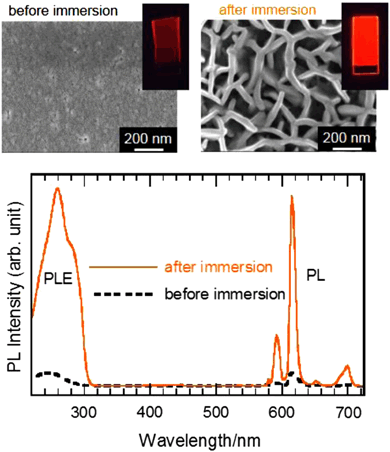 Access options
Buy single article
Instant access to the full article PDF.
USD 39.95
Price excludes VAT (USA)
Tax calculation will be finalised during checkout.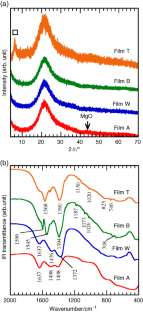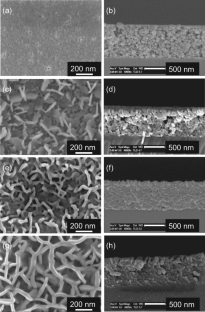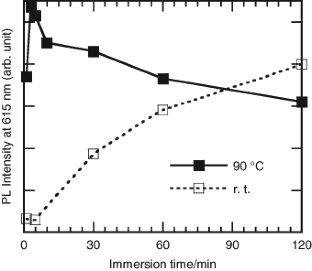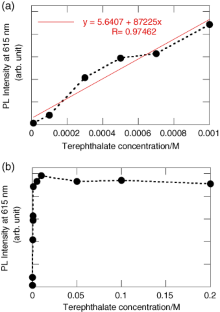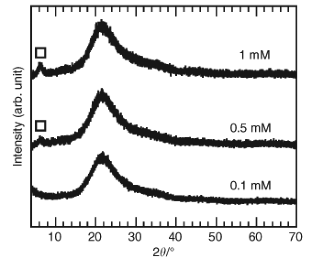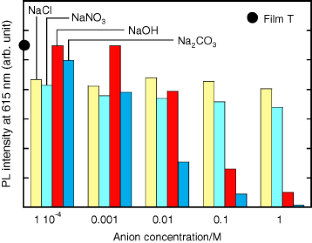 References
Gándara F, Puebla EG, Iglesias M, Proserpio DM, Snejko N, Monge A (2009) Controlling the structure of arenedisulfonates toward catalytically active materials. Chem Mater 21:655–661

Khan AI, Lei L, Norquist AJ, O'Hare D (2001) Intercalation and controlled release of pharmaceutically active compounds from a layered double hydroxide. Chem Commun 2342–2343

Aguzzi C, Cerezo P, Viseras C, Caramella C (2007) Use of clays as drug delivery systems: possibilities and limitations. Appl Clay Sci 36:22–36

Goh KH, Lim TT, Dong Z (2008) Application of layered double hydroxides for removal of oxyanions: a review. Water Res 42:1343–1368

Li S, Lu J, Wei M, Evans DG, Duan X (2010) Tris(8-hydroxyquinoline-5-sulfonate)aluminum intercalated Mg–Al layered double hydroxide with blue luminescence by hydrothermal synthesis. Adv Funct Mater 20:2848–2856

Gao X, Hu M, Lei L, O'Hare D, Markland C, Sun Y, Faulkner S (2011) Enhanced luminescence of europium-doped layered double hydroxides intercalated by sensitiser anions. Chem Commun 47:2104–2106

Gunawan P, Xu R (2009) Lanthanide-doped layered double hydroxides intercalated with sensitizing anions: efficient energy transfer between host and guest layers. J Phys Chem C 113:17206–17214

Chen Y, Li F, Zhou S, Wei J, Dai Y, Chen Y (2010) Structure and photoluminescence of Mg–Al–Eu ternary hydrotalcite-like layered double hydroxides. J Solid State Chem 183:2222–2226

Geng F, Matsushita Y, Ma R, Xin H, Tanaka M, Izumi F, Iyi N, Sasaki T (2008) General synthesis and structural evolution of a layered family of Ln8(OH)20Cl4·nH2O (Ln = Nd, Sm, Eu, Gd, Tb, Dy, Ho, Er, Tm, and Y). J Am Chem Soc 130:16344–16350

Zhu Q, Li JG, Zhi C, Li X, Sun X, Sakka Y, Golberg D, Bando Y (2010) Layered rare-earth hydroxides (LRHs) of (Y1−x Eu x )2(OH)5NO3·nH2O (x = 0−1): structural variations by Eu3+ doping, phase conversion to oxides, and the correlation of photoluminescence behavior. Chem Mater 22:4204–4213

Zhu Q, Li JG, Zhi C, Ma R, Sasaki T, Xu JX, Liu CH, Li XD, Sun XD, Sakka Y (2011) Nanometer-thin layered hydroxide platelets of (Y0.95Eu0.05)2(OH)5NO3·xH2O: exfoliation-free synthesis, self-assembly, and the derivation of dense oriented oxide films of high transparency and greatly enhanced luminescence. J Mater Chem 21:6903–6908

Sakuma K, Fujihara S (2013) Synthesis of carboxylate-intercalated layered yttrium hydroxides by anion exchange reactions and their application to Ln3+-activated luminescent materials. J Ceram Process Res 14:s26–s29

Sabbatini N, Guardigli M, Lehn JM (1993) Luminescent lanthanide complexes as photochemical supramolecular devices. Coord Chem Rev 123:201–228

Hilder M, Junk PC, Kynast UH, Lezhnina MM (2009) Spectroscopic properties of lanthanoid benzene carboxylates in the solid state: Part 1. J Photochem Photobiol A 202:10–20

Iyi N, Matsumoto T, Kaneko Y, Kitamura K (2004) Deintercalation of carbonate ions from a hydrotalcite-like compound:  enhanced decarbonation using acid−salt mixed solution. Chem Mater 16:2926–2932

Iyi N, Yamada H (2012) Efficient decarbonation of carbonate-type layered double hydroxide (CO3 2−LDH) by ammonium salts in alcohol medium. Appl Clay Sci 65–66:121–127

Yamaguchi N, Ando D, Tadanaga K, Tastumisago M (2007) Direct formation of Mg–Al-layered double-hydroxide films on glass substrate by the sol–gel method with hot water treatment. J Am Ceram Soc 90:1940–1942

Tadanaga K (2013) Surface morphology control of thin films prepared by solution processes and its application. J Ceram Soc Jpn 121:819–824

Tadanaga K, Oi J, Higuchi M (2016) Preparation of Zn–Al layered double hydroxide thin films intercalated with eosin Y by hot water treatment of sol-gel derived precursor films. J Solgel Sci Technol 79:303–307

Meyn M, Beneke K, Lagaly G (1990) Anion-exchange reactions of layered double hydroxides. Inorg Chem 29:5201–5207

Su C, Suarez DL (1997) In situ infrared speciation of adsorbed carbonate on aluminum and iron oxide. Clays Clay Miner 45:814–825

Kloprogge JT, Frost RL (2001) Infrared and Raman spectroscopic studies of layered double hydroxides (LDHs). In: Rives V (ed) Layered double hydroxides: present and future. Nova, New York, NY

Lee Y, Choi JH, Jeon HJ, Choi KM, Lee JW, Kang JK (2001) Titanium-embedded layered double hydroxides as highly efficient water oxidation photocatalysts under visible light. Energy Environ Sci 4:914–920

Wang R, Yang Z (2013) Synthesis and high cycle performance of Zn–Al–In-hydrotalcite as anode materials for Ni–Zn secondary batteries. RSC Adv 3:19924–19928

Inoue S, Fujihara S (2010) Synthesis of inorganic–organic layered compounds using immiscible liquid–liquid systems under the distribution law. Langmuir 26:15938–15944

Boczar S, Szczeponek K, Wójcik MJ, Paluszkiewicz C (2004) Theoretical modeling of infrared spectra of benzoic acid and its deuterated derivative. J Mol Struct 700:39–48

Varghese HT, Panicker CY, Philip D, Sreevalsan K, Anithakumary V (2007) IR, Raman and SERS spectra of disodium terephthalate. Spectrochim Acta A 68:817–822

Blasse G, Grabmaier BC (1994) Luminescent materials. Springer, Berlin

Fujihara S, Tokumo K (2005) Multiband orange-red luminescence of Eu3+ ions based on the pyrochlore-structured host crystal. Chem Mater 17:5587–5593

Tanaka S, Fujihara S (2011) Design and fabrication of luminescent antireflective sol–gel coatings with a bi-layer structure. Int J Appl Ceram Technol 8:1001–1009

Baum JC, McClure DS (1979) The ultraviolet transitions of benzoic acid. 1. Interpretation of the singlet absorption spectrum. J Am Chem Soc 101:2335–2339

Guo HB, He F, Gu B, Liang L, Smith JC (2012) Time-dependent density functional theory assessment of UV absorption of benzoic acid derivatives. J Phys Chem A 116:11870–11879

Watanabe M, Fujihara S (2014) One-step synthesis of layered yttrium hydroxides in immiscible liquid–liquid systems: Intercalation of sterically-bulky hydrophobic organic anions and doping of europium ions. J Solid State Chem 210:130–137

Tanaka S, Fujihara S (2011) Luminescent antireflective coatings with disordered surface nanostructures fabricated by liquid processes. Langmuir 27:2929–2935

Berman N, Ruof CH, Howard HC (1951) Ultraviolet absorption spectra of benzenecarboxylic acids. Anal Chem 23:1882–1883

Tadanaga K, Katata N, Minami T (1997) Formation process of super-water-repellent Al2O3 coating films with high transparency by the sol-gel method. J Am Ceram Soc 80:3213–3216

Miyata S (1983) Anion-exchange properties of hydrotalcite-like compounds. Clays Clay Miner 31:305–311
Acknowledegments
This study was supported by JSPS KAKENHI grant number 25420715.
Ethics declarations
Conflict of interest
The authors declare that they have no competing interest.
Electronic supplementary material
About this article
Cite this article
Yagami, T., Hagiwara, M. & Fujihara, S. Fabrication of luminescence-sensing films based on surface precipitation reaction of Mg–Al–Eu LDHs. J Sol-Gel Sci Technol 82, 380–389 (2017). https://doi.org/10.1007/s10971-017-4328-9
Received:

Accepted:

Published:

Issue Date:

DOI: https://doi.org/10.1007/s10971-017-4328-9
Keywords
Photoluminescence

Layered double hydroxide

Thin film

Sensing