Immobilisation of organophosphate hydrolase on mesoporous and Stöber particles
Original Paper: Sol-gel and hybrid materials with surface modification for applications
Abstract
Hexahistidine-tagged organophosphate hydrolase (His6-OPH), an organophosphate degrading enzyme, immobilised by physical adsorption and covalent binding methods on mesoporous silica (MPS) particles, was examined as a biocatalyst for organophosphate hydrolysis within an aqueous medium and for providing an efficient tool in the detection/detoxification of paraoxon. His6-OPH was immobilised on mesoporous silica particles of different pore size distributions (10–40 and 6 nm) and sizes (5 μm and 500 nm), through covalent attachment and physical adsorption. The biocatalysts showed good activities and enhanced stabilities with respect to the free enzymes, depending on the material and used immobilisation technique.
Graphical Abstract
Biomaterial based on hexahistidine-tagged organophosphorus hydrolase (His
6
-OPH) was developed by enzyme immobilisation into/onto two types of silica particles with different porosity. While adsorbed enzymes showed higher activities, covalent attached enzymes showed minimal or no losses in activity as well as reusability.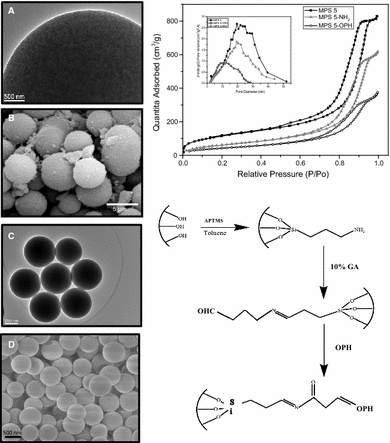 Keywords
Mesoporous silica particles 
Functionalisation 
Enzyme immobilisation 
Organophosphate detection/detoxification 
Stöber particles 
Notes
Acknowledgments
This work was supported by a grant from the Slovenian Research Agency (ARRS) for Young researchers (1000-08-310045).
Copyright information
© Springer Science+Business Media New York 2016