Low-temperature combustion synthesis of cobalt magnesium ferrite magnetic nanoparticles: effects of fuel-to-oxidizer ratio and sintering temperature
Abstract
The effects of glycine-to-nitrate molar ratio (G/N) and sintering temperature of 600 °C on the solution combustion synthesis of nanocrystalline Co0.8Mg0.2Fe2O4 (CMFO) are reported. The structural, morphological and magnetic properties of CMFO could be controlled by using different combinations of glycine fuel and metal nitrates and also sintering temperature. Thermodynamic considerations of the combustion processes show that the exothermicity, adiabatic flame temperature and the amount of gases released increase with increase in G/N. The auto-combusted and sintered powders obtained were characterized by X-ray diffraction, Raman spectroscopy, scanning electron microscopy (SEM), thermo-gravimetric analysis–differential scanning calorimetry and vibrating scanning magnetometer measurements. SEM images of CMFO showed that the G/N ratio and sintering temperature had pronounced effect on the microstructure regarding density and porosity. The magnetization, crystallite sizes and crystallinity of the CMFO spinel phase increased with increase in G/N ratio and sintering temperature. Raman spectroscopic analysis showed that only the fuel-rich sample gave the five Raman active modes characteristic of a spinel structure. The obtained results were also discussed in comparison with ferrite system formed by different synthesis processes.
Graphical Abstract
XRD of CMFO auto-combustion powders prepared with different G/N ratios: (a) G/N = 2.22, (b) G/N = 1.48 and (c) G/N = 0.74.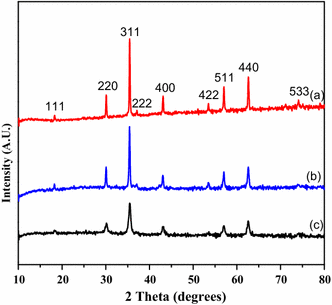 Keywords
Solution combustion synthesis 
Glycine-to-nitrate ratio 
Sintering temperature 
Adiabatic flame temperature 
Magnetism 
Notes
Acknowledgments
This work would not have been possible without the visiting research grant given to Mr. Ehi-Eromosele C.O. by the International Centre for Materials Science, Jawaharlal Nehru Centre for Advanced Scientific Research, Bangalore, India. The authors would like to thank the Department of Materials Engineering, India Institute of Science, Bangalore, India, for providing TGA and VSM facilities. We also like to thank Professor Chandra Srivastava and his student, Mr. Mahander Singh for helping with the VSM analysis.
Copyright information
© Springer Science+Business Media New York 2015