Abstract
Homogeneous transparent conducting Sn:ZnO films on fused silica substrates were prepared by dip-coating from nanoparticle dispersions, while the nanocrystalline Sn:ZnO particles with different dopant concentrations were synthesized by microwave-assisted non-aqueous sol–gel process using Sn(IV) tert-butoxide and Zn(II) acetate as precursors and benzyl alcohol as solvent. The dopant concentration had a great impact on the electrical properties of the films. A minimum resistivity of 20.3 Ω cm was obtained for a porous Sn:ZnO film with initial Sn concentration of 7.5 mol% after annealing in air and post-annealing in N2 at 600 °C. The resistivity of this porous film could further be reduced to 2.6 and 0.6 Ω cm after densified in Sn:ZnO and Al:ZnO reaction solution, respectively. The average optical transmittance of a 400-nm-thick Sn:ZnO film densified with Sn:ZnO after the two annealing steps was 91%.
Access options
Buy single article
Instant access to the full article PDF.
US$ 39.95
Tax calculation will be finalised during checkout.
Subscribe to journal
Immediate online access to all issues from 2019. Subscription will auto renew annually.
US$ 119
Tax calculation will be finalised during checkout.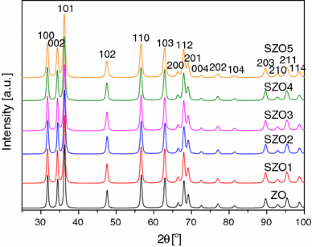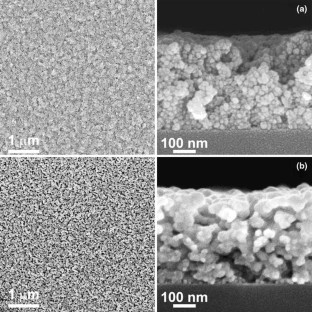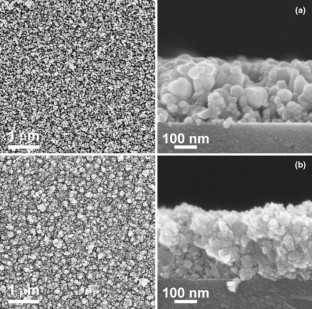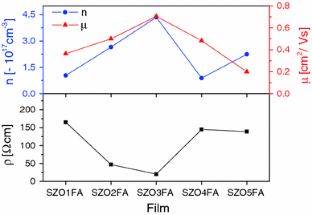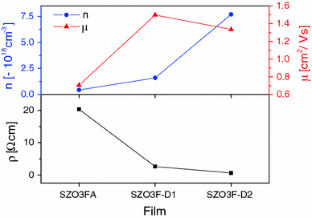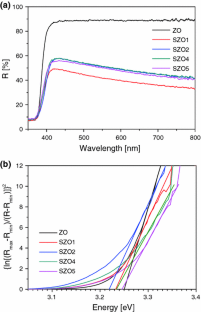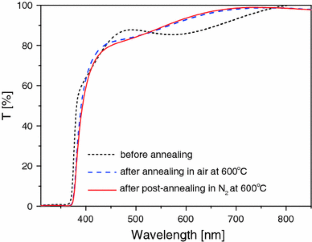 References
1.

Shishiyanu ST, Shishiyanu TS, Lupan OI (2005) Sens Actuators B 107:379–386

2.

Gong H, Hu JQ, Wang JH, Ong CH, Zhu FR (2006) Sens Actuators B 115:247–251

3.

Nanto H, Sokooshi H, Kawai T (1993) Sens Actuators B 14:715–717

4.

Iwabuchi Y, Shiino O, Yoshikawa M, Kamei M (2007) Japan Patent JP2007311041-A, 29 Nov 2007

5.

Minami T, Miyata T, Ohtani Y (2007) Phys Status Solidi A 204:3145–3151

6.

Choi SE, Oh YT, Ham HK, Kim TW, Heo GS, Park JW, Choi BH, Shin DC (2011) Curr Appl Phys 11:S255–S257

7.

Nam SH, Kim MH, Yoo DG, Jeong SH, Kim DY, Lee NE, Boo JH (2010) Surf Rev Lett 17:121–127

8.

Hong JS, Kim SM, Park SJ, Choi HW, Kim KH (2010) Mol Cryst Liq Cryst 520:295–303

9.

Yoo DG, Nam SH, Kim MH, Jeong SH, Jee HG, Lee HJ, Lee NE, Hong BY, Kim YJ, Jung D, Boo JH (2008) Surf Coat Technol 202:5476–5479

10.

Park SHK, Ryu M, Hwang CS, Yang S, Byun C, Lee JI, Shin J, Yoon SM, Chu HY, Cho KI, Lee K, Oh MS, Im S (2008) Sid Int Symp Dig Tec 39:629–632

11.

Granqvist CG (2007) Sol Energy Mater Sol Cells 91:1529–1598

12.

Kang DW, Kuk SH, Ji KS, Lee HM, Han MK (2011) Sol Energy Mater Sol Cells 95:138–141

13.

Kim D, Kim H, Jang K, Park S, Pillai K, Yi J (2011) J Electrochem Soc 158:D191–D195

14.

Yoshida Y, Tanaka S, Hiromitsu I, Fujita Y, Yoshino K (2008) Jpn J Appl Phys 47:867–871

15.

Sundaramoorthy R, Repins IL, Gennett T, Pern FJ, Albin D, Li JAV, DeHart C, Glynn S, Perkins JD, Ginley DS, Gessert T (2009) IEEE Phot Spec Conf 1–3:2225–2230

16.

Cavani F, Trifiro F, Vaccari A (1991) Catal Today 11:173–301

17.

Kurz A, Aegerter MA (2004) J Sol-Gel Sci Technol 31:267–271

18.

Holmelund E, Schou J, Tougaard S, Larsen NB (2002) Appl Surf Sci 197:467–471

19.

Kelly PJ, Zhou Y (2006) J Vac Sci Technol A 24:1782–1789

20.

Bae SY, Na CW, Kang JH, Park J (2005) J Phys Chem B 109:2526–2531

21.

Allah FK, Abe SY, Nunez CM, Khelil A, Cattin L, Morsli M, Bernede JC, Bougrine A, del Valle MA, Diaz FR (2007) Appl Surf Sci 253:9241–9247

22.

Chen KJ, Hung FY, Chang SJ, Young SJ, Hu ZS, Chang SP (2010) J Sol-Gel Sci Technol 54:347–354

23.

Kyaw AKK, Sun XW, Jiang CY (2009) J Sol-Gel Sci Technol 52:348–355

24.

Goebbert C, Nonninger R, Aegerter MA, Schmidt H (1999) Thin Solid Films 351:79–84

25.

Prodi-Schwab A, Luthge T, Jahn R, Herbig B, Lobmann P (2008) J Sol-Gel Sci Technol 47:68–73

26.

Bilecka I, Djerdj I, Niederberger M (2008) Chem Commun 886–888

27.

Bilecka I, Luo L, Djerdj I, Rossell MD, Jagodic M, Jaglicic Z, Masubuchi Y, Kikkawa S, Niederberger M (2011) J Phys Chem C 115:1484–1495

28.

Tsaroucha M, Aksu Y, Irran E, Driess M (2011) Chem Mater 23:2428–2438

29.

Coelho AA (2007) TOPAS-Academic V4.1. http://www.topas-academic.net/

30.

Young RA (ed) (1993) The Rietveld Method. Oxford University Press, IUCr Book Series

31.

Finger LW, Cox DE, Jephcoat AP (1994) J Appl Crystallogr 27:892–900

32.

Dollase WA (1986) J Appl Crystallogr 19:267–272

33.

Snyder RL, Bunge HJ, Fiala J (eds) (1999) Defect and microstructure analysis from diffraction. Oxford University Press, New York, pp 94–126

34.

Balzar D, Audebrand N, Daymond MR, Fitch A, Hewat A, Langford JI, Le Bail A, Louer D, Masson O, McCowan CN, Popa NC, Stephens PW, Toby BH (2004) J Appl Crystallogr 37:911–924

35.

McCusker LB, Von Dreele RB, Cox DE, Louer D, Scardi P (1999) J Appl Crystallogr 32:36–50

36.

Pitschke W, Hermann H, Mattern N (1993) J Appl Crystallogr 26:132–134

37.

Karvaly B, Hevesi I (1971) Z Naturforsch A Phys Sci 26:245–249

38.

Wendlandt WW, Hecht HG (1966) Reflectance Spectroscopy. Wiley-Interscience, New York

39.

Murphy AB (2007) Sol Energy Mater Sol Cells 91:1326–1337

40.

Stroppa DG, Montoro LA, Beltran A, Conti TG, da Silva RO, Andres J, Longo E, Leite ER, Ramirez AJ (2009) J Am Chem Soc 131:14544–14548

41.

Shannon RD (1976) Acta Crystallogr A 32:751–767

42.

Hu JH, Gordon RG (1992) J Appl Phys 72:5381–5392

43.

Kumar V, Sharma SK, Sharma TP, Singh V (1999) Opt Mater 12:115–119

44.

Hamberg I, Granqvist CG (1986) J Appl Phys 60:R123–R159

45.

Hammarberg E, Prodi-Schwab A, Feldmann C (2009) J Colloid Interface Sci 334:29–36

46.

Yung KC, Liem H, Choy HS (2009) J Phys D Appl Phys 42:185002/1–5

47.

Benelmadjat H, Boudine B, Halimi O, Sebais M (2009) Opt Laser Technol 41:630–633

48.

Sernelius BE, Berggren KF, Jin ZC, Hamberg I, Granqvist CG (1988) Phys Rev B 37:10244–10248
Acknowledgments
Financial support by ETH Zürich (ETH-07 09-2) is gratefully acknowledged. We also thank Niklaus Kränzlin for helpful discussions regarding the UV–Vis spectra measurements and analyses.
About this article
Cite this article
Luo, L., Häfliger, K., Xie, D. et al. Transparent conducting Sn:ZnO films deposited from nanoparticles. J Sol-Gel Sci Technol 65, 28–35 (2013). https://doi.org/10.1007/s10971-012-2709-7
Received:

Accepted:

Published:

Issue Date:
Keywords
Transparent conducting films

Sn:ZnO

Nanoparticles

Microwave-assisted nonaqueous synthesis