Abstract
Nickel zinc ferrite (Ni0.4Zn0.6Fe2O4) films on Si (100) substrate were synthesized using a spin-coating method. The crystallinity of the Ni0.4Zn0.6Fe2O4 films with the thickness of about 386 nm became better as the annealing temperature increased. The films have smooth surface, relatively good packing density and uniform thickness. The volatilization of Zn is serious at 900 °C. With the increase of annealing temperature, the saturation magnetization M s increases in the temperature ranging from 400 to 700 °C, however, decreases above 700 °C, and the coercivity H c increases in the temperature range 400–800 °C, decreases above 800 °C. After annealed at 700 °C for 2 h in air with the heating rate 2 °C/min, the film shows a maximum saturation magnetization M s of 349 emu/cc and low coercivity H c of 66 Oe. The M s is higher than others which prepared by this method, however, the H c is lower. The M s of Ni0.4Zn0.6Fe2O4 films annealed at 700 °C increases with increasing annealing time and the H c changes slightly.
Access options
Buy single article
Instant access to the full article PDF.
USD 39.95
Price excludes VAT (USA)
Tax calculation will be finalised during checkout.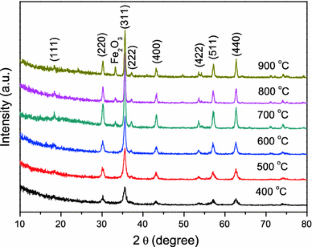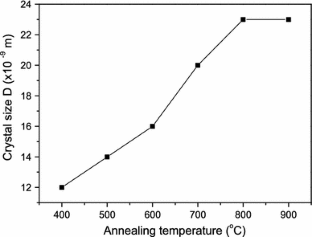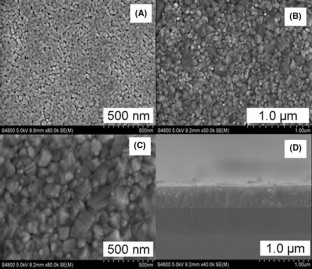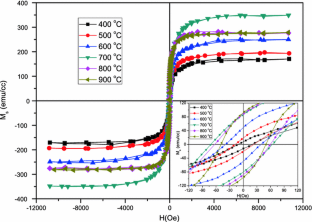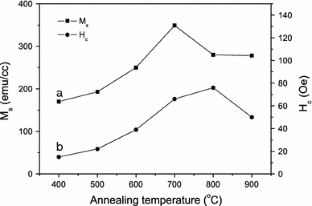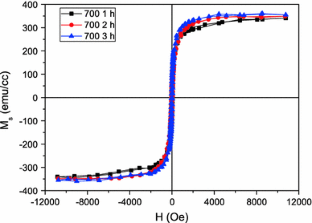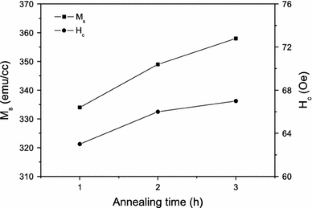 Similar content being viewed by others
References
Guo D, Fan X, Chai G, Jiang C, Li X, Xue D (2010) Appl surf Sci 256:2319

Prado J, Gómez ME, Prieto P, Mendoza A (2009) J Mag Mag Mater 321:2792

Dangwei G (2009) J Phys D Appl Phys 42:125006

Ravinder D, Vijay Kumar K, Ramana Reddy AV (2003) Mater Lett 57:4162

Beji Z, Smiri LS, Vaulay MJ, Herbst F, Ammar S, Fiévet F (2010) Thin Solid Films 518:2592

Beji Z, Ammar S, Smiri LS, Vaulay MJ, Herbst F, Gallas B, Fievet F (2008) J Appl Phys 103:07E744

Acher O, Ledieu M, Abe M, Tada M, Matsushita N, Yoshimura M, Kondo K (2007) J Mag Mag Mater 310:2532

Kulkarni DC, Patil SP, Puri V (2008) Microelectron J 39:248

Kulkarni DC, Lonkar UB, Puri V (2008) J Mag Mag Mater 320:1844

Kumar A, Singh A, Yadav MS, Arora M, Pant RP, Thin Solid Films (In Press, Corrected Proof)

Wang JH, Liu YC, Liu DC, Yu YW, Guo FB (2009) J Mag Mag Mater 321:3646

Aphesteguy JC, Damiani A, DiGiovanni D, Jacobo SE (2009) Physica B 404:2713

Deka S, Joy PA (2006) Mater Chem Phys 100:98

Li X, Wang G (2009) J Mag Mag Mater 321:1276

Wu KH, Shin YM, Yang CC, Wang GP, Horng DN (2006) Mater lett 60:2707

Zi Z, Lei H, Zhu X, Wang B, Zhang S, Zhu X, Song W, Sun Y (2010) Mater Sci Eng B 167:70

Zahi S, Hashim M, Daud AR (2007) J Mag Mag Mater 308:177

He X, Song G, Zhu J (2005) Mater lett 59:1941

Priyadharsini P, Pradeep A, Rao PS, Chandrasekaran G (2009) Mater Chem Phys 116:207

Klug HP, Alexander LE (1997) X-ray diffraction procedures for poly-crystalline and amorphous materials. Wiley, New York

Sharma S, Verma K, Chaubey U, Singh V, Mehta BR (2010) Mater Sci Eng B 167:187

Smit J, Wijn HPJ (1961) Les Ferrites. Dunod, Paris

Herzer G (1995) Scr Metall Mater 33:1741
Acknowledgments
This work is supported by the National Natural Science Foundation of China (11074101), program for New Century Excellent Talents (NCET) in University and the Fundamental Research Funds for the Central Universities (860080).
About this article
Cite this article
Yuan, T., Wei, Z., Yuan, J. et al. The microstructure and magnetic properties of Ni0.4Zn0.6Fe2O4 films prepared by spin-coating method. J Sol-Gel Sci Technol 58, 501–506 (2011). https://doi.org/10.1007/s10971-011-2419-6
Received:

Accepted:

Published:

Issue Date:

DOI: https://doi.org/10.1007/s10971-011-2419-6
Keywords