Abstract
The layered structure oxide Ca3Co4O9 particle was synthesized by two routes of citrate sol–gel method. The structure, morphology and surface property of Ca3Co4O9 was characterized by XRD, SEM and XPS, respectively. The catalytic activity of Ca3Co4O9 for methane combustion was tested in a fixed bed quartz tubular microreactor. The catalysis results reveal that the catalytic activity is sensitive to the texture of Ca3Co4O9 by different route. TG measures confirm that the small particle size of Ca3Co4O9 favors the oxygen transformation on the surface, which can be ascribed the random distribution of the crystal axes in irregular Ca3Co4O9 particle.
This is a preview of subscription content,
to check access.
Access this article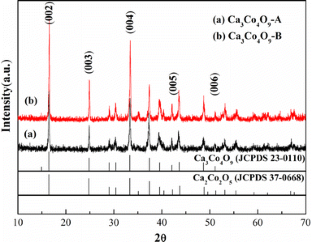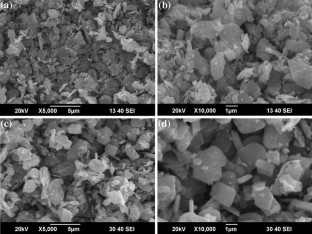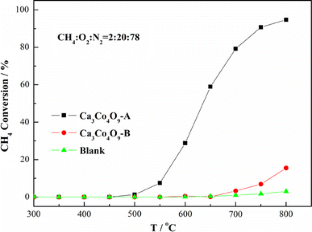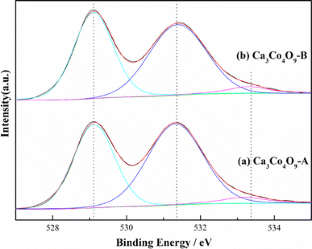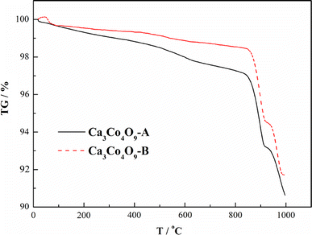 Similar content being viewed by others
References
Masset AC, Michel C, Maignan A, Hervieu M, Toulemonde O, Studer F, Raveau B (2000) Phys Rev B 62:166–175

Matsubara I, Funahashi R, Takeuchi T, Sodeoka S (2001) J Appl Phys 90:462–465

Masuda Y, Nagahama D, Itahara H, Tani T, Seo WS, Koumoto K (2003) J Mater Chem 13:1094–1099

Tani T, Itahara H, Xia CT, Sugiyama J (2003) J Mater Chem 13:1865–1867

Zhang Y, Zhang J, Lu Q (2007) Ceram Int 33:1305–1308

Bhattacharya S, Aswal DK, Singh A, Thinaharan C, Kulkarni N, Gupta SK, Yakhmi JV (2005) J Cryst Growth 277:246–251

Shimoyama J, Horii S, Otzschi K, Sano M, Kishio K (2003) Jpn J Appl Phys 42:L194–L197

Arnone S, Bagnasco G, Busca G, Lisi L, Russo G, Turco M (1998) Stud Surf Sci Catal 119:65–70

Bahlawane N (2006) Appl Catal B 67:168–176

Vidyasagar K, Gopalakrishnan J, Rao CNR (1984) Inorg Chem 23:1206–1210

Sokolovskii VD (1990) Catal Rev 32:1–49

Wakisaka Y, Hirata S, Mizokawa T, Suzuki Y, Miyazaki Y, Kajitani T (2008) Phys Rev B 78:235107

Morita Y, Poulsen J, Sakai K, Motohashi T, Fujii T, Terasaki I, Yamauchi H, Karppinen M (2004) J Solid State Chem 177:3149–3155

Zhang Y, Zhang J, Lu Q, Zhang Q (2006) Mater Lett 60:2443–2446

Karppinen M, Fjellvåg H, Konno T, Morita Y, Motohashi T, Yamauchi H (2004) Chem Mater 16:2790–2793
Acknowledgments
The authors acknowledge support from the Nature Science Foundation of the Department of Education of Anhui (KJ2009A023Z) and the Open Fund of Anhui Key Laboratory of Controllable Chemistry Reaction and Material Chemical Engineering.
About this article
Cite this article
Feng, S., Yang, W. Effect of the preparation method on the catalytic performance of Ca3Co4O9 for methane oxidation. J Sol-Gel Sci Technol 58, 330–333 (2011). https://doi.org/10.1007/s10971-010-2396-1
Received:

Accepted:

Published:

Issue Date:

DOI: https://doi.org/10.1007/s10971-010-2396-1
Keywords