Abstract
Colorless and transparent polysilisiquioxane was synthesized using non-hydrolytic sol–gel process. A high degree of poly-condensation and a lower remnant ratio of Si–OCH3 were calculated by 29Si NMR and 1H NMR, respectively. After spin-coating, subsequently UV and thermal curing, free-cracked thin films were obtained. The properties of the free-cracked thin films were measured by a prism coupler and thermal analysis system. The refractive index increased to 1.5495 (1,310 nm TE) and 1.5468 (1,550 nm TE), respectively, with the increasing of phenyltrimethoxysilane content to 20 mol%. Birefringence was below 0.0005. The thermo-optic coefficient was about −2.8 × 10−4 °C−1. The optical loss was 0.20 dB cm−1 at 1,310 nm and 0.75 dB cm−1 at 1,550 nm, which was very important for core layer material of optical waveguide. The results of Thermo-Gravimetric Analysis indicated an excellent thermal stability. All of these properties imply that it will be a promising core layer material of optical waveguide.
This is a preview of subscription content,
to check access.
Access this article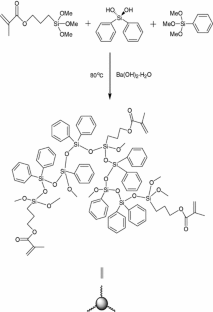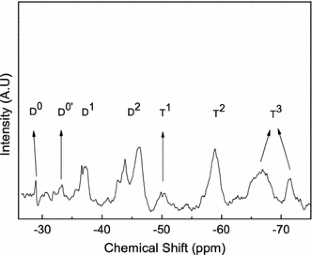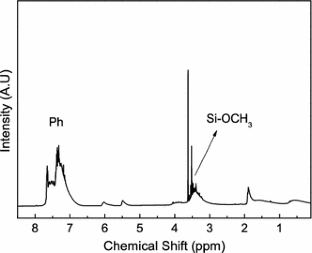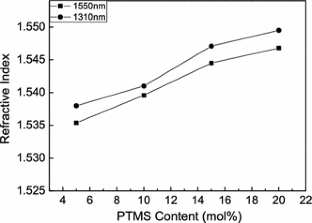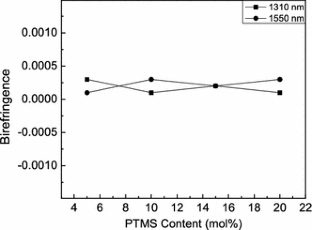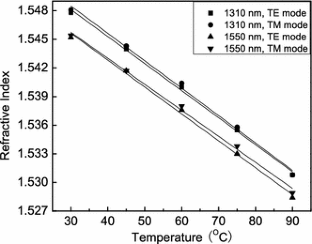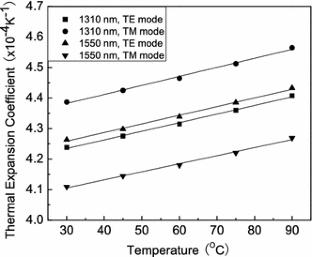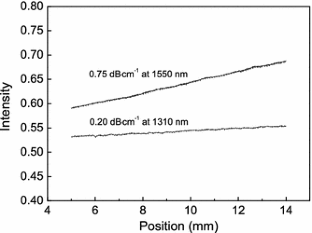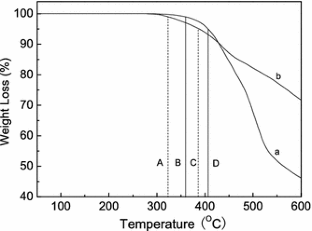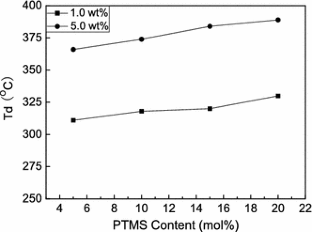 References
Kim W-S, Kim S-J, Kim K-S, Bae B-S (2003) In: The 5th international meeting of pacific ceramic societies. Nagoya, Japan

Zhang H, Wang J, Li L, Song Y, Zhao M, Jian X (2008) J Macromol Sci Part A Pure Appl Chem 45:232–237

Zhang H, Wang J, Li L, Song Y, Zhao M, Jian X (2008) Thin Solid Films 517:857–862

Teng J, Scheerlinck S, Zhang H, Jian X, Morthier G, Beats R, Han X, Zhao M (2009) IEEE Photonic Tech L 21:1323–1325

Kim W-S, Kim K-S, Eo Y-J, Yoon K-B, Bae B-S (2005) J Mater Chem 15:465–469

Nam K-H, Lee T-H, Bae B-S, Popall M (2006) J Sol-Gel Sci Techn 39:255–260

Larsen S-Y, Moutain R-D, Zwanzig R (1965) J Chem Phys 42:2187–2190

Böhm J, Haußelt J, Henzi P, Litfin K, Hanemann T (2004) Adv Eng Mater 6:52–57

Kwon Y, Han J, Lee J-M, Ko Y-S, Oh J-H, Lee H-S, Lee E-H (2008) J Mater Chem 18:579–585

Zhou M (2002) Opt Eng 41:1631–1643

Ohkita H, Abe Y, Kojima H, Tagaya A, Koike Y (2004) Appl Phys Lett 84:3534–3536

Terui Y, Ando S (2003) Appl Phys Lett 83:4755–4757

Kobayashi J, Matsuura T, Hida Y, Sasaki S, Maruno T (1998) J Lightwave Technol 16:1024–1029

Wang X, Xu L, Li D, Liu L, Wang W (2003) J Appl Phys 94:4228–4230

Kang E-S, Lee T-H, Bae B-S (2002) Appl Phys Lett 81:1438–1440

Kang E-S, Bae JY, Bae B-S (2003) J Sol-Gel Sci Technol 26:981–984

Hegde S-G, Liu F-H, Chang G-K, Sitaraman S-K (2007) J Appl Polym Sci 106:2320–2327

Kim E, Cho S-Y, Yue D-M, Shin S-Y (2005) Chem Mater 17:962–966

Lee K-S, Kim J-P, Song H-S, Jang W-G, Park Y-S, Lee J-S (2006) Macromol Rapid Commum 27:1330–1334
Acknowledgments
This work was performed with support from the National Natural Science Foundation of China (No. 50143013, No. 60577014 and No. 60807015).
About this article
Cite this article
Zhang, J., Wang, J., Wang, L. et al. Synthesis of polysilisiquioxane used as core layer material of optical waveguide. J Sol-Gel Sci Technol 56, 197–202 (2010). https://doi.org/10.1007/s10971-010-2294-6
Received:

Accepted:

Published:

Issue Date:

DOI: https://doi.org/10.1007/s10971-010-2294-6
Keywords