Abstract
Optically transparent, hexagonally organized mesoporous silica films with variable thickness have been synthesized from aqueous solutions of tetrakis(2-hydroxyethyl)orthosilicate (EGMS) in the presence of an amphiphilic structure-directing agent (Pluronic P123). Two different methods for film formation have been compared: spin coating from a highly concentrated and viscous precursor solution comprising EGMS, P123 and water/HCl via a direct templating of a preformed LC phase and spin coating from diluted solutions in tetrahydrofuran, thus following a cooperative self-organization process induced by solvent-evaporation. The influence of processing parameters such as pH-value, concentration of the precursors as well as aging of the sol on the periodic mesostructure is investigated.
Access options
Buy single article
Instant access to the full article PDF.
US$ 39.95
Tax calculation will be finalised during checkout.
Subscribe to journal
Immediate online access to all issues from 2019. Subscription will auto renew annually.
US$ 119
Tax calculation will be finalised during checkout.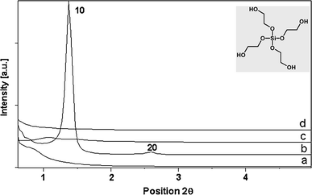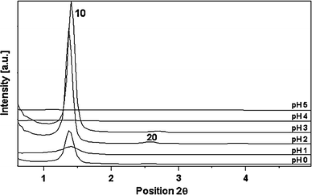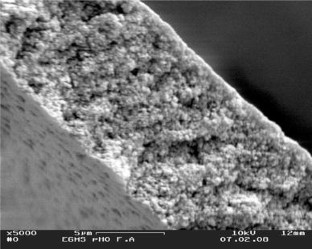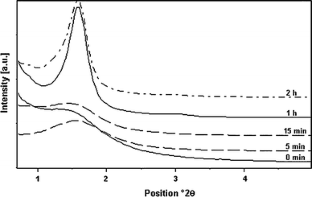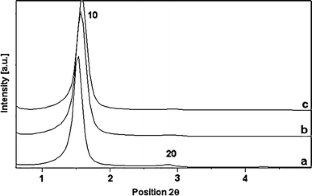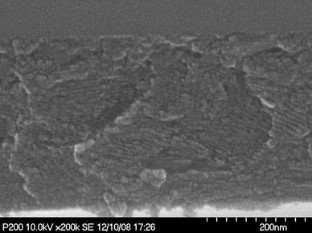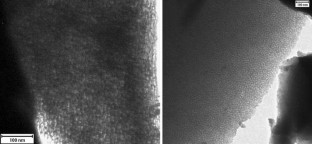 References
1.

Kresge C, Leonowicz M, Roth W, Vartuli J, Beck J (1992) Nature 359:710. doi:10.1038/359710a0

2.

Schüth F, Sing KSW, Weitkamp J (eds) (2002) Handbook of porous solids. Wiley, Weinheim and references herein

3.

Ying JY, Mehnert CP, Wong MS (1999) Angew Chem Int Ed 38:56. doi:10.1002/(SICI)1521-3773(19990115)38:1/2<56::AID-ANIE56>3.0.CO;2-E

4.

Sanchez C, Soler-Illia GJAA, Ribot F, Lalot T, Mayer CR, Cabuil V (2001) Chem Mater 13:3061. doi:10.1021/cm011061e

5.

Wan Y, Shi Y, Zhao D (2007) Chem Commun (Camb) 897. doi:10.1039/b610570j

6.

Soler-Illia GJAA, Innocenzi P (2006) Chem Eur J 12:4478. doi:10.1002/chem.200500801

7.

Hartmann S, Brandhuber D, Hüsing N (2007) Acc Chem Res 40:885. doi:10.1021/ar6000318

8.

Platschek B, Koehn R, Doeblinger M, Bein T (2008) ChemPhysChem 9:2059. doi:10.1002/cphc.200700589

9.

Soler-Illia GJAA, Sanchez C, Lebeau B, Patarin J (2002) Chem Rev 102:4093. doi:10.1021/cr0200062

10.

Ogawa M (1994) J Am Chem Soc 116:7941. doi:10.1021/ja00096a079

11.

Martin JE, Anderson MT, Odinek J, Newcomer P (1997) Langmuir 13:4133. doi:10.1021/la960714g

12.

Lu Y, Ganguli R, Drewien CA, Anderson MT, Brinker CJ, Gong W, Guo Y, Soyez H, Dunn B, Huang MH, Zink JI (1997) Nature 389:364. doi:10.1038/38699

13.

Yang H, Kuperman A, Coombs N, Mamiche-Afara S, Ozin GA (1996) Nature 379:703

14.

Yang H, Coombs N, Sokolov I, Ozin GA (1996) Nature 381:589

15.

Edler KJ, Roser SJ (2001) Int Rev Phys Chem 20:387

16.

Sanchez C, Boissiere C, Grosso D, Laberty C, Nicole L (2008) Chem Mater 20:682

17.

Brinker CJ, Lu Y, Sellinger A, Fan H (1999) Adv Mater 11:579

18.

Huang LC, Richman EK, Kirsch BL, Tolbert SH (2006) Microporous Mesoporous Mater 96:341

19.

Mehrotra R, Narain R (1967) Ind J Chem 5:444

20.

Brunauer S, Emmett PH, Teller E (1938) J Am Chem Soc 60:309

21.

Barrett EP, Joyner LG, Halenda PP (1951) J Am Chem Soc 73:373

22.

Hoffmann H, Sattler K (1999) Prog Coll Polym Sci 112:40

23.

Brook M, Chen Y, Guo K, Zhang Z, Brennan J (2004) J Mater Chem 14:1469

24.

Shchipunov YA (2008) In: Ruiz-Hitzky E, Ariga K (eds) Bio-inorganic hybrid nanomaterials: strategies, synthesis, characterization and application. Wiley, p 75

25.

Mitra A, Imae T, Shchipunov Y (2005) J Sol–Gel Sci Technol 34:127

26.

Brandhuber D, Hüsing N, Peterlik H (2005) J Mater Chem 15:3896

27.

Brandhuber D, Torma V, Raab C, Peterlik H, Kulak A, Hüsing N (2005) Chem Mater 17:4262

28.

Hüsing N, Raab C, Torma V, Roig A, Peterlik H (2003) Chem Mater 15:2690

29.

Alexandridis P, Ivanova R, Lindman B (2000) Langmuir 16:3676

30.

Ivanova R, Lindman B, Alexandridis P (2000) Langmuir 16:3660

31.

Soni SS, Brotons G, Bellour M, Narayanan T, Gibaud A (2006) J Phys Chem B 110:15157

32.

Brinker CJ, Scherer GW (1990) Sol–Gel science: the physics and chemistry of sol–gel processing. Academic Press Inc., Boston

33.

Besson S, Gacoin T, Jacquiod C, Ricolleau C, Babonneau D, Boilot JP (2000) J Mater Chem 10:1331

34.

Lu Y, Yang Y, Sellinger A, Lu MC, Huang MJ, Fan HY, Haddad R, Lopez G, Burns AR, Sasaki DY, Shelnutt J, Brinker CJ (2001) Nature 410:913
Acknowledgments
We thank C. Egger for nitrogen sorption measurements. JK acknowledges financial support from the EC NMP-CT-2005-515846 (NAPOLYDE).
About this article
Cite this article
Köhler, J., Feinle, A., Waitzinger, M. et al. Glycol-modified silanes as versatile precursors in the synthesis of thin periodically organized silica films. J Sol-Gel Sci Technol 51, 256–263 (2009). https://doi.org/10.1007/s10971-009-1947-9
Received:

Accepted:

Published:

Issue Date:
Keywords
Coatings

Templating

Mesostructured films

Porous