Abstract
ε-Fe2O3/SiO2 nanocomposite was prepared by novel solgel method using single precursor for both nanoparticles and matrix. This method allows to prepare the samples free of α-Fe2O3 with 40% of Fe2O3 in SiO2. Nanoparticles of 12 nm diameter were obtained by annealing at 1,000 °C. The samples were characterized by powder X-ray diffraction and transmission electron microscopy. Mössbauer spectroscopy identified ε-Fe2O3 as the only magnetically ordered phase at room temperature. Magnetic measurements revealed progressive necking of hysteresis loops measured at 300 and 2 K. In both cases the intrinsic coercivity reaches only 0.25 T. Measurements up to 14 T shows monotonous decreasing trend of saturated magnetization with increasing temperature.
This is a preview of subscription content,
to check access.
Access this article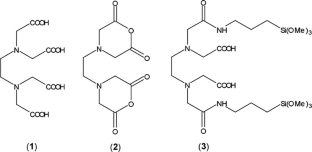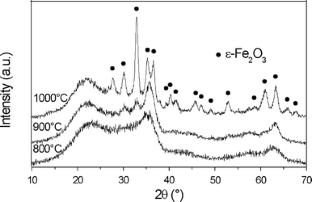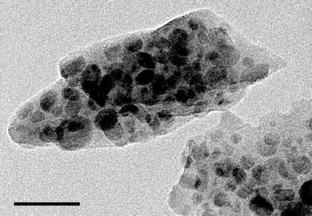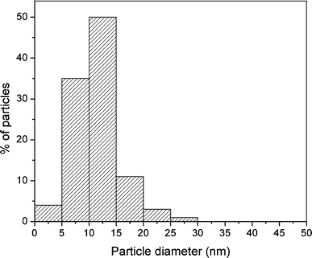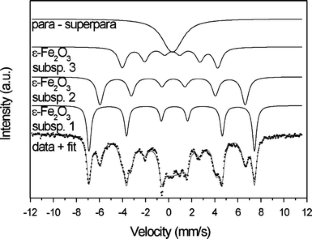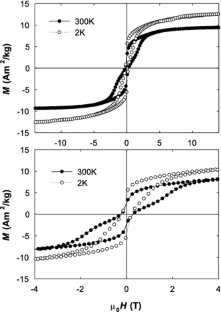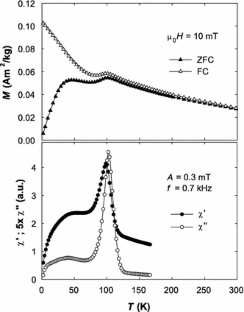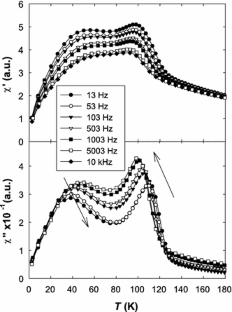 References
Jin J, Hashimoto K, Ohkoshi S (2005) J Mater Chem 15:1067–1071. doi:10.1039/b416554c

Kurmoo M, Rehspringer J-L, Hutlová A, D'Orléans C, Vilminot S, Estournès C, Nižňanský D (2005) Chem Mater 17:1106–1114. doi:10.1021/cm0482838

Gich M, Frontera C, Roig A, Fontcuberta J, Molins E, Bellido N, Simon C, Fleta C (2006) Nanotechnology 17:687–691. doi:10.1088/0957-4484/17/3/012

Gich M, Frontera C, Roig A, Taboada E, Molins E, Rechenberg HR, Ardisson JD, Macedo WAA, Ritter C, Hardy V, Sort J, Skumryev V, Nogués J (2006) Chem Mater 18:3889–3897. doi:10.1021/cm060993l

Forestier H, Guiot-Guillain G (1934) C R Acad Sci Paris 199:720

Schrader R, Büttner G (1963) Z Anorg Allg Chem 320:220. doi:10.1002/zaac.19633200503

Walter-Lévy L, Quémeneur E (1963) C R Acad Sci Paris 257:3410

Trautmann JM, Forestier H (1965) C R Acad Sci Paris 261:4423

Dézsi I, Coey JMD (1973) Phys Status Solidi A 15:681. doi:10.1002/pssa.2210150239

Nižňanský D, Rehspringer J-L, Drillon M (1994) IEEE Trans Magn 30:821–823. doi:10.1109/20.312420

Chanéac C, Tronc E, Jolivet JP (1995) Nanostruct Mater 6:715–718. doi:10.1016/0965-9773(95)00158-1

Viart N (1996) Doctoral Thesis, Univ. Strasbourg

Hutlova A (2003) Doctoral Thesis, Univ. Strasbourg

Jin J, Ohkoshi S, Hashimoto K (2004) Adv Mater 16:48–51. doi:10.1002/adma.200305297

Kelm K, Mader W (2005) Z Anorg Allg Chem 631:2383–2389. doi:10.1002/zaac.200500283

Zbořil R, Mashláň M, Petridis D (2002) Hyperfine Interact 139/140:597–606. doi:10.1023/A:1021226929237

Platas-Iglesias C, Corsi DM, van der Elst L, Muller RN, Imbert D, Bunzli JCD, Toth E, Maschmeyer T, Peters JA (2003) Dalton Trans 4:727–737. doi:10.1039/b211060a

Tronc E, Chanéac C, Jolivet JP (1998) J Solid State Chem 139:93–104. doi:10.1006/jssc.1998.7817

Popovici M, Gich M, Nižňanský D, Roig A, Savii C, Casas L, Molins E, Závěta K, Enache C, Sort J, de Brion S, Chouteau G, Nogués J (2004) Chem Mater 16:5542–5548. doi:10.1021/cm048628m

Ohkoshi S, Sakurai S, Jin J, Hashimoto K (2005) J Appl Phys 97:10K312

Lee S-J, Jeong J-R, Shin S-C, Kim J-C, Kim J-D (2004) J Magn Magn Mater 282:147–150. doi:10.1016/j.jmmm.2004.04.035
Acknowledgments
This work was supported by the Czech Science Foundation (Grant No. 106/07/0949). J. P. V. thanks the Ministry of Education of the Czech Republic (research plan MSM0021620834).
About this article
Cite this article
Brázda, P., Nižňanský, D., Rehspringer, JL. et al. Novel sol–gel method for preparation of high concentration ε-Fe2O3/SiO2 nanocomposite. J Sol-Gel Sci Technol 51, 78–83 (2009). https://doi.org/10.1007/s10971-009-1941-2
Received:

Accepted:

Published:

Issue Date:

DOI: https://doi.org/10.1007/s10971-009-1941-2
Keywords