Abstract
Water repellency of woven cotton fabric was achieved by coating with the aqueous dispersion containing organosilane agent (HDTMS) and fumed silica. The coating agents were applied using padding method and then followed by batching the coated fabric at the ambient temperature for 24 h to allow the condensation reaction between HDTMS silanol group and fumed silica silanol group, rendering silica particles hydrophobic. An ultrasonicator was employed to prepare the homogenous coating dispersion. The water repellency evaluated by water contact angle determination which showed the contact angle over 110° was obtained with low amount of applied HDTMS of 1 wt%. The effect of fumed silica addition on an increase in fiber surface roughness geometry showed the influential result in improving the water contact angle. From durability to washing test, the hydrophobic coatings evidenced from SEM and ATR/FTIR remained adhering to fiber surface, indicating the durability. After washing, the coating on the fabric with fumed silica addition appeared to be scatter particles which made a contribution to the higher contact angle value when compared to sheet-like layer coating in case of HDTMS coating alone.
This is a preview of subscription content,
to check access.
Access this article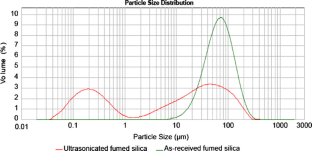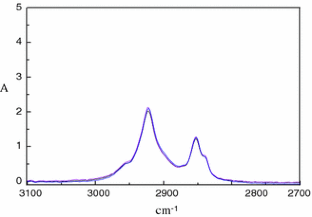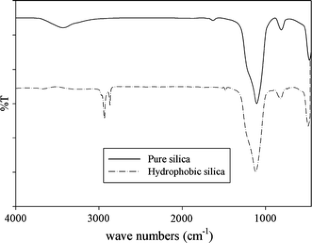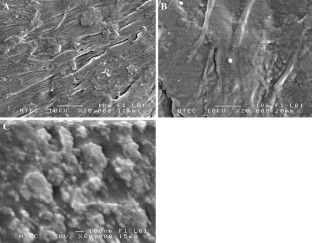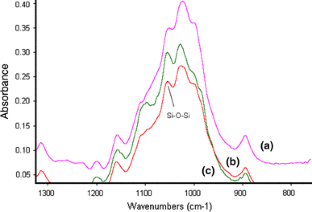 References
Linemann R, Gorenberg A, Bar G, Cantow HJ, Mulhaupt R (1997) J Coating Technol 69(871):77–81

Lee S, Cho JS, Cho GS (1999) Text Res J 69(2):104–112

Castelvetro V, Francini G, Ciardelli G, Ceccato M (2001) Text Res J 71(5):399–406

Cerne L, Siminic B (2004) Text Res J 74(5):426–432

Shao H, Sun JY, Meng WD, Quing FL (2004) Text Res J 74(10):851–855

Vukusic SB, Katovic D, Schramm C (2004) Tekstil 53(3):103–109

Easter EP, Ankenman BE (2005) AATCC Rev 5(11):27–31

Shao H, Meng WD, Qing FL (2004) J Fluorine Chem 125(5):721–724

Mahltig B, Bottcher H (2003) J Sol–Gel Sci Technol 27(1):43–52

Daoud WA, Xin JH, Tao XM (2004) J Am Ceram Soc 87(9):1782–1784

Yu M, Gu G, Meng WD, Qing FL (2007) Appl Surf Sci 253(7):3669–3673

Yeh JT, Chen CL, Huang KS (2007) J Appl Polym Sci 103(2):1140–1145

Yeh JT, Chen CL, Huang KS (2007) J Appl Polym Sci 103(5):3019–3024

Nagaraja D, Hegde A, Rao V (2006) Appl Surf Sci 253:1566–1572
Acknowledgment
The authors would like to acknowledge the Graduate School Chulalongkorn University for financial support.
About this article
Cite this article
Pipatchanchai, T., Srikulkit, K. Hydrophobicity modification of woven cotton fabric by hydrophobic fumed silica coating. J Sol-Gel Sci Technol 44, 119–123 (2007). https://doi.org/10.1007/s10971-007-1609-8
Received:

Accepted:

Published:

Issue Date:

DOI: https://doi.org/10.1007/s10971-007-1609-8
Keywords