Abstract
The Sec translocon facilitates transportation of newly synthesized polypeptides from the cytoplasm to the lumen/periplasm across the phospholipid membrane. Although the polypeptide-conducting machinery is formed by the SecYEG-SecA complex in bacteria, its transportation efficiency is markedly enhanced by SecDF. A previous study suggested that SecDF assumes at least two conformations differing by a 120° rotation in the spatial orientation of the P1 head subdomain to the rigid base, and that the conformational dynamics plays a critical role in polypeptide translocation. Here we addressed this hypothesis by analyzing the 3D structure of SecDF using electron tomography and single particle reconstruction. Reconstruction of wt SecDF showed two major conformations; one resembles the crystal structure of full-length SecDF (F-form structure), while the other is similar to the hypothetical structural variant based on the crystal structure of the isolated P1 domain (I-form structure). The transmembrane domain of the I-form structure has a scissor like cleft open to the periplasmic side. We also report the structure of a double cysteine mutant designed to constrain SecDF to the I-form. This reconstruction has a protrusion at the periplasmic end that nicely fits the orientation of P1 in the I-from. These results provide firm evidence for the occurrence of the I-form in solution and support the proposed F- to I-transition of wt SecDF during polypeptide translocation.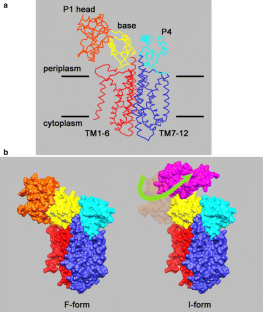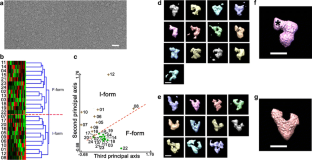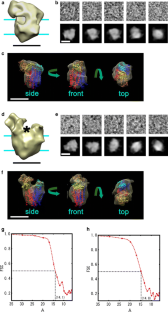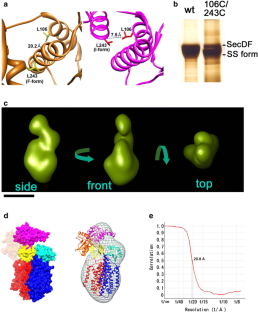 Abbreviations
3D:

Three dimensional

CTF:

Contrast transfer function

DDM:

n-Dodecyl-β-d-maltoside

DF:

Dark field

EM:

Electron microscopy

FSC:

Fourier shell correlation

MSA–HAC:

Multivariate statistical analysis in combination with hierarchical ascendant classification

RND:

Resistance-nodulation-cell division

SIRT:

Simultaneous iterative reconstruction technique

SPA:

Single particle analysis

STEM:

Scanning transmission electron microscopy

TEM:

Transmission electron microscopy

TM:

Transmembrane

TSecDF:

Thermus thermophilus SecDF

wt:

Wild type
References
1.

du Plessis DJ, Nouwen N, Driessen AJ (2011) The Sec translocase. Biochim Biophys Acta 1808:851–865

2.

Pogliano JA, Beckwith J (1994) SecD and SecF facilitate protein export in Escherichia coli. EMBO J 13:554–561

3.

Bolhuis A, Broekhuizen CP, Sorokin A, van Roosmalen ML, Venema G, Bron S, Quax WJ, van Dijl JM (1998) SecDF of Bacillus subtilis, a molecular Siamese twin required for the efficient secretion of proteins. J Biol Chem 273:21217–21224

4.

Pogliano KJ, Beckwith J (1993) The Cs sec mutants of Escherichia coli reflect the cold sensitivity of protein export itself. Genetics 133:763–773

5.

Tseng TT, Gratwick KS, Kollman J, Park D, Nies DH, Goffeau A, Saier MH Jr (1999) The RND permease superfamily: an ancient, ubiquitous and diverse family that includes human disease and development proteins. J Mol Microbiol Biotechnol 1:107–125

6.

Tsukazaki T, Mori H, Echizen Y, Ishitani R, Fukai S, Tanaka T, Perederina A, Vassylyev DG, Kohno T, Maturana AD, Ito K, Nureki O (2011) Structure and function of a membrane component SecDF that enhances protein export. Nature 474:235–238

7.

Echizen Y, Tsukazaki T, Dohmae N, Ishitani R, Nureki O (2011) Crystallization and preliminary X-ray diffraction of the first periplasmic domain of SecDF, a translocon-associated membrane protein, from Thermus thermophilus. Acta Crystallogr, Sect F: Struct Biol Cryst Commun 67:1367–1370

8.

Tsukazaki T, Mori H, Fukai S, Numata T, Perederina A, Adachi H, Matsumura H, Takano K, Murakami S, Inoue T, Mori Y, Sasaki T, Vassylyev DG, Nureki O, Ito K (2006) Purification, crystallization and preliminary X-ray diffraction of SecDF, a translocon-associated membrane protein, from Thermus thermophilus. Acta Crystallogr, Sect F: Struct Biol Cryst Commun 62:376–380

9.

Akiyama Y, Ito K (1990) SecY protein, a membrane-embedded secretion factor of E. coli, is cleaved by the ompT protease in vitro. Biochem Biophys Res Commun 167:711–715

10.

Mori H, Akiyama Y, Ito K (2003) A SecE mutation that modulates SecY-SecE translocase assembly, identified as a specific suppressor of SecY defects. J Bacteriol 185:948–956

11.

Matsuo E, Mori H, Shimoike T, Ito K (1998) Syd, a SecY-interacting protein, excludes SecA from the SecYE complex with an altered SecY24 subunit. J Biol Chem 273:18835–18840

12.

Penczek P, Radermacher M, Frank J (1992) Three-dimensional reconstruction of single particles embedded in ice. Ultramicroscopy 40:33–53

13.

Scheres SH, Valle M, Nunez R, Sorzano CO, Marabini R, Herman GT, Carazo JM (2005) Maximum-likelihood multi-reference refinement for electron microscopy images. J Mol Biol 348:139–149

14.

Harauz G, van Heel M (1986) Exact filters for general geometry 3-dimensional reconstruction. Optik 73:146–156

15.

Seo J, Shneiderman B, Yamashita E, Matsumoto T, Yamaguchi A (2006) Knowledge discovery in high-dimensional data: case studies and a user survey for the rank-by-feature framework. IEEE Trans Vis Comput Graph 12:311–322

16.

Murakami S, Nakashima R, Yamashita E, Matsumoto T, Yamaguchi A (2006) Crystal structures of a multidrug transporter reveal a functionally rotating mechanism. Nature 443:173–179

17.

Murakami S, Nakashima R, Yamashita E, Yamaguchi A (2002) Crystal structure of bacterial multidrug efflux transporter AcrB. Nature 419:587–593

18.

Takatsuka Y, Nikaido H (2007) Site-directed disulfide cross-linking shows that cleft flexibility in the periplasmic domain is needed for the multidrug efflux pump AcrB of Escherichia coli. J Bacteriol 189:8677–8684

19.

Takatsuka Y, Chen C, Nikaido H (2010) Mechanism of recognition of compounds of diverse structures by the multidrug efflux pump AcrB of Escherichia coli. Proc Natl Acad Sci U S A 107:6559–6565

20.

Ward A, Reyes CL, Yu J, Roth CB, Chang G (2007) Flexibility in the ABC transporter MsbA: alternating access with a twist. Proc Natl Acad Sci USA 104:19005–19010
Acknowledgments
This work was supported by a Grant-in-Aid for Scientific Research on Innovative Areas, Structural basis of cell-signaling complexes mediating signal perception, transduction and responses, by grants from PREST and CREST, from the Ministry of Economy, Trade and Industry, and from the Ministry of Education, Culture, Sports, Science, and Technology.
About this article
Cite this article
Mio, K., Tsukazaki, T., Mori, H. et al. Conformational variation of the translocon enhancing chaperone SecDF. J Struct Funct Genomics 15, 107–115 (2014). https://doi.org/10.1007/s10969-013-9168-4
Received:

Accepted:

Published:

Issue Date:
Keywords
Conformational change

EM

SecDF

Single particle analysis

Translocon