Abstract
Operation of some quarries can release radioactive materials from the deep soil to other environments that potentially impact human health. The present study investigated concentrations of radon and other radionuclides in surface soil, air, and water around two quarries in the south of Vietnam. Indoor radon concentrations ranged between 6.19 Bq m-3 and 20.6 Bq m-3. In surface soil, the average concentrations of 40K, 226Ra, and 232Th were 387, 36.5, and 44.5 Bq kg− 1, respectively. In surface soil, the average values of radioactivity found for 40K, 226Ra, 238U, and 232Th were 2.65, 1.23, 1.12, and 1.22 mBq l-1, respectively. The results show that the radioactive levels in the quarry region are found higher than in the nearby area. However, these levels are not enough for a recommendation for public health.
Access options
Buy single article
Instant access to the full article PDF.
USD 39.95
Price excludes VAT (USA)
Tax calculation will be finalised during checkout.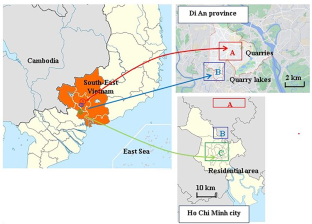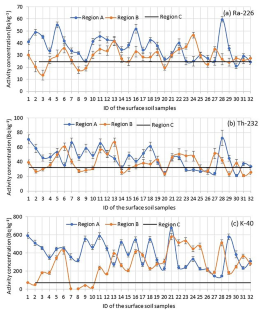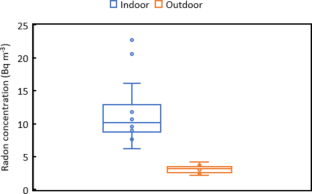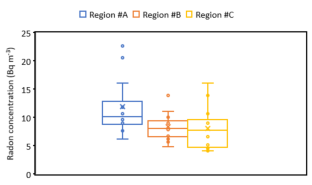 References
UNSCEAR (2000) Sources and effects of ionizing radiation. Report to the General Assembly, with Scientific Annexes. Volume I: Sources. United Nations Scientific Committee on the Effects of Atomic Radiation, New York

Huy NQ, Hien PD, Luyen TV, Hoang DV, Hiep HT, Quang NH, Long NQ, Nhan DD, Binh NT, Hai PS, Ngo NT (2012) Natural radioactivity and external dose assessment of surface soils in Vietnam. Radiat Protect Dosim 151:522–531

Punarbasu C, Nabanita N, Susanta L (2017) Measurement of background radioactivity in surface soil of Indian Sundarban. J Radioanal Nucl Chem 311:1947–1952

Jianzhou Y, Yanling S (2022) Natural radioactivity and dose assessment in surface soil from Guangdong, a high background radiation province in China. J Rad Res Appl Sci 15:145–151

Ngachin M, Garavaglia M, Giovani C, Kwato MG, Njock, Nourreddin A (2008) Radioactivity level and soil radon measurement of a volcanic area in Cameroon. J Environ Radioact 99:1056–1060

Guidotti L, Carini F, Rossi R, Gatti M, Cenci RM, Beone MG (2009) Gamma-spectrometric measurement of radioactivity in agricultural soils of the Lombardia region, northern Italy. J Environ Radioact 142:36–44

WHO (2012) Preliminarydose estimationfrom the nuclear accidentafter the 2011 Great East Japan Earthquake and Tsunami. World Health Organization, Geneva, Switzerland

Akpanowo MA, Bello NA, Ibrahim U, Shekwonyadu I, Emmanuel J, Samson Y, Godwin BE(2021) Assessment of radioactivity and heavy metals in water sources from Artisanal mining areas of Anka, Northwest Nigeria.Sci Afr12, e00761

Belyaeva O, Pyuskyulyan K, Movsisyan N, Saghatelyan A, Carvalho FP (2019) Natural radioactivity in urban soils of mining centers in Armenia: Dose rate and risk assessment. Chemosphere 225:859–870

Momcilovic M, Jovan K, Milan T, Milan D, Goran B, Snezana D (2013) Distribution of natural radionuclides in surface soils in the vicinity of abandoned uranium mines in Serbia. Environ Monit Assess 185:1319–1329

Marius CS, Gabriel OI, Ciprian C, Adriana I, Sorin IB, Andreea AS (2020) Radiological risk assessment and spatial distribution of naturally occurring radionuclides within riverbed sediments near uranium deposits: Tulghes-Grinties, Eastern Carpathians (Romania). J Rad Res Appl Sci 13:730–746

Lakehal C, Ramdhane M, Boucenna A (2010) Natural radionuclide concentrations in two phosphate ores of east Algeria. J Environ Radioact 101:377–379

Perez-Moreno SM, Gazquez MJ, Perez-Lopez R, Vioque I, Bolivara JP (2018) Assessment of natural radionuclides mobility in a phosphogypsum disposal area. Chemosphere 211:775–783

Alnour IA, Wagiran H, Ibrahim N, Laili Z, Omar M, Hamzah S, Bello YI (2012) Natural radioactivity measurements in the granite rock of quarry sites, Johor, Malaysia. Rad Phys Chem 81:1842–1847

Kerubo M, Rutha P, Njogu W, Jackim N, Wycliffe A(2020) Levels of ionizing radiations in selected quarries in Nyamira County,Kenya. Heliyon6, e04363

Vu NB, Nguyen VT, Nguyen QD, Huynh NPT, Truong THL (2019) Study on the characteristics of natural radionuclides in surface soil in Ho Chi Minh City, Vietnam and radiological health hazard. Environ Earth Sci 78:28

Truong THL, Vu NB, Nguyen QD, Nguyen NA, Mai TM, Truong HNT, Huynh TYH, Nguyen VT, Truong MH (2018) Estimation of soil characteristics based on the depth distributions of 238U, 232Th, 226Ra, 40K activity concentrations using laboratory HPGe gamma spectrometry. J Radioanal Nucl Chem 318:1931–1938

Durridge Co (2017) User Manual, RAD7 Radon Detector. https://durridge.com/documentation/RAD7%20Manual.pdf

Huynh NPT, Nguyen VT, Le CH (2020) The effects of some soil characteristics on radon emanation and diffusion. J Environ Radioact 216:106189

Vu NB, Nguyen VT, Bui NT, Huynh NPT, Truong THL (2021) Activity concentrations of 226Ra, 232Th, 40K, and 222Rn in the indoor air and surface soil in Ho Chi Minh City, Vietnam: Methods for estimating indoor 222Rn and health risks to the population. J Radioanal Nucl Chem 327:897–904

UNSCEAR (2008) ANNEX B: exposures from natural radiation sources. United Nations Scientific Committee on the Effects of Atomic Radiation (UNSCEAR), New York, USA

Janine NC, Sergei AP, Jaqueline K, Allan FNP, Alana CF, Hugo RS, Valeriy D (2014) Measurements of 222Rn activity in well water of the Curitiba metropolitan area (Brazil). Radiat Phys Chem 104:108–111

Abdallah IAE, Abd EE, Abd EA, Harb S, Saleh II (2013) Natural radioactivity of ground and hot spring water in some areas in Yemen. Desalination 321:28–31

Shivakumara BC, Chandrashekara MS, Kavitha E, Paramesh L (2014) Studies on 226Ra and 222Rn concentration in drinking water of Mandya region, Karnataka State, India. J Radiat Res Appl Sci 7:491–498

Le CH, Huynh NPT, Nguyen VT, Le QB (2015) Radon and radium Concentrations in drinkable water supplies of the Thu Duc region in Ho Chi Minh city, Vietnam. Appl Radiat Isot 105:219–224

Nguyen VT, Huynh NPT, Le CH (2022) Uranium isotopes in groundwater in Ho Chi Minh City and related issues: Health risks, environmental effects, and mitigation methods. J Contam Hydrol 245:103941

Ho PL, Hung LD, Minh VT, Van Chinh D, Thanh TT, Van Tao C (2020) Assessment of radioactivity and chemical contaminants in domestic water at supply stations in Long Phu District, Vietnam, to prevent public health risks. Sci Total Environ 737:140291

ICRP (1993) Protection against radon-222 at home and at work, ICRP Publication 65. Ann. ICRP 23(2). International Commission on Radiological Protection, Ontario

ATSDR (1992) Case studies in environmental medicine: Radon toxicity. Agency for Toxic Substances and Disease Registry, Atlanta

Talia T, Cristian VG, Gabriela TU, Betzabeth S, Stefano B (2021) Measurement of radon exhalation rate from building materials: The case of Highland Region of Ecuador. Constr Build Mater 293:123282

Ahmad CS, Seongjin P, Muttaqin MN, Sang HL (2020) Indoor radon and thoron from building materials: Analysis of humidity, air exchange rate, and dose assessment. Nucl Eng Technol 52:2370–2378

Nuccetelli C, Leonardi F, Trevisi R (2020) Building material radon emanation and exhalation rate: Need of a shared measurement protocol from the european database analysis. J Environ Radioact 225:106438
Acknowledgements
This research is funded by Vietnam National University Ho Chi Minh City (VNU-HCM) under grant number VL2020-18-03.
Ethics declarations
Conflict of interest
The authors declare that they have no conflict of interest.
Ethical approval
Not applicable.
Consent to participate
Not applicable.
Consent to Publish
Not applicable.
Additional information
Publisher's Note
Springer Nature remains neutral with regard to jurisdictional claims in published maps and institutional affiliations.
Rights and permissions
Springer Nature or its licensor holds exclusive rights to this article under a publishing agreement with the author(s) or other rightsholder(s); author self-archiving of the accepted manuscript version of this article is solely governed by the terms of such publishing agreement and applicable law.
About this article
Cite this article
Nguyen, V.T., Huynh, N.P.T., Hong, H.T.Y. et al. Background Radiation in some Quarries and Quarry Lakes in Binh Duong Province, Vietnam. J Radioanal Nucl Chem 331, 4169–4177 (2022). https://doi.org/10.1007/s10967-022-08475-y
Received:

Accepted:

Published:

Issue Date:

DOI: https://doi.org/10.1007/s10967-022-08475-y
Keywords
Quarry

Quarry Lake

Natural radionuclides

Radon