Abstract
149Tb, 152Tb, 155Tb and 161Tb can cover all the modalities of diagnostic and therapeutic purposes of nuclear medicine. The production cross sections and yields of radiotheragnostics terbium from x+152,154,155,156,157,158,160Gd reactions in the energy range 0.001 to 200 MeV are evaluated using TALYS1.9. Some p,d,he3-induced reactions show high yields to produce 149Tb while several p,d,t-induced reactions show larger yields to produce 152Tb. For 155Tb productions, number of p,t-induced reactions have higher production yields. To produce 161Tb, one deuteron and one triton induced reaction show bigger production yields. These calculations are compared with EMPIRE 3.2.2 and TENDL-2017 data for prospective reactions.
Access options
Buy single article
Instant access to the full article PDF.
US$ 39.95
Tax calculation will be finalised during checkout.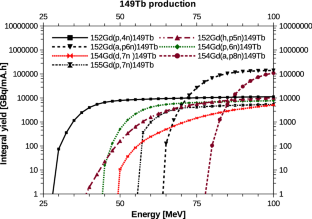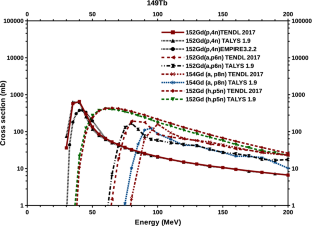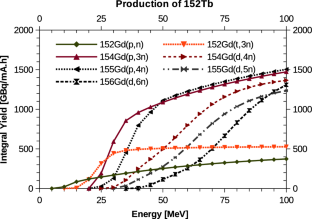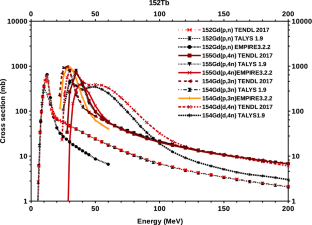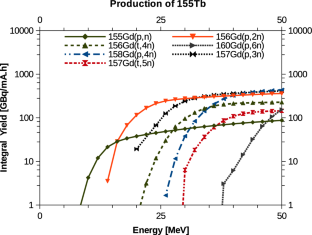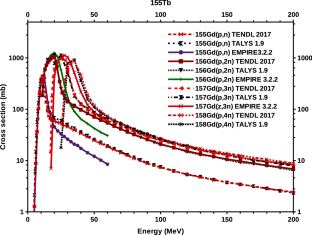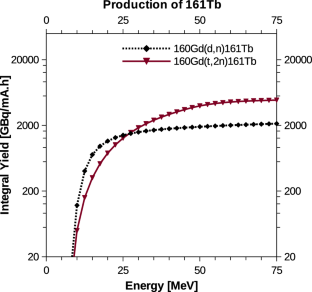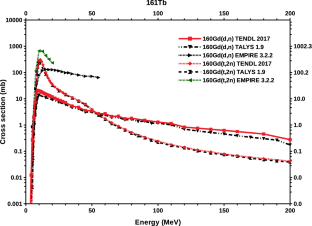 References
1.

dos Santos Augusto R, Buehler L, Lawson Z, Marzari S, Stachura M, Stora T, CERN-MEDICIS collaboration (2014) Appl Sci 4:265–281. https://doi.org/10.3390/app4020265

2.

Sayed BM (2013) Int J Phys Res 3(2):17–26

3.

Cavaier RF, Haddad F, Sounalet T, Stora T, Zahi I (2017) Phys Procedia 90:157–163. https://doi.org/10.1016/j.phpro.2017.09.053

4.

Brandt M, Cardinale J, Aulsebrook ML, Gasser G, Mindt TL (2018) J Nucl Med. https://doi.org/10.2967/jnumed.117.190801

5.

Al-Suqri B (2014) Oman Med J 29(5):362–364. https://doi.org/10.5001/omj.2014.95

6.

Kam BLR, Teunissen JJM, Krenning EP, de Herder WW, Khan S, van Vliet EI, Kwekkeboom DJ (2012) Eur J Nucl Med Mol Imaging 39(1):103–112. https://doi.org/10.1007/s00259-011-2039-y

7.

Makvandi M, Dupis E, Engle JW, Nortier FM, Fassbender ME, Simon S, Birnbaum ER, Atcher RW, John KD, Rixe O, Norenberg JP (2018) Targeted Oncol. https://doi.org/10.1007/s11523-018-0550-9

8.

Müller C, Zhernosekov K, Koster U, Johnston K, Hohn A, vander Walt TN, Turler A, Schibli R (2012) J Nucl Med 53:1951–1959

9.

Marcua L, Bezak E, Allen BJ (2018) Crit Rev Oncol Hematol 123:7–20

10.

Dekempeneer Y, Keyaerts M, Krasniqi A, Puttemans J, Muyldermans S, Lahoutte T, D'huyvetter M, Devoogdt N (2016) Expert Opin Biol Ther. https://doi.org/10.1080/14712598.2016.1185412

11.

Lehenberger S, Barkhausen C, Cohrs S, Fischer E, Grunberg J, Hohn A, Koster U, Schibli R, Turler A, Zhernosekov K (2011) Nucl Med Biol 38:917–924

12.

Zaitseva NG, Dmitriev SN, Beyer GJ, Maslov OD, Molokanova LG, Starodub GY, Shishkin SV, Shishkina TV (2003) Czechoslov J Phys A 53(1):A455–A458

13.

Steyn GF, Vermeulen C, Szelecsényi F, Kovács Z, Hohn A, van der Meulen NP, Schibli R, vander Walt TN (2014) Nucl Instrum Methods Phys Res B 319:128–140

14.

Duchemina C, Guertina A, Haddada F, Michela N, Métiviera V (2016) Appl Radiat Isot 118:281–289

15.

Beyer GJ, Čomor JJ, Daković M, Soloviev D, Tamburella C, Hagebø E, Allan B, Dmitriev SN, Zaitseva NG, Starodub GY, Molokanova LG, Vranješ S, Miederer M, ISOLDE Collaboration (2002) Radiochim Acta 90(5):247

16.

Koning AJ, Hilaire S, Duijvestijn MC (2007) Proceedings of the international conference on nuclear data for science and technology nice, France, April 22–27 In: Bersillon O, Gunsing F, Bauge E, Jacqmin R, Leray S (eds) (2008) EDP Sciences, pp 211–214

17.

Koning AJ, Delaroche JP (2003) Nucl Phys A 713:231

18.

Müller C, Vermeulen C, Johnston K, Köster U, Schmid R, Türler A, van der Meulen NP (2016) EJNMMI Res 6:35. https://doi.org/10.1186/s13550-016-0189-4
Acknowledgements
This work is supported by the Research Cell [Grant number: 6317/2018 dated 07/08/2018], University of Chittagong, Chattogram 4331, Bangladesh.
Additional information
Publisher's Note
Springer Nature remains neutral with regard to jurisdictional claims in published maps and institutional affiliations.
Electronic supplementary material
Below is the link to the electronic supplementary material.
About this article
Cite this article
Rahman, A.K.M.R., Awal, A. Production of 149Tb, 152Tb, 155Tb and 161Tb from gadolinium using different light-particle beams. J Radioanal Nucl Chem 323, 731–740 (2020). https://doi.org/10.1007/s10967-019-06973-0
Received:

Published:

Issue Date:
Keywords
TALYS

EMPIRE 3.2.2

Nuclear medicine

Radiotheragnostics

Terbium

Gadolinium