Abstract
89Zr is a beta plus and electron capture decaying radionuclide. This paper presents: (1) Absolute standardization by the 4πβ(PC)-γ coincidence method: a new equivalent decay scheme, the mathematical formalism applied to it and the choice of the optimal measurement conditions. (2) Measurements by HPGe gamma-ray spectrometry, to determine the possible impurities, to measure the activity and the relative intensities of the emitted gamma rays. (3) Calibration of the CENTRONIC IG12/20A ionization chamber, by two methods: direct measurement using the absolutely standardized solution and linear least square modelling, as well as their comparison. (4) Comparisons of results of all measurement methods.
Access options
Buy single article
Instant access to the full article PDF.
USD 39.95
Price excludes VAT (USA)
Tax calculation will be finalised during checkout.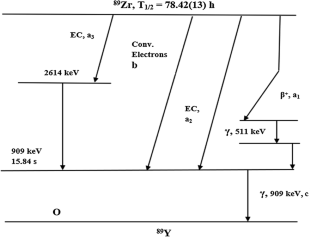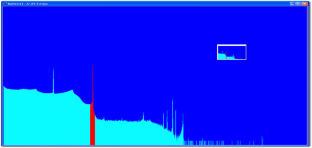 References
Deri MA, Zeglis BM, Francesconi LC, Lewis JS (2013) PET imaging with 89Zr. From radiochemistry to the clinic. Nucl Med Biol 40:3–14

Verel I, Visser GMW, Boerman OC, van Eerd JEM, Finn R, Stiter-van Walsum M et al (2003) Long lived positron emitters 89Zr and 124I for scouting of therapeutic radioimmunoconjugates with PET. Cancer Biother Radiopharm 18:655–661

Qaim S (2017) Nuclear data for production and medical applications of radionuclides. Present status and needs. Nucl Med Biol 44:31–49

Haddad F, Ferrer L, Guertin A, Carlier T, Michel N, Barbet J, Chatal J-F (2008) ARRONAX, a high-energy and high-intensity cyclotron for nuclear medicine. Eur J Nucl Med Mol Imaging 35:1377–1387

Lake Wooten A, Lewis BC, Szatkowsk D, Sultan DH, Abdin KI, Voller TF, Liu Y, Lapi SE (2016) Calibration setting numbers for dose calibrators for the PET isotopes 52Mn, 64Cu, 76Br, 86Y, 89Zr,124I. Appl Radiat Isot 113:89–95

García-Toraño E, Peyrés V, Roteta M, Mejuto M, Sánchez-Cabezudo A, Romero E (2018) Standardisation and half-life of 89Zr. Appl Radiat Isot 134:421–425

Fenwick A, Keightley J, Collins S, Ferreira K, Robinson A, Evans W, Marshall C (2019) Absolute standardization of 89Zr and determination of nuclear data. In: 22-nd international conference on radionuclide metrology and its applications, ICRM 2019, University of Salamanca, Spain, 27–31 May

Grigorescu EL, Sahagia M, Razdolescu A, Ivan C (1996) Standardization of some electron capture radionuclides. Nucl Instrum Methods Phys Res A 369:414–420

Nichols AI (2016) Monographie BIPM-5, 89Zr file 8:79–85

Sahagia M, Luca A, Antohe A, Ioan M-R, Cımpeanu C, Barna C, Ivan C (2017) Standardisation of a 68(Ge + Ga) solution within the CCRI(II)-K2.Ge-68 key comparison. J Radioanal Nucl Chem 311:983–990

Sahagia M, Luca A, Ioan M-R, Antohe A, Ivan C (2018) Standardization of 67Cu and calibration of the ionization chamber. Impurities and decay scheme problems. Appl Radiat Isot 134:297–301

Sahagia M, Ioan M-R, Antohe A, Luca A, Ivan C (2016) Measurement of I-124. Appl Radiat Isot 109:349–353

Sahagia M, Waetjen AC, Luca A, Ivan C (2010) IFIN-HH ionization chamber calibration and its validation; electrometric system improvement. Appl Radiat Isot 68:1266–1269

Pearce AK, Michotte C, Hino Y (2007) Ionization chamber efficiency curves. Metrologia 44:S67–S70

Amiot MN, Chisté V, Fitzgerald R, Juget F, Michotte C, Pearce A, Ratel G, Zimmerman BE (2015) Uncertainty evaluation in activity measurements using ionization chambers. Metrologia 52:S108–S122

Schräder H (2007) Ionization chambers. Metrologia 44:S53–S66

Sahagia M, Luca A, Antohe A, Ivan C (2012) Standardization of 64Cu and 68Ga by the 4πPC-γ coincidence method and calibration of the ionization chamber. Appl Radiat Isot 70(9):2025–2030

Sahagia M, Ioan M-R, Luca A, Antohe A, Ivan C, Neacsu B, Ghioca C (2014) Standardization of F-18 and its use for the Romanian PET metrological traceability chain assurance. Appl Radiat Isot 87:14–18

Singh B (2013) Nuclear data sheets for A = 89. Nucl Data Sheets 114(1):1–208
Acknowledgements
This paper was funded by the joint research project IFA Romania – CEA France No. C5-09/2016
Additional information
Publisher's Note
Springer Nature remains neutral with regard to jurisdictional claims in published maps and institutional affiliations.
About this article
Cite this article
Sahagia, M., Luca, A., Antohe, A. et al. Standardization of the emerging medical positron emitter 89Zr. J Radioanal Nucl Chem 322, 1683–1689 (2019). https://doi.org/10.1007/s10967-019-06661-z
Received:

Published:

Issue Date:

DOI: https://doi.org/10.1007/s10967-019-06661-z
Keywords
Positron emitter 89Zr

Absolute standardization

4πβ(PC)-γ coincidence method

Gamma-ray spectrometry measurement

Calibration of the ionization chamber

Comparison of results