Abstract
Polymeric matrices composed of N,N′-Methylenebis(acrylamide)/glycidyl methacrylate was prepared and modified producing two resins (GMA/MBA/OH and GMA/MBA/SO3H). The adsorption of U(VI) ions onto the modified acrylamide resins was studied from synthetic and granite samples. For better understanding around the uranium mineralization and the rock-forming minerals of the hosted granitic rocks, to facilitate the choice of the appropriate ore-processing techniques, it was necessary to identify the mineral composition and the radiometric specifications of the used granitic rock. The synthesized adsorbents revealed a promising selective adsorption toward the U(VI) ions from its bearing solutions even with the competence of other cations.
Access options
Buy single article
Instant access to the full article PDF.
USD 39.95
Price excludes VAT (USA)
Tax calculation will be finalised during checkout.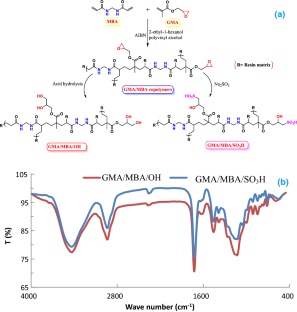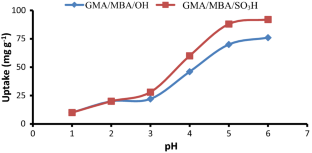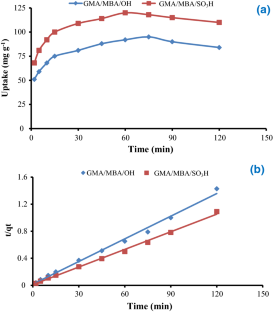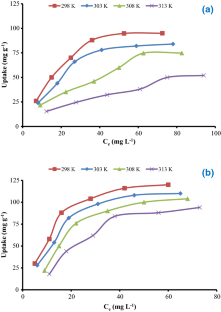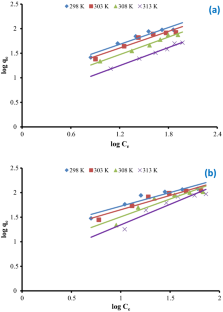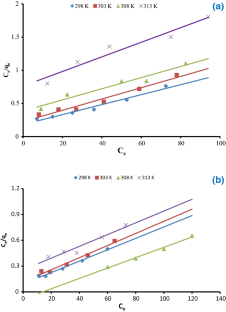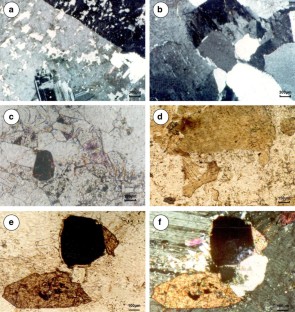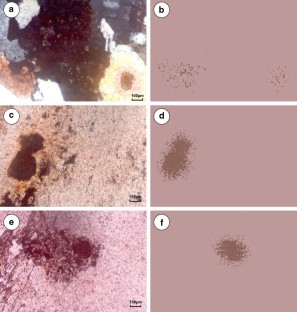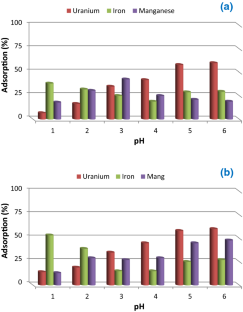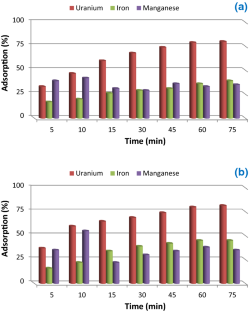 References
Zhou A, Wang J (2018) Recovery of U(VI) from simulated wastewater with thermally modified palygorskite beads. J Radioanal Nucl Chem 318:1119–1129

Donia AM, Atia AA, Moussa EMM, El-Sherif AM, Abd El-Magied MO (2009) Removal of uranium(VI) from aqueous solutions using glycidyl methacrylate chelating resins. Hydrometallurgy 95:183–189

Sadeek SA, El-Sayed MA, Amine MM, Abd El- Magied MO (2014) A chelating resin containing trihydroxybenzoic acid as the functional group; synthesis and adsorption behavior for Th(IV) and U(VI) ions. J Radioanal Nucl Chem 299:1299–1306

Sadeek SA, El-Sayed MA, Amine MM, El-Magied MOA (2014) Selective solid-phase extraction of U(VI) by amine functionalized glycidyl methacrylate. J Environ Chem Eng 2:293–303

Gładysz-Płaska A, Grabias E, Majdan M (2018) Simultaneous adsorption of uranium(VI) and phosphate on red clay. Prog Nucl Energy 104:150–159

Sun Z, Chen D, Chen B, Kong L, Su M (2018) Enhanced uranium(VI) adsorption by chitosan modified phosphate rock. Colloids Surf A 547:141–147

Liu Z, Liu D, Cai Z, Wang Y, Zhou L (2018) Synthesis of new type dipropyl imide chelating resin and its potential for uranium(VI) adsorption. J Radioanal Nucl Chem 318:1219–1227

Gado MA (2018) Sorption of thorium using magnetic graphene oxide polypyrrole composite synthesized from natural source. Sep Sci Technol 53:2016–2033

Abd El-Magied MO, Mansour A, Alsayed FA, Atrees MS, Abd Eldayem S (2018) Biosorption of beryllium from aqueous solutions onto modified chitosan resin: equilibrium, kinetic and thermodynamic study. J Dispersion Sci Technol 39:1597–1605

Abd El-Magied MO, Galhoum AA, Atia AA, Tolba AA, Maize MS, Vincent T, Guibal E (2017) Cellulose and chitosan derivatives for enhanced sorption of erbium(III). Colloids Surf A 529:580–593

Abd El-Magied MO (2016) Sorption of uranium ions from their aqueous solution by resins containing nanomagnetite particles. J Eng 2016:1–11

Sadeek SA, Moussa EM, El-Sayed MA, Amine MM, El-Magied MOA (2014) Uranium(VI) and thorium(IV) adsorption studies on chelating resin containing pentaethylenehexamine as a functional group. J Dispersion Sci Technol 35:926–933

Abd El-Magied MO, Dhmees AS, Abd El-Hamid AAM, Eldesouky EM (2018) Uranium extraction by sulfonated mesoporous silica derived from blast furnace slag. J Nucl Mater 509:295–304

Ang KL, Li D, Nikoloski AN (2017) The effectiveness of ion exchange resins in separating uranium and thorium from rare earth elements in acidic aqueous sulfate media. Part 1. Anionic and cationic resins. Hydrometallurgy 174:147–155

Ang KL, Li D, Nikoloski AN (2018) The effectiveness of ion exchange resins in separating uranium and thorium from rare earth elements in acidic aqueous sulfate media. Part 2. Chelating resins. Miner Eng 123:8–15

Hu W, Lu S, Song W, Chen T, Hayat T, Chen C, Liu H, Alsaedi NS (2018) Competitive adsorption of U(VI) and Co(II) on montmorillonite: a batch and spectroscopic approach. Appl Clay Sci 157:121–129

Klingenberg A, Seubert A (2002) Sulfoacylated poly(styrene–divinylbenzene) copolymers as resins for cation chromatography: comparison with sulfonated, dynamically coated and silica gel cation exchangers. J Chromatogr A 946:91–97

Malik MA (2009) Carbonyl groups in sulfonated styrene-divinylbenzene macroporous resins. Ind Eng Chem Res 48:696–6965

Pirogov AV, Chernova MV, Nemtseva DS, Shpigun OA (2003) Sulfonated and sulfoacylated poly(styrene–divinylbenzene) copolymers as packing materials for cation chromatography. Anal Bioanal Chem 376:745–752

El-Magied MOA, Mohammaden TF, El-Aassy IK, Gad HM, Hassan AM, Mahmoud MA (2017) Decontamination of uranium-polluted groundwater by chemically-enhanced, sawdust-activated carbon. Colloids Interf 1:1–17

Saluzzo C, Lamouille T, Herault D, Lemaire M (2002) Polymer-supported catalysts: enantioselective hydrogenation and hydrogen transfer reduction. Bioorg Med Chem Lett 12:1841–1844

Yu Y, Sun Y (1999) Macroporous poly(glycidyl methacrylate-triallyl isocyanurate-divinylbenzene) matrix as an anion-exchange resin for protein adsorption. J Chromatogr A 855:129–136

Marczenko Z (1986) Separation and Spectrophotometric determination of elements. Wiely, Toronto

Zahran MA, Mahmoud KF, Mahdy MA, Abd El-Hamid AM (2007) Leaching of gallium from Gattar granite, Eastern Desert, Egypt. Isot Radiat Res 39:115–126

Habashi F (1993) A textbook of hydrometallurgy. Department of Mining & Metallurgy, Laval University, Quebec City

Shalaby MH, Abu Zeid EK, Mahdy NM (2015) Erratum to: on the petrogenesis and evolution of U-rich granite: insights from mineral chemistry studies of Gattar granite, North Eastern Desert, Egypt. Arab J Geosci 8:3587

Hansink JD (1976) Equilibrium analyses of sandstone roll-front uranium deposits. Int Atomic Energy Ag Vienna 8:683–693

Stuckless JS, Nkomo IT, Wenner DB, Trump GV (1984) Geochemistry and uranium favourability of postorogenic granites of the north-eastern Arabian Shield, Kingdome of Saudi Arabia. Bull Fac Eart Sci King Abdel Aziz Univ 6:195–209

Shapiro L (1975) Rapid analysis of silicate, carbonate and phosphate rocks. US Geol Surv Bull 1401:70–76

Meinrath G (1981) Aquatic chemistry of uranium. Geoscience 1:1–100

Elshehy EA (2017) Removal of uranium ions from liquid radioactive waste using modified aluminosilica. Sep Sci Technol 52:1852–1861

Abd El-Magied MO, Hassan AM, Gad HMH, Mohammaden TF, Youssef MAM (2017) Removal of nickel (II) ions from aqueous solutions using modified activated carbon: a kinetic and equilibrium study. J Dispersion Sci Technol 39:862–873

Gado MA, Morsy A (2017) Preparation of poly-aniline–magnetic porous carbon composite for using as uranium adsorbent. Am J Mater Synth Process 2:32–40

Abd El-Magied MO, Elshehy EA, Manaa EA, Tolba AA, Atia AA (2016) Kinetics and thermodynamics studies on the recovery of thorium ions using amino resins with magnetic properties. Ind Eng Chem Res 55(2016):11338–11345

Abd El-Magied MO, Tolba AA, El-Gendy HS, Zaki SA, Ati AA (2017) Studies on the recovery of Th(IV) ions from nitric acid solutions using amino-magnetic glycidyl methacrylate resins and application to granite leach liquors. Hydrometallurgy 169:89–98

Elshehy EA, Shenashen MA, Abd El-Magied MO, El-Nahas AM, Tolan DA, Halada K, Atia AA, El-Safty SA (2017) Selective recovery of silver(I) ions from e-waste using cubicallymulti-thiolated cage mesoporous monoliths. Eur J Inorg Chem 2017:4823–4833

Tag El-Din AF, Elshehy EA, Abd El-Magied MO, Atia AA, El-Khouly ME (2018) Decontamination of radioactive cesium ions using ordered mesoporous monetite. RSC Adv. 8:19041–19050

Abd El-Magied MO, Salem WM, Daher AA, Elshehy EA (2018) Fabrication of silica microspheres (HB/A@SI-MNS) for hafnium and zirconium recovery from zirconyl leach liquor. Colloids Interfaces 2:1–14

Mohamaden TF (1996) Correlative studies on some uraniferous radioactive granitic rocks in Qattar, El-Missikate, El-Erediya and Um-Ara area, Eastern desert, Egypt. M. Sc. In Geology, Ain Shams University, Egypt

Salman AB, Shalaby MH, Nosier LM (1990) Uranium province, northern RedSea Hills, Egypt. Int Earth Sci Congr 1:89–101
Ethics declarations
Conflict of interest
On behalf of all authors, the corresponding author states that there is no conflict of interest.
About this article
Cite this article
Negm, S.H., Abd El-Hamid, A.A.M., Gado, M.A. et al. Selective uranium adsorption using modified acrylamide resins. J Radioanal Nucl Chem 319, 327–337 (2019). https://doi.org/10.1007/s10967-018-6356-5
Received:

Published:

Issue Date:

DOI: https://doi.org/10.1007/s10967-018-6356-5
Keywords
Uranium

Acrylamide

Glycidyl methacrylate

Adsorption