Abstract
Ar-37 has been prepared from micron- and nano- diameter CaO by irradiation in the predominantly thermal flux of a SLOWPOKE-2 reactor. A polyether ether ketone irradiation vial facilitates irradiation in vacuo to yield radio-argon as the sole gaseous product. Gamma-emitting Ar-41(T1/2 = 110 min) is used to infer Ar-37 activity, although 40Ar(n, γ)41Ar also occurs as a result of air entrapped within the CaO matrix. Less air is present in the nano-CaO matrix and more radio-argon is liberated to the gas phase. Using nano-CaO, 96 ± 10% of predicted Ar-41 is observed following Ar-41 diffusion to an un-irradiated container.
This is a preview of subscription content, log in to check access.
Access options
Buy single article
Instant access to the full article PDF.
US$ 39.95
Price includes VAT for USA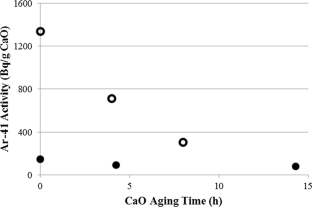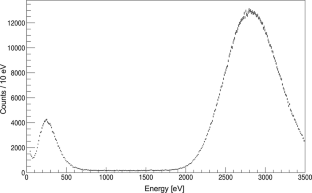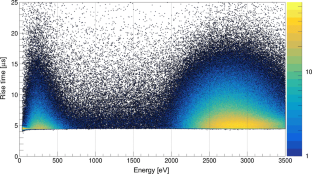 References
1.

Larkins FB (1977) At Data Nucl Data Tables 20:311–387

2.

Carrigan CR, Sun Y (2017) LLNL-TR-739079

3.

Williams RM, Aalseth CE, Bowyer TW, Day AR, Fuller ES, Haas DA, Hayes JC, Hoppe EW, Humble PH, Keillor ME, LaFerriere BD, Mace EK, McIntyre JI, Miley HS, Myers AW, Orrell JL, Overman CT, Panisko ME, Seifert A (2016) Appl Radiat Isot 109:430–434

4.

Haas DA, Miley HS, Orrell JL, Aalseth CE, Bowyer TW, Hayes JC, McIntyre JI (2010) PNNL-19458

5.

Barsanov VI, Dzhanelidze AA, Zamyatina AA, Zlokazov SB, Korenkova AV, Kotel'nikov NA, Markov SYu, Selin VV, Shalirov ZN, Abdurashitov DN, Veretenkin EP, Gavrin VN, Mirmov IN, Yantz VE (2006) Instrum Exp Tech 49:454–460

6.

Riedmann RA, Purtschert R (2011) Env Sci Technol 45:8656–8664

7.

Egnatuk CM, Lowrey J, Biegalski SR, Bowyer T, Haas D, Orrell J, Woods V, Keillor M (2012) J Radioanal Nucl Chem 291:257–260

8.

Barsanov VI, Dzhanelidze AA, Zlokazov SB, Kotelnikov NA, Markov SYu, Selin VV, Shalirov ZN, Abdurashitov DN, Veretenkin EP, Gavrin VN, Gorbachev VV, Ibragimov TV, Kalikhov AV, Mirmov IN, Shikhin AA, Yantz VE, Khomyakov YuS, Cleveland BT (2007) Phys At Nucl 70:300–310

9.

Sangiorgio S, Joshiad TH, Bernsteina A, Coleman J, Fox M, Hagmann C, Jovanovic I, Kazkaza K, Mavrokoridis K, Mozin V, Pereverzev S, Sorensen P (2013) Nucl Instrum Methods Phys Res A 728:69–72

10.

Akimov DYu, Afanasyev VV, Alexandrov IS, Belov VA, Bolozdynya Burenkov AA, Efremenko YuV, Egorov DA, Etenko AV, Gulin MA, Ivakhin SV, Kaplin VA, Karelin AK, Khromov AV, Kirsanov MA, Klimanov SG, Kobyakin AS, Konovalov AM, Kovalenko AG, Kuchenkov AV, Kumpan AV, Melikyan YuA, Nikolaev RI, Rudik DG, Sosnovtsev VV, Stekhanova VN (2014) J Instrum 9:11014

11.

Egnatuk CM, Biegalski SR (2013) J Radioanal Nucl Chem 298:475–479

12.

Aalseth CE, Day AR, Haas DA, Hoppe EW, Hyronimus BJ, Keillor ME, Mace EK, Orrell JL, Seifert A, Woods VT (2011) Nucl Instrum Methods Phys Res A 652:58–61

13.

News-g.org. Accessed on 10 April 2018

14.

Arnaud Q, Asner D, Bard J-P, Brossard A, Caia B, Chapellier M, Clark M, Corcoran EC, Dandl T, Dastgheibi-Fard A, Dering K, Di Stefano P, Durnford D, Gerbier G, Giomataris I, Gorel P, Gros M, Guillaudin O, Hoppe EW, Kamaha A, Katsioulas I, Kelly DG, Martin RD, McDonald J, Muraz J-F, Mols J-P, Navick X-F, Papaevangelou T, Piquemal F, Rotha S, Santos D, Savvidis I, Ulrich A, Vazquez de Sola Fernandez F, Zampaolo M (2018) Astropart Phys 97:54–62

15.

Atfield J (2012) MCNP SLOWPOKE-II model. Canadian Nuclear Laboratories

16.

Kennedy G, St-Pierre J, Wang K, Zhang Y, Preston J, Grant C, Vutchkov M (2000) J Radioanal Nucl Chem 245:167–172

17.

Acharya R, Chatt A (2003) J Radioanal Nucl Chem 257:525–529

18.

Ravn HL, Catherall R, Barker J, Drumm P, Evensen AHM, Hegebo E, Hoff P, Jonsson OC, Kugler E, Lettry J, Steffensen K, Tengblad O (1997) Nucl Instrum Methods Phys Res B 126:176–181

19.

Ramos JP, Gottberg A, Mendonca TM, Seiffert C, Senos AMR, Fynbo HOU, Tengblad O, Briz JA, Lund MV, Koldste GT, Carmona-Gallardo M, Pesudo V, Stora T (2014) Nucl Instrum Methods Phys Res B 320:83–88

20.

Wong LL, Bradt RC (1995) J Am Ceram Soc 77:1611–1616
Acknowledgements
The authors thank the technical staff at the Royal Military College and Queen's University for their assistance. Also, the authors acknowledge financial support from the Natural Sciences and Engineering Research Council of Canada (NSERC), through Grant No. 385857-2010 RGPIN.
About this article
Cite this article
Kelly, D.G., Arnaud, Q., Brossard, A.E. et al. The production of Ar-37 using a thermal neutron reactor flux. J Radioanal Nucl Chem 318, 279–285 (2018). https://doi.org/10.1007/s10967-018-6130-8
Received:

Published:

Issue Date:
Keywords
Isotope production

Argon-37

Thermal neutrons

SLOWPOKE-2

Nanoparticle