Abstract
Theoretical activation calculations for Fe, Ni, and stainless steel foils were compared against irradiated foil measurements from a critical assembly. Calculated/experiment values spanning 0.62–1.31 showed that the restricted approach used here is insufficient for experiment planning, with the collapsed cross-section being the primary source of error. The effect of decay time on gamma-ray spectroscopy measurement reliability was investigated using a Monte Carlo HPGe detector model. Simulations showed no correlation with decay time, absent interferences. Specific interferences for Fe-59 (Ni) and Co-60 (stainless steel) activation product ratios suggested optimal measurement windows having respective decay times of 9–11 days and 4–7 days.
This is a preview of subscription content, log in to check access.
Access options
Buy single article
Instant access to the full article PDF.
US$ 39.95
Price includes VAT for USA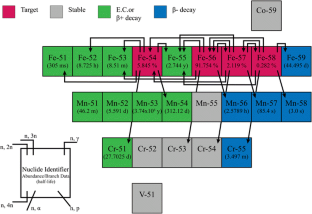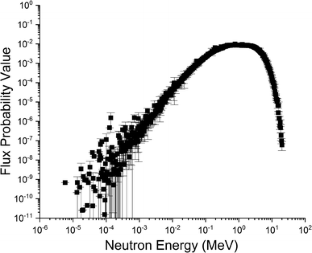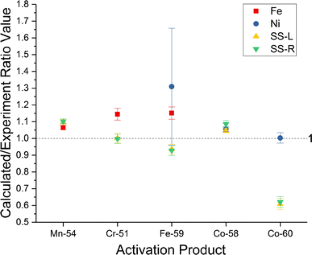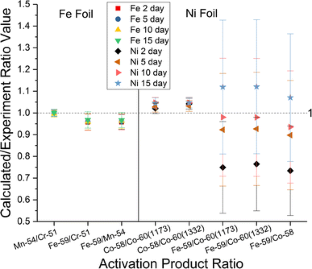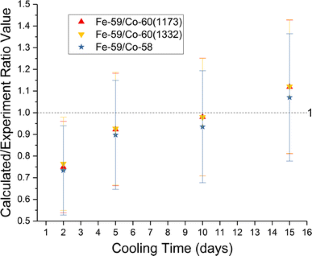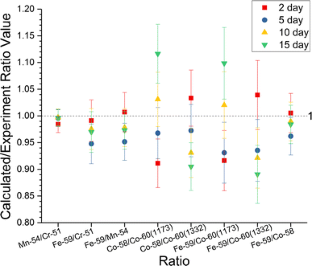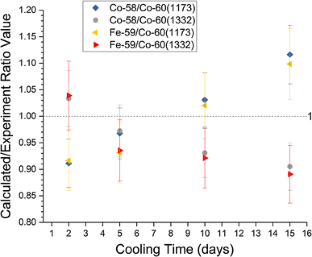 References
1.

Wang S et al (2016) MCNP modeling of NORM dosimetry in the oil and gas industry. J Radioanal Nucl Chem. https://doi.org/10.1007/s10967-016-4781-x

2.

Assar E et al (2013) The operator dose assessment of landmine detection systems using the neutron does backscattering method. J Radioanal Nucl Chem. https://doi.org/10.1007/s10967-013-2501-3

3.

Sharma M et al (2014) MCNP modeling of a neutron generator and its shielding at Missouri University of Science and Technology. Nucl Instrum Methods Phys Res A 767:126–134

4.

Auxier J et al (2017) Review of current nuclear fallout codes. J Environ Radioact 171:246–252

5.

Planning guidance for response to a nuclear detonation 2nd ed., Radiation Emergency Medical Management, National Library of Medicine. https://www.remm.nlm.gov/PlanningGuidanceNuclearDetonation.pdf. Accessed 26 June 2017

6.

Ródenas J (2017) Application of the Monte Carlo method to estimate doses due to neutron activation of different materials in a nuclear reactor. DOI, Radiat Phys Chem. https://doi.org/10.1016/j.radphyschem.2017.02.015

7.

Pohorecki W, Jodlowski P, Pytel K, Prokopowicz R (2017) Long-lived radionuclide activity formed in ITER construction steels in 6Li-D converter neutron field. Fusion Eng Des. https://doi.org/10.1016/j.fusengdes.2017.04.034

8.

Goorley T et al (2012) Initial MCNP6 release overview. Nucl Technol 180:298–315

9.

Perez-Andujar A et al (2004) Pefromance of CdTe, HPGe, and NaI(Tl) detectors for radioactivity measurements. Appl Radiat Isot 60:41–47

10.

Hung N et al (2016) Intercomparison of NaI(Tl) and HPGe spectrometry to studies of natural radioactivity on geological samples. J Environ Radioact 164:197–201

11.

Chart of the Nuclides Database, National Nuclear Data Center. http://www.nndc.bnl.gov/chart/. Accessed 19 May 2017

12.

Chadwick M et al (2011) ENDF/B-VII.1 nuclear data for science and technology: cross sections, covariances, fission product yields and decay data. Nucl Data Sheets 112:2887–2996

13.

Material Analysis Sheet. Shieldwerx. http://www.shieldwerx.com/activation-foils.html. Accessed 20 June 2017

14.

Stainless Steel—AISI 304—Foil, Goodfellow Corporation. http://www.goodfellow.com. Accessed 13 May 2017

15.

Brewer R et al (2016) Uranium-235 Sphere reflected by normal uranium using flattop. International Handbook of Evaluated Criticality Safety Benchmark Experiments NEA/NSC/DOC/(95)03/II

16.

Keith C et al (2017) Report on Activation Product Interpretation for Critical Assemblies. LA-CP-17-20209

17.

Gunnink R, Niday JB (1972) Computerized Quantitative Analysis by Gamma-ray Spectroscopy (GAMANAL), Vol. 1-4, UCRL-51061

18.

Coursey J et al. atomic weights and isotopic compositions with relative atomic masses. NIST Physical Measurement Laboratory. https://www.nist.gov/pml/atomic-weights-and-isotopic-compositions-relative-atomic-masses. Accessed 5 June 2017

19.

Koning A et al. TENDL-2015: TALYS-based evaluated nuclear data library. https://tendl.web.psi.ch/tendl_2015/tendl2015.html. Accessed 23 May 2017

20.

Goodell J et al (2017) Validation of a monte carlo HPGe Detector model against irradiated foil gamma-ray spectroscopy measurements. J Radioanal Nucl Chem. https://doi.org/10.1007/s10967-017-5579-1

21.

Rooney B et al (2015) PeakEasy 4.84. Los Alamos National Laboratory, LA-CC-13-040. https://PeakEasy.lanl.gov

22.

OECD/NEA Data Bank (2014) JEFF-3.2 evaluated nuclear data library. http://www.oecd-nea.org/dbforms/data/eva/evatapes/jeff_32/

23.

Shibata K et al (2011) JENDL-4.0: a New Library for Nuclear Science and Engineering. J Nucl Sci Technol 48(1):1–30
Acknowledgements
This work was performed under the auspices of the U.S. Department of Energy by Lawrence Livermore National Laboratory under Contract DE-AC52-07NA27344.
Disclaimer
This document was prepared as an account of work sponsored by an agency of the United States government. Neither the United States government nor Lawrence Livermore National Security, LLC, nor any of their employees makes any warranty, expressed or implied, or assumes any legal liability or responsibility for the accuracy, completeness, or usefulness of any information, apparatus, product, or process disclosed, or represents that its use would not infringe privately owned rights. Reference herein to any specific commercial product, process, or service by trade name, trademark, manufacturer, or otherwise does not necessarily constitute or imply its endorsement, recommendation, or favoring by the United States government or Lawrence Livermore National Security, LLC. The views and opinions of authors expressed herein do not necessarily state or reflect those of the United States government or Lawrence Livermore National Security, LLC, and shall not be used for advertising or product endorsement purposes.
About this article
Cite this article
Goodell, J.J., Egnatuk, C.M., Padgett, S.W. et al. Comparison of irradiated foil measurements with activation calculations and HPGe simulations. J Radioanal Nucl Chem 316, 475–483 (2018). https://doi.org/10.1007/s10967-018-5820-6
Received:

Published:

Issue Date:
Keywords
MCNP

Gamma-ray spectroscopy

Neutron activation

HPGe model

Critical assembly