Abstract
Environmental impact of North Korea nuclear weapons testing on 3 Sept, 2017, is of key concern. In order to investigate whether there is radioactive leakage and whether it can be transported to inland China, 14C and 129I are determined in aerosol samples collected in a Chinese inland city before and after the test. Aerosol Δ14C values before and after the test do not show any significant difference. In contrast, a four-fold increase of 129I/127I ratios was found after the test. The possible sources of 129I in these atmospheric samples and the impact of the North Korea nuclear test are discussed.
Access options
Buy single article
Instant access to the full article PDF.
USD 39.95
Price excludes VAT (USA)
Tax calculation will be finalised during checkout.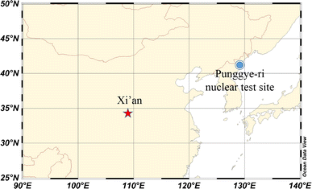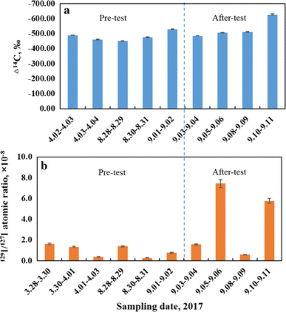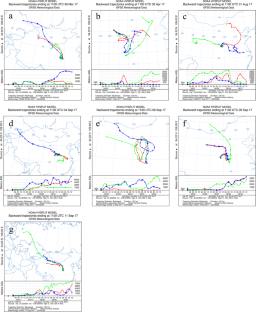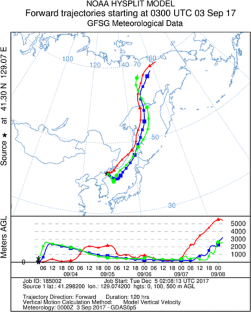 References
Wen L (2017) University of Science and Technology of China accurately determines the location and yield of North Korea underground nuclear detonation on September 3 2017. http://seis.ustc.edu.cn/2017/0903/c10094a191087/page.htm?from=timeline&isappinstalled=0. Accessed 27 Oct 2017 (in Chinese)

Zhao L, Xie X, He X, Zhao X, Yao Z (2017) Preliminary investigations on the seismic identification, depth and yield estimate of North Korea underground nuclear test on September 3, 2017. http://www.igg.cas.cn/xwzx/kyjz/201709/t20170904_4854427.html. Accessed 27 Oct 2017 (in Chinese)

Ministry of Environmental Protection of the People's Republic of China (2017) Environmental radiation monitoring results of the sixth North Korean nuclear test in the northeast border and surrounding areas. http://www.zhb.gov.cn/gkml/. Accessed 3 Nov 2017

The Nuclear Regulation Authority of Japan (2017) Estimated and measured 1 m height environmental radioactivity level at monitoring posts in 47 prefectures all over Japan. http://www.nsr.go.jp/english/. Accessed 3 Nov 2017

Hou X, Hansen V, Aldahan A, Possnert G, Lind OC, Lujanienė G (2009) A review on speciation of iodine-129 in the environmental and biological samples Anal. Chim Acta 632:181–196

Hua Q, Barbetti M, Rakowski AZ (2013) Atmospheric radiocarbon for the period 1950–2010. Radiocarbon 55:1–14

Cheng P, Zhou W, Wang H, Lu X, Du H (2013) 14C dating of soil organic carbon (SOC) in loess-paleosol using sequential pyrolysis and accelerator mass spectrometry (AMS). Radiocarbon 55:563–570

Zhou W, Zhao X, Lu X, Liu L, Wu Z, Cheng P, Zhao W, Huang C (2006) The 3MV multi-element AMS in Xi'an, China: unique features and preliminary tests. Radiocarbon 48:285–293

Stuiver M, Polach HA (1977) Discussion: reporting of 14C data. Radiocarbon 19:355–363

Hou X, Zhou WJ, Chen N, Zhang L, Liu Q, Luo M, Fan Y, Liang W, Fu Y (2010) Determination of ultralow level 129I/127I in natural samples by separation of microgram carrier free iodine and accelerator mass spectrometry detection. Anal Chem 82:7713–7721

Zhou WJ et al (2010) Preliminary study of radioisotope 129I application in China using Xi'an accelerator mass spectrometer. ICNS News 25:8–23

Niu Z, Zhou W, Wu S, Cheng P, Lu X, Xiong X, Du H, Fu Y, Wang G (2016) Atmospheric fossil fuel CO2 traced by Δ14C in Beijing and Xiamen, China: temporal variations, inland/coastal differences and influencing factors. Environ Sci Technol 50:5474–5480

Saiz-Lopez A, Gómez Martín JC, Plane JMC, Saunders RW, Baker AR, Von Glasow R, Carpenter LJ, McFiggans G (2012) Atmospheric chemistry of iodine. Chem Rev 112:1773–1804

Englund E, Aldahan A, Hou X, Possnert G, Soderstrom C (2010) Iodine (I-129 and I-127) in aerosols from northern Europe. Nucl Instrum Methods B 268:1139–1141

Zhang L, Hou X, Xu S (2016) Speciation of 127I and 129I in atmospheric aerosols at Risø, Denmark: insight into sources of iodine isotopes and their species transformations. Atmos Chem Phys 16:1971–1985

Santos FJ, López-Gutiérrez JM, García-León M, Suter M, Synal HA (2005) Determination of 129I/127I in aerosol samples in Seville (Spain). J Environ Radioact 84:103–109

Toyama C, Muramatsu Y, Igarashi Y, Aoyama M, Matsuzaki H (2013) Atmospheric fallout of 129I in Japan before the Fukushima accident: regional and global contributions (1963–2005). Environ Sci Technol 47:8383–8390

Gómez-Guzmán JM, López-Gutiérrez JM, García-Tenorio R, Agulló L, Peruchena JI, Manjón G, García-León M (2016) Estimating the impact from fukushima in southern spain by 131I and accelerator mass spectrometry detection of 129I. J Environ Radioact 166:36–44

Paull CK, Martens CS, Chanton JP, Neumann AC, Coston J, Jull AJT, Toolin LJ (1989) Old carbon in living organisms and young CaCO3 cements from abyssal brine seeps. Nature 342:166–168

Persio SL (2017) North Korean soldiers are being treated for radiation exposure after nuclear test: report newsweek. http://www.newsweek.com/north-korean-soldiers-being-treated-radiation-exposure-after-nuclear-test-698246. Accessed 27 Nov 2017

Draxler RR, Rolph GD (2003) HYSPLIT (HYbrid SingleParticle Lagrangian Integrated Trajectory) model, http://www.arl.noaa.gov/ready/hysplit4.html. NOAA Air Resour. Accessed 25 Oct 2017

Zhang L, Hou X, Li H, Xu X (2018) A 60-year record of 129I in Taal Lake sediments (Philippines): influence of human nuclear activities at low latitude region. Chemosphere 193:1149–1156
Acknowledgements
This work was supported by the National Natural Science Foundation of China (Nos. 11605207 and 91643206), the Technology Foundation for Selected Overseas Chinese Scholar, Department of Human Resources and Social Security of Shaanxi Province, China, and the Ministry of Science and Technology of China (No. 2015FY110800).
About this article
Cite this article
Zhang, L., Hou, X., Cheng, P. et al. Impact of North Korean nuclear weapons test on 3 September, 2017 on inland China traced by 14C and 129I. J Radioanal Nucl Chem 316, 383–388 (2018). https://doi.org/10.1007/s10967-018-5747-y
Received:

Published:

Issue Date:

DOI: https://doi.org/10.1007/s10967-018-5747-y
Keywords
North Korea underground nuclear weapons test

14C
129I

Environmental impact

Aerosol