Abstract
The purpose of this research is to conduct provenance study of the Nok sculptures in the I.P. Stanback Museum via instrumental neutron activation analysis (INAA). Several samples at different points on the sculptures were collected and then irradiated with thermal/epithermal neutrons from the PULSTAR reactor. INAA results indicate that (1) ceramic samples from the sculptures have different elemental concentrations from those of soil samples in which the sculptures may have been buried; (2) ceramic samples of the two different Nok sculptures share similar elemental concentrations; (3) ceramic firing processes cannot change the chemical composition of clay significantly.
This is a preview of subscription content, log in to check access.
Access options
Buy single article
Instant access to the full article PDF.
US$ 39.95
Tax calculation will be finalised during checkout.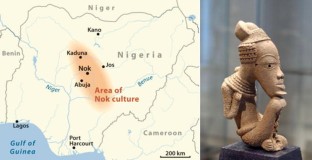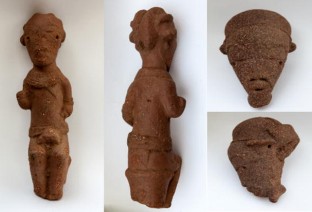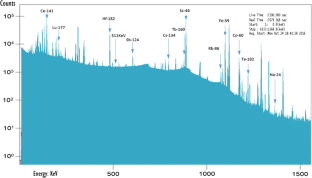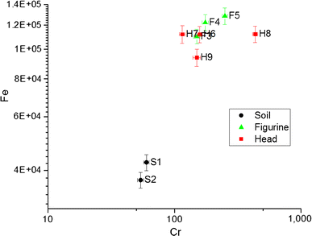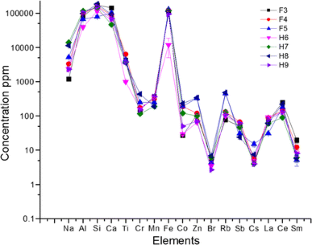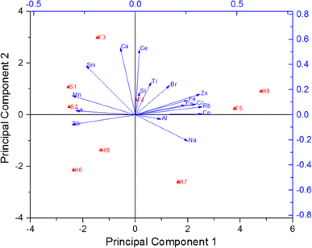 References
1.

Hevesy G and Levi H (1936) The action of neutrons on the rare earth elements. Det.Kgl. Danske Videnskabernes Selskab, Mathematisk-fysiske Meddelelser XIV (5):3–34

2.

Greenberg R, Bode P, Fernandes E (2011) Spectrochim Acta B 66:193–241

3.

Harbottle G (1976) Activation analysis in archaeology. In: Newton GWA (ed) Radiochemistry: a specialist periodical report, vol 3. The Chemical Society, London, pp 33–72

4.

Glascock M, Neff H (2003) Meas Sci Technol 14:1516

5.

Fagg B (1959) The Nok culture in prehistory. J Hist Soc Niger 1(4):288–293

6.

Blier S, Abiodun R (2001) A history of art in Africa. Prentice Hall, Upper Saddle River, pp 78–82

7.

Fagg B (1969) Recent work in West Africa: new light on the Nok culture. World Archaeol 1(1):41–50

8.

Breunig P (2014) Nok African sculpture in archaeological context. Africa Magna, Frankfurt

9.

National Institute of Standards and Technology (2008) Certificate of Analysis: Standard Reference Material 1648a Urban Particulate Matter. National Institute of Standards and Technology, Gaithersburg

10.

Schmitt B, Segebade C, Fusban H (1980) Waste incineration ash—a versatile environmental reference material. J Radioanal Chem 60(1):99–109

11.

Tabulated Reactor Data, NC State University. https://www.ne.ncsu.edu/nrp/wp-content/uploads/sites/2/2016/07/PULspecs.pdf. Accessed 12 Jan 2017

12.

Glascock M (2015) Tables for analytical methods at MURR: NAA, XRF and ICP-MS, University of Missouri

13.

De Corte F (1987) The K0-standardization method: a move to the optimization of neutron activation analysis. Ph.D. Thesis, GENT University

14.

Kubesova M (2012) K0 Standardization in Neutron Activation Analysis at LVR-15 Reactor in Řež. Ph.D. Thesis, Czech Technical University in Prague

15.

Currie L (1968) Limits for qualitative detection and quantitative determination—application to radiochemistry. Anal Chem 40:586–593

16.

Nuclear Activation Analysis System, Applied Radiation Sciences Laboratory at the South Carolina State University. http://naas.scsu.edu. Accessed 12 May 2017
Acknowledgements
This research is supported by the National Institute of Food and Agriculture, U.S. Department of Agriculture, Evans-Allen project number SCX-312-06-16. The authors would like to thank Mr. Giordano Angeletti for photographs of sculptures as well as Mr. Patro Ulmer, Curator, and Mr. Davion Petty, Program Coordinator of the I. P. Stanback Museum for facilitating access to the artifacts in the collection.
About this article
Cite this article
Sun, Z.J., Martin, F., Cai, Q.S. et al. Instrumental neutron activation analysis (INAA) of Nok sculptures in I. P. Stanback Museum. J Radioanal Nucl Chem 313, 85–92 (2017). https://doi.org/10.1007/s10967-017-5297-8
Received:

Published:

Issue Date:
Keywords
Instrumental neutron activation analysis (INAA)

Provenance

Principal component analysis (PCA)

PULSTAR reactor

Nok culture