Abstract
The adsorption behavior of 197Hg and 183–185Hg on red amorphous selenium (red a-Se) and trigonal selenium (t-Se) was investigated experimentally by off-line and on-line gas chromatographic methods, in preparation of a sensitive chemical separation and characterization of the transactinides copernicium (Cn, Z = 112) and flerovium (Fl, Z = 114). Monte-Carlo simulations of a diffusion controlled deposition were in good agreement with the experimental results, assuming as interaction limits −ΔH red a-Seads (Hg) > 85 kJ/mol, and −ΔH t-Seads (Hg) < 60 kJ/mol. Both Se allotropes can be used as stationary surfaces in comparative gas-chromatographic chemical investigations of Cn and Fl.
Access options
Buy single article
Instant access to the full article PDF.
US$ 39.95
Tax calculation will be finalised during checkout.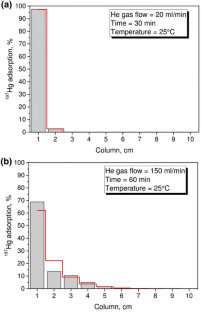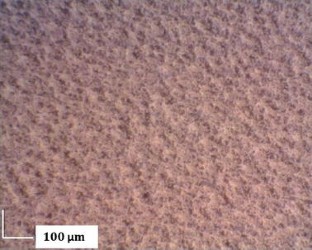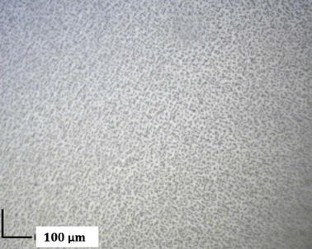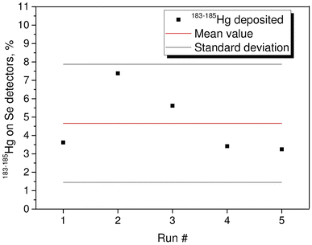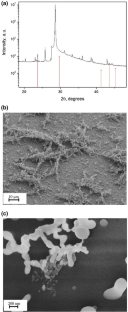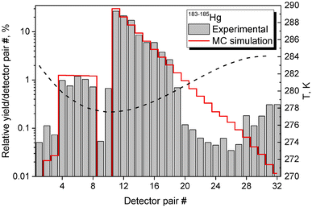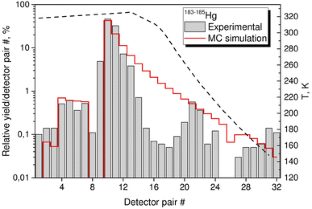 References
1.

Oganessian Y et al (2006) Synthesis of the isotopes of elements 118 and 116 in the 249Cf and 245Cm + 48Ca fusion reactions. Phys Rev C 74:044602-1–044602-9

2.

Pyykko P (1988) Relativistic effects in structural chemistry. Chem Rev 88:563–594

3.

Hoffman D (2012) Development, relevance, and application of "atom-at-a-time" techniques. J Radioanal Nucl Chem 291:5–11

4.

Gäggeler H, Türler A (2014) Gas-phase chemistry of superheavy elements. In: Schädel M (ed) The chemistry of superheavy elements, 2nd edn. Springer, Berlin, pp 415–483

5.

Eichler R (2015) Superheavy element chemistry. In: Greiner W (ed) Nuclear physics: present and future, 2nd edn. Springer, Switzerland, pp 33–43

6.

Eichler R et al (2007) Chemical characterization of element 112. Nature 447:72–75

7.

Pershina V et al (2009) Theoretical predictions of adsorption behavior of elements 112 and 114 and their homologs Hg and Pb. J Chem Phys. 131:084713-1–084713-8

8.

Eichler R et al (2010) Indication for a volatile element 114. Radiochim Acta 98:133–139

9.

Yakushev A et al (2014) Superheavy element flerovium (element 114) is a volatile metal. Inorg Chem 53:1624–1629

10.

Krishnan SV et al (1994) Sorption of elemental mercury by activated carbons. Environ Sci Technol 28:1506–1512

11.

Sinha et al (1972) Removal of mercury by sulfurized carbons. Carbon 10:754–756

12.

Schädel M, Shaughnessy D (2014) The chemistry of superheavy elements. Springer, Berlin

13.

Steinegger P et al (2016) Vacuum chromatography of Tl on SiO2 at the single-atom level. J Phys Chem C 120:7122–7132

14.

Eichler B, Eichler R (2014) Thermochemical data from gas-phase adsorption and methods of their estimation. In: Schädel M, Shaughnessy D (eds) The chemistry of superheavy elements, 2nd edn. Springer, Berlin, pp 375–413

15.

Eichler B (2003) Volatilization behavior of transactinides from metal surfaces and melts (thermochemical calculation). Paul Scherrer Institut Report 2003, Villigen, Switzerland

16.

Gaston N et al (2007) Is eka-mercury (element 112) a group 12 metal? Angew Chem Int Ed 46:1663–1666

17.

Hermann A et al (2010) Spin-orbit effects in structural and electronic properties for the solid state of the group-14 elements from carbon to superheavy element 114. Phys Rev B. 82:155116-1–155116-8

18.

Ralston N (2008) Nanomaterials: nano-selenium captures mercury. Nat Nanotechnol 3:527–528

19.

Robertson J (1976) A new model for the structure of amorphous selenium. Phil Mag 34:13–31

20.

Caprion D et al (2000) Structure and relaxation in liquid and amorphous selenium. Phys Rev B. 62:3709–3716

21.

Muñoz A (1987) Influence of the substrate on the crystallization kinetics of vapor-deposited amorphous selenium films. Thin Solid Films 149:L73–L76

22.

Steudel R, Strauss E (1984) Homocyclic selenium molecules and related cations. In: Emeleus HJ, Sharpe AG (eds) Advances in inorganic chemistry and radiochemistry. Academic Press, Orlando, pp 135–166

23.

Misawa M, Suzuki S (1978) Ring-chain transition in liquid selenium by a disordered chain model. J Phys Soc Jpn 44:1612–1618

24.

Kim K et al (1974) Crystallization of amorphous selenium films. II. Photo and impurity effects. J Appl Phys 45:3447–3452

25.

Kim K et al (1973) Crystallization of amorphous selenium films. I. Morphology and kinetics. J Appl Phys 44:5237–5244

26.

Minaev V (2005) Structural and phase transformations in condensed selenium. J Optoelectron Adv M 7:1717–1741

27.

Cooper W (1969) The physics of selenium and tellurium. Pergamon Press, Oxford

28.

Chiera N et al (2015) Vapor deposition coating of fused silica tubes with amorphous selenium. Thin Solid Films 592:8–13

29.

Zvara I (1985) Simulation of thermochromatographic processes by the Monte Carlo method. Radiochim Acta 38:95–102

30.

Haynes W (2016) CRC handbook of chemistry and physics. CRC Press, Taylor and Francis group, New York

31.

Barin I (1990) Thermochemical data of pure elements. VCH Verlagsgesellschaft mbH, Weinheim

32.

Gobrecht H (1970) Transformations of red amorphous and monoclinic selenium. J Phys Chem Solids 31:2145–2148

33.

Pershina V et al (2005) Relativistic effects on experimentally studied gas-phase properties of the heaviest elements. Chem Phys 311:139–150

34.

Eichler R et al (2007) Chemical properties of element 112. Nature 447:72–75

35.

Soverna S et al (2005) Thermochromatographic studies of mercury and radon on transition metal surfaces. Radiochim Acta 93:1–8

36.

Ziegler J (2010) SRIM—the stopping and range of ions in matter. Nucl Instrum Meth B 268:1818–1823

37.

Düllmann C et al (2002) IVO, a device for in situ volatilization and on-line detection of products from heavy ion reactions. Nucl Instrum Meth A 479:631–639

38.

Siiskonen T et al (2005) Advanced simulation code for alpha spectrometry. Nucl Instrum Meth A 550:425–434

39.

Soverna S (2004) Attempt to chemically characterize element 112. Doctoral Thesis, Universität Bern

40.

Legros A et al (1995) Effect on water impurity on the crystallization of vacuum evaporated Se. J Appl Phys 78:3048–3051
About this article
Cite this article
Chiera, N.M., Aksenov, N.V., Albin, Y.V. et al. Interaction of elemental mercury with selenium surfaces: model experiments for investigations of superheavy elements copernicium and flerovium. J Radioanal Nucl Chem 311, 99–108 (2017). https://doi.org/10.1007/s10967-016-5018-8
Received:

Published:

Issue Date:
Keywords
Mercury

Adsorption

Selenium surface

Isothermal gas chromatography

Superheavy elements

Model experiments for Cn and Fl