Abstract
The naturally occurring radionuclide (226Ra, 232Th and 40K) content of building Materials (NORM) contributes to the total radiation dose experienced by humans. In this survey 27 clay and 68 red mud samples were surveyed with gamma spectrometry and screened according to European Basic Safety Standards (BSS) I-index. It was found that average I-index of clays was 0.6 (0.4–0.8) less than the I-index of 1, which makes them suitable for building material production. The average I-index of red mud 2.3 (1.3–3.0). The maximal mixing ratio of red mud was calculated, varied between 12 and 39 %, with 23 % average.
This is a preview of subscription content, log in to check access.
Access options
Buy single article
Instant access to the full article PDF.
US$ 39.95
Price includes VAT for USA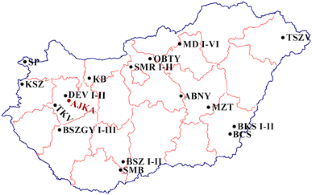 References
1.

Wang P, Liu DY (2012) Physical and chemical properties of sintering red mud and Bayer red mud and the implications for beneficial utilization. Materials 5:1800–1810

2.

Szabó ZS, Völgyesi P, Nagy HÉ, Cs Szabó, Kis Z, Csorba O (2013) Radioactivity of natural and artificial building materials: a comparative study. J Environ Radioact 118:64–74

3.

Stals M, Verhoeven S, Bruggeman M, Pellens V, Schroeyers W, Schreurs S (2014) The use of portable equipment for the activity concentration index determination of building materials: method validation and survey of building materials on the Belgian market. J Environ Radioact 127:56–63

4.

Zhou C, Liu G, Wu S, Lam PKS (2014) The environmental characteristics of usage of coal gangue in bricking-making: a case study at Huainan, China. Chemosphere 95:274–280

5.

Kávási N, Vigh T, Cs Németh, Ishikawa T, Omori Y, Janik M, Yonehara H (2014) In situ comparison of passive radon-thoron discriminative monitors at subsurface workplaces in Hungary. Rev Sci Instrum 85:022002

6.

Cosma C, Cucoş-Dinu A, Papp B, Begy R, Sainz C (2013) Soil and building material as main sources of indoor radon in Băiţa-Ştei radon prone area (Romania). J Environ Radioact 116:174–179

7.

International Atomic Energy Agency (2013) Management of NORM residues, IAEA TECDOC Series no.: 1712, IAEA, Vienna

8.

Pontikes Y, Angelopoulos GN, Blanpain B (2011) Radioactive elements in Bayer's process bauxite residue and their impact in valorization options 4th EANNORM Workshop. KULeuven, Hasselt

9.

Kovler K, Haquin G, Manasherov V, Ne'eman E, Lavi N (2002) Natural radionuclides in building materials available in Israel. Build Environ 37:531–537

10.

Nuccetelli C (2008) In situ gamma spectroscopy in environmental research and monitoring. Appl Radiat Isot 66:1615–1618

11.

Iwaoka K, Hosoda M, Tabe H, Ishikawa T, Tokonami S, Yonehara H (2013) Activity concentration of natural radionuclides and radon and thoron exhalation rates in rocks used as decorative wall coverings in Japan. Health Phys 104:41–50

12.

Doherty R, Phillips DH, McGeough KL, Walsh KP, Kalin RM (2006) Development of modified flyash as a permeable reactive barrier medium for a former manufactured gas plant site, Northern Ireland. Environ Geol 50:37–46

13.

Xhixha G, Bezzon GP, Broggini C, Buso GP, Caciolli A, Callegari I, De Bianchi S, Fiorentini G, Guastaldi E, Kaceli Xhixha M, Mantovan F, Massa G, Menegazzo R, Mou L, Pasquini A, Rossi Alvarez C, Shyti M (2013) The worldwide NORM production and a fully automated gamma-ray spectrometer for their characterization. J Radioanal Nucl Chem 295:445–457

14.

Somlai J, Jobbágy V, Somlai K, Kovács J, Németh CS, Kovács T (2008) Connection between radon emanation and some structural properties of coal-slag as building material. Radiat Meas 43:72–76

15.

Karagiannidi TH, Papaefthymiou H, Papatheodorou G (2009) Radioactive impact of a bauxite beneficiation plant in the Itea Gulf (Gulf of Corinth, Greece). J Radioanal Nucl Chem 79:923–934

16.

Kovács T, Sas Z, Jobbágy V, Csordás A, Szeiler G, Somlai J (2013) Radiological aspects of red mud disaster in hungary. Acta Geophys 61:1026–1037

17.

European Commission (1999) Radiation protection 112: radiological protection principles concerning the natural radioactivity of building materials. European Commission, Luxemburg

18.

European Basic Safety Standards (BSS) for protection against ionising radiation (2014) Off J Eur Union, Council directive 2013/59/EURATOM

19.

United Nations Scientific Committee on the Effects of Atomic Radiation. UNSCEAR (2010) United Nations, Vienna

20.

Pontikes Y, Angelopoulos GN, Blanpain B (2011) Radioactive elements in Bayer's process bauxite residue and their impact in valorization options, 4th EAN NORM Workshop "Transportation of NORM, NORM measurements and strategies, building materials". KULeuven, Hasselt

21.

Markkanen M (1995) Radiation dose assessments for materials with elevated natural radioactivity., STUK-B-STO 32, Finnish Centre for Radiation and Nuclear Safety

22.

Pitard FF (1993) Pierre Gy's sampling theory and sampling practice. CRC Press, New York, p 488

23.

Hadley PW, Petrisor IG (2013) Incremental sampling: challenges and opportunities for environmental forensics. Environ Forensics 14:109–120
Acknowledgments
This work was supported by the Hungarian State and the European Union projects Grant No. TÁMOP-4.2.2.A-11/1/KONV-2012-0071and the European Union and the State of Hungary, co-financed by the European Social Fund in the framework of TÁMOP 4.2.4. A/2-11-1-2012-0001 'National Excellence Program. "The author(s) would like to acknowledge the contribution of the COST Action TU1301. www.norm4building.org".
About this article
Cite this article
Sas, Z., Somlai, J., Szeiler, G. et al. Usability of clay mixed red mud in Hungarian building material production industry. J Radioanal Nucl Chem 306, 271–275 (2015). https://doi.org/10.1007/s10967-015-3966-z
Received:

Published:

Issue Date:
Keywords
Red mud

Gamma spectrometry

Building material

I-index