Abstract
Poly(methyl acrylate) gypsum composites were prepared by means of gamma irradiation method. The distribution of 137Cs, 152Eu and 85Sr on these composites after contact with groundwater was investigated using γ-spectrometry. X-ray Photoelectron Spectroscopy was used to reveal the binding nature between gypsum and polymer, which was found to be purely physical. The distribution of the radionuclides was studied as a function of the contact time, pH, concurrent elements, monomer/gypsum ratio, dose rates and total irradiation dose. The prepared composites were found to give better results in term of radionuclides sorption comparing to the commercial gypsum, particularly for Cs radionuclide.
Access options
Buy single article
Instant access to the full article PDF.
USD 39.95
Price excludes VAT (USA)
Tax calculation will be finalised during checkout.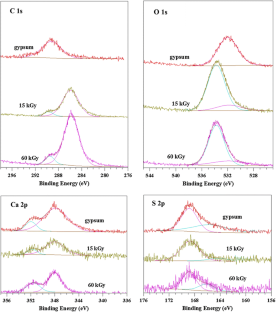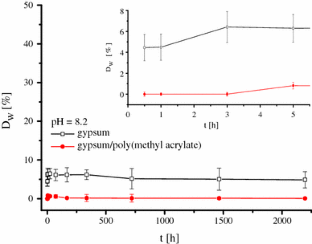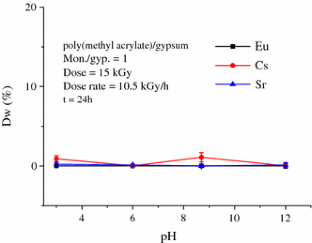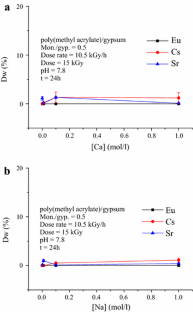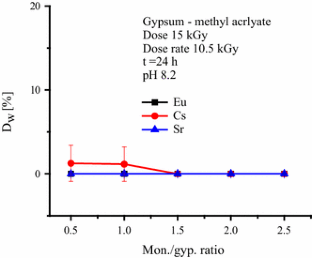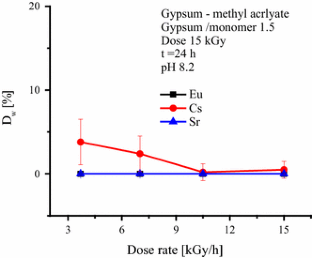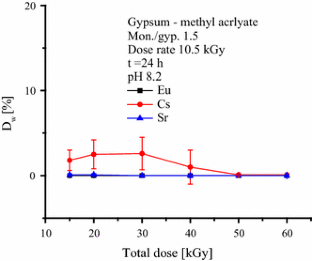 References
Ochs M, Lothenbach B, Shibata M, Yui M (2004) Thermodynamic modeling and sensitivity analysis of porewater chemistry in compacted bentonite. Phys Chem Earth, Parts A/B/C 29(1):129–136

Vinsova H, Jedinakova Krizova V, Kolarikova I, Adamcova J, Prikryl R, Zeman J (2008) The influence of temperature and hydration on the sorption properties of bentonite. J Environ Radioact 99(2):415–425

Alhassanieh O, Abdul-Hadi A, Ghafar M, Aba A (1999) Separation of th, U, Pa, Ra and Ac from natural uranium and thorium series. Appl Radiat Isot 51(5):493–498

Al-Attar L, Budeir Y (2011) Thorium uptake on synthetic inorganic ion exchangers. Sep Sci Technol 46(15):2313–2321

Rumynin VG, Sindalovskiy LN, Konosavsky PK, Mironova AV, Zakharova EV, Kaimin EP, Pankina EB, Zubkov AA, Chin-Fu T, John AA (2005) Review of the studies of radionuclide adsorption/desorption with application to radioactive waste disposal sites in the russian federation. In: Developments in water science, vol 52. Elsevier, pp 271–311

Alhassanieh O, Mrad O, Ajji Z (2012) Sorption and migration of Cs, Sr, and Eu in gypsum-groundwater system. Nukleonika 57(1):125–131

Gil-Garcia CJ, Rigol A, Rauret G, Vidal M (2008) Radionuclide sorption-desorption pattern in soils from spain. Appl Radiat Isot 66(2):126–138

Mrad O, Abdul-Hadi A, Arsan H (2010) Preparation and characterization of three different phases of zirconium phosphate: study of the sorption of 234Th, 238U, and 134Cs. J Radioanal Nucl Chem 287(1):177–183

Šebesta F (1997) Composite sorbents of inorganic ion-exchangers and polyacrylonitrile binding matrix. J Radioanal Nucl Chem 220(1):77–88. doi:10.1007/BF02035352

Cui D, Eriksen T (1998) Reactive transport of sr, cs and tc through a column packed with fracture- filling material. Radiochim Acta 82:287

Ghafar M, Abdul-Hadi A, Alhassanieh O (2002) Distribution of some elements in a solid-aqueous system: mineral phosphate in contact with groundwater. J Radioanal Nucl Chem 254(1):159–163

Meier E, Zimmerhackl E, Zeitler G, Menge P (1994) Parameter studies of radionuclid sorption in site specific sediment/groundwater systems. Radiochim Acta 66(67):277–283

Rameback H, Skalberg M, Eklund UB, Kjellberg L, Werme L (1998) Mobility of u, np, pu, am and cm from spent nuclear fuel into bentonite clay. Radiochim Acta 82:167–174

Xian-miao L, Feng F, Shuang-tie Z, Li G, Yong-ping C (2003) Production technique and application prospect of gypsum particleboard. Wood Machinery 5:12–15

Shinsaku K, Akira T (1976) Method for the production of a decorative gypsum board. Mitsui Toatsu Chemicals, Incorporated (Tokyo, JA), App. n° 05/367,494 Patent

Landa ER, Le AH, Luck RL, Yeich PJ (1995) Sorption and coprecipitation of trace concentrations of thorium with various minerals under conditions simulating an acid uranium mill effluent environment. Inorg Chim Acta 229(1–2):247–252

Andersson K, Torstenfelt B, Allard B (1983) Sorption of radionuclides in geologic systems. SKBF KBS Technical Report, No.83–63

Alhassanieh O, Ajji Z (2012) Migration of strontium, cesium, europium and uranium from poly(methyl styrene)-and polystyrene-phosphate composites prepared using gamma radiation. Nukleonika 57(3):369–374

Ajji Z (2005) Preparation of polyester/gypsum/composite using gamma radiation, and its radiation stability. Radiat Phys Chem 73(3):183–187. doi:10.1016/j.radphyschem.2004.08.004

Alhassanieh O, Ajji Z, Alkourdi H, Haloum D (2011) Migration of strontium, cesium, and europium from poly(butyl acrylate)/phosphate/composites prepared using gamma radiation. Appl Radiat Isot 69(2):448–454

Ajji Z (2008) Radiation-induced preparation of gypsum/poly(methylacrylate) composites. Rev Roum Chim 53(11):1065

Ismail MR, El-milligy MA, Afifi MS (1998) Physico-chemical studies of gamma-iradiated polyester-impregnated cement mortar composite. J Radioanal Nucl Chem 238:111–117

Ajji Z, Alhassanieh O (2011) Preparation of poly(methyl acrylate)/phosphate/composites and its possible use as storage medium for radioactive isotopes. J Radioanal Nucl Chem 287(1):69–75. doi:10.1007/s10967-010-0690-6

Alhassanieh O, Ghafar M, Abdul-Hadi A (2001) Element concentrations in groundwater in the eastern phosphate area and southern volcanic area of syria. Water Qual Res Can 34(4):835–849

Fairely N (2009) Casaxps manual 2.3.15. Casa Software Ltd, Teignmouth

Luque A, Martínez de Yuso MV, Cultrone G, Sebastián E (2013) Analysis of the surface of different marbles by x-ray photoelectron spectroscopy (xps) to evaluate decay by so2 attack. Environ Earth Sci 68(3):833–845. doi:10.1007/s12665-012-1786-9

Moulder JF, Stickle WF, Sobol PE, Bomben KD (1992) Handbook of x ray photoelectron spectroscopy: a reference book of standard spectra for identification and interpretation of xps data. Physical Electronics Division, Perkin-Elmer Corporation, Eden Prairie

Beamson G, Briggs D (1992) High resolution xps of organic polymers: The scienta ESCA300 database. Wiley, New York
Acknowledgments
The authors like to thank Prof. Dr. I. Othman the Director General of the Atomic Energy Commission of Syria. Our thanks are extended to H. Arsan, A. Aqiel, L. Stas and H. Jaroush for their efforts during the experiments.
About this article
Cite this article
Mrad, O., Alhassanieh, O. & Ajji, Z. Europium, strontium and cesium migration from the composite of poly(methyl acrylate) gypsum prepared by gamma irradiation. J Radioanal Nucl Chem 304, 661–667 (2015). https://doi.org/10.1007/s10967-014-3847-x
Received:

Published:

Issue Date:

DOI: https://doi.org/10.1007/s10967-014-3847-x
Keywords
Distribution

Cesium

Europium

Strontium

Polymer-gypsum composite

XPS