Abstract
This work determined elemental concentrations for rare earth elements (REE) in granite rock samples using the INAA absolute method. The accuracy of INAA absolute method was determined by analyzing two of USGS STM-1 and MAG-1 standards. The analytical results agreed reasonably well with certified values. In general, all analytical results had Z score less than 1.0 excepting Yb. The REE found in granite rock samples ranged from 116 to 325 mg kg−1. The total content of REE in granite rock samples was 206 mg kg−1. Patterns for REE were also studied in the present work.
Access options
Buy single article
Instant access to the full article PDF.
USD 39.95
Price excludes VAT (USA)
Tax calculation will be finalised during checkout.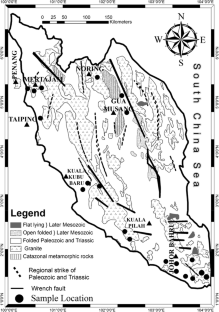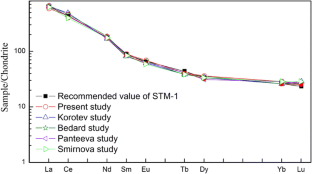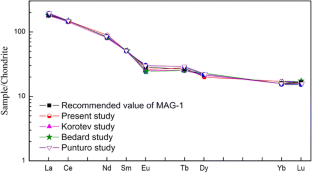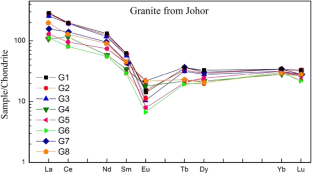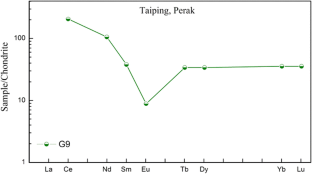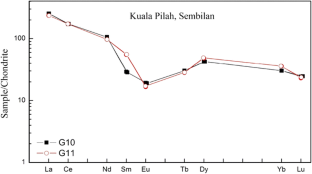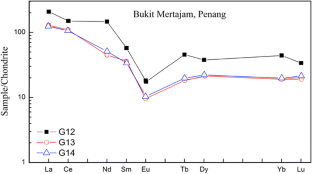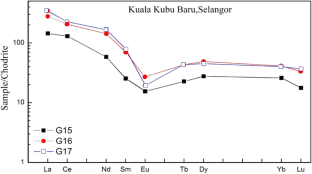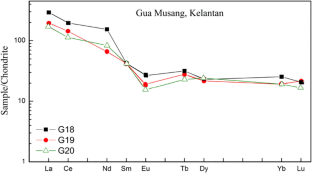 References
Henderson P (1984) Rare earth element geochemistry. Elsevier, Amsterdam, p 510

Long KR, Van Gosen BS, Foley NK, Cordier D (2012) The principal rare earth elements deposits of the United States: a summary of domestic deposits and a global perspective. Springer, Netherlands

Rezaee K, Saion E, Wood AK, Abdi M (2010) J Radioanal Nucl Chem 283:823–829

Orvini E, Speziali M, Salvini A, Herborg C (2000) Microchem J 67:97–104

Oddone M, Meloni S, Genova N (1984) Inorg Chim Acta 94:283–290

El-Taher A (2007) Appl Radiat Isot 65:458–464

Castor SB, Hedrick JB (2006). Rare earth elements. Industrial minerals volume, 7th edition: Society for mining, metallurgy, and exploration, Littleton, Colorado, 769–792

Chakraborty K, Ram G, Aidid S (1980) Geol Soc Malaysia Bull 13:103–111

Ram G, Chakraborty K, Aidid S (1980) Geol Soc Malaysia Bull 13:87–92

Wan Hassan WF, Hamzah S (1999) Rare earth element patterns in some granitic rocks of Peninsular Malaysia. Paper presented at the Ninth Regional Congress on Geology, Mineral and Energy Resource of Southeast Asia- GEOSEA'98. August 17–19. Kuala Lumpur, Malaysia, Geol Soc Malaysia Bull 513–528

Rezaee K, Saion E, Wood AK, Reza AM (2009) J Rare Earth 27:1066–1071

Alnour IA, Ibrahim N, Fen LH (2011) Int J Phys Sci 6:4169–4175

De Corte F (1987) The k 0-standardization method—A move to the optimization of neutron activation analysis. Ph.D Thesis. Institute for Nuclear Sciences, University of Gent, Gent

Alnour IA, Wagiran H, Ibrahim N, Hamzah S, Wee BS, Elias MS, Karim AJ (2013) J Radioanal Nucl Chem 296:1231–1237

IAEA-TECDOC-1218 (2001) Quality aspects of research reactor operations for instrumental neutron activation analysis. IAEA, Vienna

Jaafar bA (1976) The geology and mineral resources of the Karak and Temerloh areas. Geological Survey Headquarters, Pahang

Gobbett DJ, Hutchison CS (1973) Geology of the Malay Peninsula: West Malaysia and Singapore. Wiley-Interscience, New York

Korotev RL (1996) Geostand Newslett 20:217–245

Bedard L, Barnes S-J (2002) J Radioanal Nucl Chem 254:485–497

Panteeva S, Gladkochoub D, Donskaya T, Markova V, Sandimirova G (2003) Spectrochim Acta B 58:341–350

Smirnova E, Fedorova I, Sandimirova G, Petrov L, Balbekina N, Lozhkin V (2003) Spectrochim Acta B 58:329–340

Punturo R, Censi P, Lo Giudice A (2003) Per Min 72:103–121

Ravisankar R, Manikandan E, Dheenathayalu M, Rao B, Seshadreesan N, Nair K (2006) Nucl Instrum Methods Phys Res Sect B 251:496–500
Acknowledgments
The authors would like to thank UniversitiTeknologi Malaysia (UTM) for providing financial support through Research University Grant Scheme (RUGS), Project Number (Q.J130000.2526.07H7) and Postdoctoral Research University Fellowship (PDRU) Vote Number (Q.J130000.21A2.01E16). The authors wish to gratefully acknowledge the Malaysian Nuclear Agency (NM) staff for their cooperation. Special thanks to Prof. Dr. Wan Fuad Wan Hassan, Hanson Quarry Products (Kulai), Kim Seng Quarry and the Ulu Choh quarry (Kamad Quarry) for providing the samples for this study.
About this article
Cite this article
Alnour, I.A., Wagiran, H., Ibrahim, N. et al. Rare earth elements determination and distribution patterns in granite rock samples by using INAA absolute method. J Radioanal Nucl Chem 303, 1999–2009 (2015). https://doi.org/10.1007/s10967-014-3756-z
Received:

Published:

Issue Date:

DOI: https://doi.org/10.1007/s10967-014-3756-z
Keywords
Rare earth element (REE)

Instrumental neutron activation analysis (INAA)

Rotary rack (RR)

Pneumatic transfer system (PTS)

Chondrite-normalized