Abstract
Solvent extraction behaviors of Am(III) and Eu(III) using 2-hydroxy-2-methyloctanoic acid (Hhmo) and 2-hydroxy-2-trifluoromethyloctanoic acid (Hhfo) were investigated in aqueous acetic acid/1-octanol at 20 °C. In both cases, distribution ratios (D) of the organic/aqueous phases increased with increasing pH of the aqueous solution. The D Am(Hhfo) and D Eu(Hhfo) values were found to be much higher than those for D Am(Hhmo) and D Eu(Hhmo), respectively, under similar pH conditions. The maximum separation factor of D Eu(Hhfo)/D Am(Hhfo) was 2.31 ±  0.800.70 at pH 4.29. The differences between D Am(Hhmo) and D Eu(Hhmo) values were relatively small in the pH region under consideration.
Access options
Buy single article
Instant access to the full article PDF.
USD 39.95
Price includes VAT (USA)
Tax calculation will be finalised during checkout.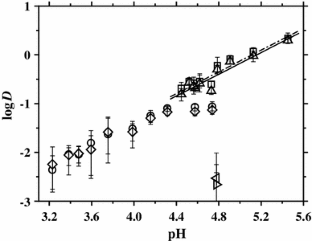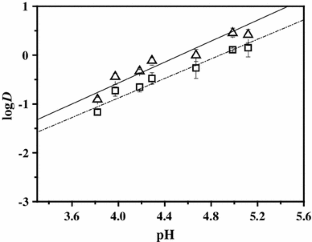 References
1.

Choppin GR, Morgenstern A (2000) J Radioanal Nucl Chem 243:45–51

2.

Modolo G, Wilden A, Geist A, Magnusson D, Malmbeck R (2012) Radiochim Acta 100:715–725

3.

Knight CH, Cassidy RM, Recoskie BM, Green LW (1984) Anal Chem 56:474–478

4.

Raut NM, Jaison PG, Aggarwal SK (2004) J Chromatogr A 1052:131–136

5.

Datta A, Sivaraman N, Viswanathan KS, Ghosh S, Srinivasan TG, Rao PRV (2013) Radiochim Acta 101:81–92

6.

Janos P (2003) Electrophoresis 24:1982–1992

7.

Ambard C, Delorme A, Baglan N, Aupiais J, Pointurier F, Madic C (2005) Radiochim Acta 93:665–673

8.

Kikunaga H, Yoshimura T, Kuribayashi T, Kitamoto Y, Takahashi N, Haba H, Ezaki Y, Enomoto S, Mitsugashira T, Shinohara A (2011) Proc. Radiochim. Acta 1:167–171

9.

Yabuuchi T, Kusumi T (1999) Chem Pharm Bull 47:684–686

10.

Blay G, Fernandez I, Marco-Aleixandre A, Monje B, Pedro JR, Ruiz R (2002) Tetrahedron 58:8565–8571

11.

Chen X-Y, Goff GS, Ewing WC, Scott BL, Runde W (2012) Inorg Chem 51:13254–13263
About this article
Cite this article
Seike, M., Eguchi, M., Shinohara, A. et al. Solvent extraction behaviors of Americium(III) and Europium(III) using 2-hydroxy-2-methyloctanoic acid and 2-hydroxy-2-trifluoromethyloctanoic acid. J Radioanal Nucl Chem 303, 1413–1416 (2015). https://doi.org/10.1007/s10967-014-3482-6
Received:

Published:

Issue Date:
Keywords
Actinides

Lanthanides

Americium

Europium

Solvent extraction