Abstract
The magnetic Fe3O4 nanoparticle was functionalized by covalently grafting amine group with (3-aminopropyl) trimethoxy silane, and the Fe3O4–NH2 nanoparticle and the Fe3O4 nanoparticle were characterized by Fourier transform infrared, and X-ray diffraction. And the results indicated the amine-group was immobilized successfully on the surface of Fe3O4. The adsorption behavior of uranium from aqueous solution by the Fe3O4 nanoparticle and the Fe3O4–NH2 nanoparticle was investigated using batch experiments. The pH of initial aqueous solution at 5.0 and 6.0 were in favour of adsorption of uranium, and the adsorption percentage of uranium by the Fe3O4 nanoparticle and the Fe3O4–NH2 nanoparticle were 81.2 and 95.6 %, respectively. In addition, the adsorption of uranium ions could be well-described by the Langmuir, Freundlich isotherms and pseudo-second kinetic models. The monolayer adsorption maximum capacity of the Fe3O4 nanoparticle and the Fe3O4–NH2 nanoparticle were 85.35 and 268.49 mg/g at 298.15 K, respectively, which indicate the adsorption capacity the Fe3O4 nanoparticle was improved by amine functionalization.
Access options
Buy single article
Instant access to the full article PDF.
USD 39.95
Price excludes VAT (USA)
Tax calculation will be finalised during checkout.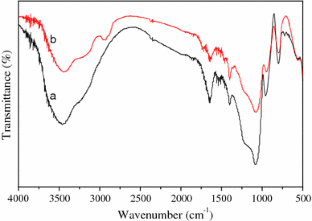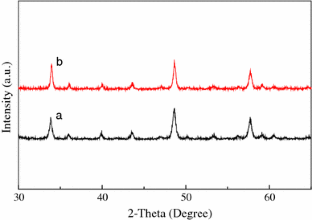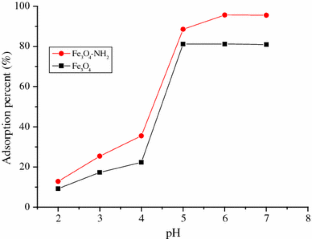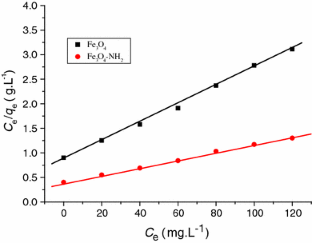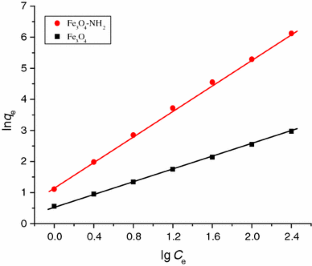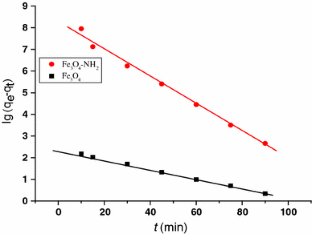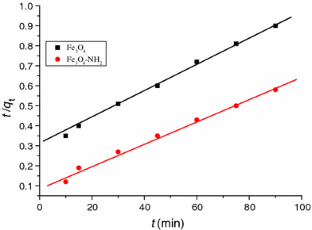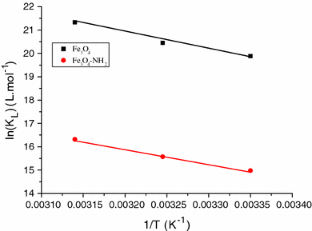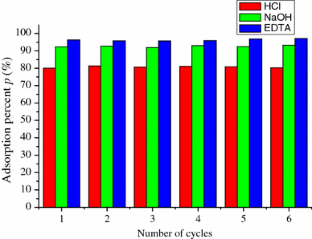 References
Mezaguer M, Kamel N, Lounici H, Kamel Z (2013) Characterization and properties of Pleurotus mutilus fungal biomass as adsorbent of the removal of uranium(VI) from uranium leachate. J Radioanal Nucl Chem 295:393–403

Wang XL, Peng GW, Yang Y, Wang YF, He TT (2012) Uranium adsorption by dry and wet immobilized Saccharomyces cerevisiae. J Radioanal Nucl Chem 291:825–830

Kazy SK, Souza SF, Sar P (2009) Uranium and thorium sequestration by a Pseudomonas sp.: mechanism and chemical characterization. J Hazard Mater 163:65–72

Ghasemi M, Keshtkar AR, Dabbagh R, Safdari SJ (2011) Bioadsorption of uranium(VI) from aqueous solutions by Ca-pretreated Cystoseira indica alga: breakthrough curves studies and modeling. J Hazard Mater 189:141–149

Lapka JL, Paulenova A, Alyapyshev MY, Babain VA, Herbst RS, Law JD (2009) Extraction of uranium(VI) with diamides of dipicolinic acid from nitric acid solutions. Radiochim Acta 97:291–296

Anirudhan TS, Bringle CD, Rijith S (2010) Removal of uranium(VI) from aqueous solutions and nuclear industry effluents using humic acid-immobilized zirconium-pillared clay. J Environ Radioact 101:267–276

Xie SB, Yang J, Chen C, Zhang XJ, Wang QL, Zhang C (2009) Study on bioadsorption kinetics and thermodynamics of uranium by Citrobacter freudii. J Environ Radioact 99:126–133

Rout A, Venkatesan KA, Srinivasan TG, Vasudeva Rao PR (2012) Liquid–liquid extraction of Pu(IV), U(VI) and Am(III) using malonamide in room temperature ionic liquid as diluent. J Hazard Mater 221–222:62–67

Mellah A, Chegrouche S, Barkat M (2005) The removal of uranium(VI) from aqueous solutions onto activated carbon: kinetic and thermodynamic investigations. J Colloid Interface Sci 296:434–441

Zhou LM, Shang C, Liu ZR, Huang GL, Adesoji AA (2012) Selective adsorption of uranium(VI) from aqueous solutions using the ion-imprinted magnetic chitosan resins. J Colloid Interface Sci 365:165–172

Gomes Abda FS, Lopez Dina L, Ladeira Ana Cláudia Q (2012) Characterization and assessment of chemical modifications of metal-bearing sludges arising from unsuitable disposal. J Hazard Mater 199–200:418–425

Hasan SH, Srivastava P, Talat M (2010) Bioadsorption of lead using immobilized Aeromonas hydrophila biomass in up flow column system: factorial design for process optimization. J Hazard Mater 177:312–322

Anirudhan TS, Rijith S (2012) Synthesis and characterization of carboxyl terminated poly(methacrylic acid) grafted chitosan/bentonite composite and its application for the recovery of uranium(VI) from aqueous media. J Environ Radioact 106:8–19

Wang JS, Hu XJ, Liu YG, Xie SB, Bao ZL (2010) Bioadsorption of uranium(VI) by immobilized Aspergillus fumigatus beads. J Environ Radioact 101:504–508

Xie SB, Zhang C, Zhou XH, Yang J, Zhang XJ, Wang JS (2009) Removal of uranium(VI) from aqueous solution by adsorption of hematite. J Environ Radioact 100:162–166

He FF, Wang HQ, Wang YY, Wang XF, Zhang HS, Li HL, Tang JH (2013) Magnetic Th(IV)-ion imprinted polymers with salophen schiff base for separation and recognition of Th(IV). J Radioanal Nucl Chem 295:167–177

Lin YF, Chen HW, Chien PS, Chiou CS, Liu CC (2011) Application of bifunctional magnetic adsorbent to adsorb metal cations and anionic dyes in aqueous solution. J Hazard Mater 185:1124–1130

Lam KF, Yeung KL, McKay G (2007) A new approach for Cd2+ and Ni2+ removal and recovery using mesoporous adsorbent with tunable selectivity. Environ Sci Technol 41:3329–3334

Peniche H, Osorio A, Acosta N, Campa A, Peniche C (2005) Preparation and characterization of superparamagnetic chitosan microspheres: application as a support for the immobilization of tyrosinase. J Appl Polym Sci 98:651–657

Singh S, Barick KC, Bahadur D (2011) Surface engineered magnetic nanoparticles for removal of toxic metal ions and bacterial pathogens. J Hazard Mater 192:1539–1547

Fan FL, Qin Z, Bai J, Rong WD, Fan FY, Tian W, Wu XL, Wang Y, Zhao L (2012) Rapid removal of uranium from aqueous solutions using magnetic Fe3O4@SiO2 composite particles. J Environ Radioact 106:40–46

Shin S, Jang J (2007) Thiol containing polymer encapsulated magnetic nanoparticles as reusable and efficiently separable adsorbent for heavy metal ions. Chem Commun 41:4230–4232

Oliveira LCA, Petkowicz DI, Smaniotto A, Pergher SBC (2004) Magnetic zeolites: a new adsorbent for removal of metallic contaminants from water. Water Res 38:3699–3704

Xin XD, Wei Q, Yang J, Yan LG, Feng R, Chen GD, Du B, Li H (2012) Highly efficient removal of heavy metal ions by amine-functionalized mesoporous Fe3O4 nanoparticles. Chem Eng J 184:132–140

Tartaj P, Gonzmlez-Carreæo T, Serna CJ (2001) Single-step nanoengineering of silica coated maghemite hollow spheres with tunable magnetic properties. Adv Mater 13:1620–1624

Lu Z, Dai J, Song X, Wang G, Yang W (2008) Facile synthesis of Fe3O4/SiO2 composite nanoparticles from primary silica particles. Colloids Surf A 317:450–456

Zhang H, Liu DL, Zeng LL, Li M (2013) β-Cyclodextrin assisted one-pot synthesis of mesoporous magnetite Fe3O4@C and their excellent performance for the removal of Cr(VI) from aqueous solutions. Chin Chem Lett 24:341–343

Zheng J, Liu ZQ, Zhao XS, Liu M, Liu X, Chu W (2012) One-step solvothermal synthesis of Fe3O4@C core–shell nanoparticles with tunable sizes. Nanotechnology 23:165601–165608

Cheng K, Zhou YM, Sun ZY, Hu HB, Zhong H, Kong XK, Chen QW (2012) Synthesis of carbon-coated, porous and water-dispersive Fe3O4 nanocapsules and their excellent performance for heavy metal removal applications. Dalton Trans 41:5854–5861

Mori K, Kondo Y, Morimoto S, Yamashita H (2008) Synthesis and multifunctional properties of superparamagnetic iron oxide nanoparticles coated with mesoporous silica involving single-site Ti-oxide moiety. J Phys Chem C 112:397–404

Peng GW, Ding DX, Hu N, Yang YS, Wang XL (2012) Adsorption properties and mechanism of Saccharomyces cerevisiae loaded by Nano-Fe3O4 on Uranium. Chin J Nonferrous Met 22(2):0609–0614

Silverstein RM, Webster FX (1998) Spectrometric identification of organic compounds, 6th edn. Wiley, New York

Zhao YG, Shen HY, Pan SD, Hu MQ (2010) Synthesis, characterization and properties of ethylenediamine-functionalized Fe3O4 magnetic polymers for removal of Cr(VI) in waste water. J Hazard Mater 182:295–302

Kapoor A, Viraraghavan T (1997) Heavy metal biosorption sites in Aspergillus niger. Bioresour Technol 61:221–227

Wang G, Liu J, Wang X, Xie Z, Deng N (2009) Adsorption of uranium(VI) from aqueous solution onto cross-linked chitosan. J Hazard Mater 168:1053–1058

Wang YQ, Zhang ZB, Liu YH, Cao XH, Liu YT, Li Q (2012) Adsorption of U(VI) from aqueous solution by the carboxyl-mesoporous carbon. Chem Eng J 246-253:198–199

Yusan S, Akyil S (2008) Sorption of uranium(VI) from aqueous solutions by akaganeite. J Hazard Mater 160:388–395

Sarin V, Pant KK (2006) Removal of chromium from industrial waste by using eucalyptus bark. Bioresour Technol 97:15–20

Anirudhan TS, Divya L, Suchithra PS (2009) Kinetic and equilibrium characterization of uranium(VI) adsorption onto carboxylate-functionalized poly(hydroxyethylmethacrylate)-grafted lignocellulosics. J Environ Manag 90:549–560

Guo S, Li D, Zhang L, Li J, Wang E (2009) Monodisperse mesoporous superparamagnetic single-crystal magnetite nanoparticles for drug delivery. Biomaterials 30:1881–1889
Acknowledgments
This work was financially supported by the National Natural Science Foundation of China (Nos. 11205084, 11275090), the Foundation of Hunan Province Science and Technology Department (2012GK3132, 2014GK3079), and the Hunan Provincial Key Laboratory of Materials Protection for Electric Power and Transportation (No. 2014CL07), Changsha University of Science and Technology, People's Republic of China. The helpful comments from anonymous reviewers are also gratefully acknowledged.
About this article
Cite this article
Peng, G.W., Ding, D.X., Xiao, F.Z. et al. Adsorption of uranium ions from aqueous solution by amine-group functionalized magnetic Fe3O4 nanoparticle. J Radioanal Nucl Chem 301, 781–788 (2014). https://doi.org/10.1007/s10967-014-3278-8
Received:

Published:

Issue Date:

DOI: https://doi.org/10.1007/s10967-014-3278-8
Keywords
Uranium ions

Amine-functionalization

Adsorption isotherm

Adsorption kinetics

Thermodynamics