Abstract
Biosorption of thorium(IV) from aqueous solution by Cystoseira indica alga was investigated in batch and fixed-bed column experiments. In the batch study the effects of pH and initial concentration were investigated. The optimum pH for Th(IV) biosorption was found to be 3.5. The experimental isotherms obtained at different pH conditions were analyzed using three two-parameter models and three three-parameter models. Among the two-parameter models the Langmuir model and among the three-parameter models the Redlich–Peterson model vividly described the equilibrium data. The results showed that C. indica alga is a homogeneous biosorbent and Th(IV) biosorption is a favorable and physical process. The maximum biosorption capacity from the Langmuir model was 151.3, 195.7 and 120.6 mg/g at pH 2.5, 3.5 and 4.5, respectively. The continuous isotherm obtained from the column data was modeled by the Langmuir model and the maximum biosorption capacity was 283.8 mg/g. The experimental data were fitted by the use of an analytical and a numerical model, namely Clark and mass transfer models. The results showed that the mass transfer model adequately described the experimental data. Sensitivity analysis revealed that the value of k in has more effect than the axial dispersion coefficient (D z) on the shape of breakthrough curve.
Access options
Buy single article
Instant access to the full article PDF.
USD 39.95
Price excludes VAT (USA)
Tax calculation will be finalised during checkout.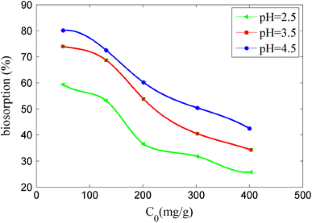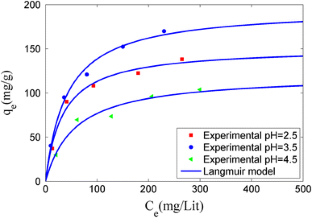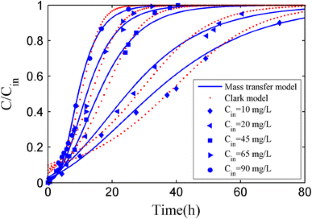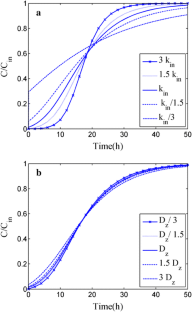 References
Jain VK, Pandya RA, Pillai SG, Shrivastav PS (2006) Talanta 70:257–266

Rao TP, Metilda P, Gladis JM (2006) Talanta 68:1047–1064

Salinas-Pedroza MG, Olguin MT (2004) J Radioanal Nucl Chem 260(1):115–118

Anirudhan TS, Rijith S, Tharun AR (2010) Colloids Surf A 368:13–22

Bozkurt SS, Molu ZB, Cavas L, Merdivan M (2011) J Radioanal Nucl Chem 288:867–874

Zou WH, Zhao L, Zho L (2012) J Radioanal Nucl Chem 292:1303–1315

Fu F, Wang Q (2011) J Environ Manag 92:407–418

Wang JL, Chen C (2009) Biotechnol Adv 27:195–226

Colak F, Atar N, Yazicioglu D, Olgun A (2011) Chem Eng J 173:422–428

Farooq U, Kozinski JA, Khan MA, Athar M (2010) Bioresour Technol 101:5043–5053

Faghihiyan H, Peyvandi S (2012) J Radioanal Nucl Chem 293:463–468

Vijayaraghavan K, Yun Y-S (2008) Biotechnol Adv 26:266–291

Demirbas A (2008) J Hazard Mater 157:220–229

Erkaya IK, Arica MY, Akbulut A, Bayramoglu (2011) J Radioanal Nucl Chem 299:1993–2003

Oguz E, Ersoy M (2010) Chem Eng J 164:56–62

Vimala R, Charumathi D, Das N (2011) Desalination 275:291–296

Das N (2010) Hydrometallurgy 103:180–189

Foo KY, Hameed BH (2010) Chem Eng J 156:2–10

Sing A, Kumar D, Gaur JP (2012) Water Res 46:779–788

Ghasemi M, Keshtkar AR, Dabbagh R, Safdari SJ (2011) J Hazard Mater 189:141–149

Keshtkar AR, Kafshgari F, Mousavian MA (2012) J Radioanal Nucl Chem 292:501–512

Montazer-Rahmati MM, Rabbani P, Abdolali A, Keshtkar AR (2011) J Hazard Mater 185:401–407

Pahlavanzadeh H, Keshtkar AR, Safdari J, Abadi Z (2010) J Hazard Mater 175:304–310

Kafshgari F, Keshtkar AR, Mousavian MA (2013) Iran J Environ Health Sci Eng 10:14

Ramezani Moghaddama M, Fatemi S, Keshtkar AR (2013) Chem Eng J 23:294–303

Keshtkar AR, Hassani MA (2014) Korean J Chem Eng 31(2):289–295

Davis TA, Volesky B, Mucci A (2003) Water Res 37:4311–4330

Diniz V, Volesky B (2005) Water Res 39:239–247

Costa JFdeSaS, Vilar VJP, Botelho CMS, da Silva EAB, Boaventura RAR (2010) Water Res 44:3946–3958

Bhainsa KC, D'Souza SF (2009) J Hazard Mater 165:670–676

Anirudhan TS, Sreekumari SS, Jalajamony S (2013) J Environ Radioact 116:141–147

Yan SK, Tan N, Yan XM, Chen F, Long W, Lin YC (2013) Mar Pollut Bull 74:213–219

Al-Asheh S, Banat F (2001) Environ Geol 40(6):693–698

Lopez-Mesas M, Navarretea ER, Carrillo F, Palet C (2011) Chem Eng J 174:9–17

Febrianto J, Kosasih AN, Sunarso J, Ju Y-H, Indraswatib N, Ismadji S (2009) J Hazard Mater 162:616–645

Tsezos M, Volesky B (1981) Biotechnol Bioeng 23:583–604

Gadd GM, White C (1989) Environ Pollut 61:187–197

Hanif MA, Nadeem R, Bhatti HN, Ahmad NR, Ansari TM (2007) J Hazard Mater B 139:345–355

Chibana M, Soudani A, Sinan F, Persin M, Single (2011) Colloid Surf B 82:267–276

Ibrahima HS, Jamil TS, Hegazy EZ (2010) J Hazard Mater 182:842–884

Repo E, Petrus R, Sillanpaa M, Warchoł JK (2011) Chem Eng J 172:376–385

Dursun AY (2006) Biochem Eng J 28:187–195

Vijayaraghavan K, Padmesh TVN, Palanivelu K, Velan M (2006) J Hazard Mater B 133:304–308

Hamdaoui O, Naffrechoux E (2007) J Hazard Mater 147:401–411

Oubagaranadin JUK, Murthy ZVP (2010) Appl Clay Sci 50:409–413

Karimi M, Shojaei A, Nematollahzadeh A, Abdekhodaie MJ (2012) Chem Eng J 210:280–288

Kleinubing SJ, da Silva EA, da Silva MGC, Guibal E (2011) Bioresour Technol 102:4610–4617

Saha PD, Chakraborty S, Chowdhury S (2012) Colloids Surf B 92:262–270

Izquierdo M, Gabaldon C, Marzal P, Alvarez-Hornos FJ (2010) Bioresour Technol 101:510–517

da Silva EA, Cossich ES, Tavares CRG, Filho LC, Guirardello R (2002) Process Biochem 38:791–799

Barrosa MASD, Silva EA, Arroyo PA, Tavares CRG, Schneider RM, Suszekb M, Sousa-Aguiar EF (2004) Chem Eng Sci 59:5959–5966

Ozdural AR, Alkan A, Kerkhof PJAM (2004) J Chromatogr A 1041:77–85

Acheampong MA, Pakshirajan K, Annachhatre AP, Lens PNL (2013) Ind Eng Chem 19:841–848
About this article
Cite this article
Riazi, M., Keshtkar, A.R. & Moosavian, M.A. Batch and continuous fixed-bed column biosorption of thorium(IV) from aqueous solutions: equilibrium and dynamic modeling. J Radioanal Nucl Chem 301, 493–503 (2014). https://doi.org/10.1007/s10967-014-3129-7
Received:

Published:

Issue Date:

DOI: https://doi.org/10.1007/s10967-014-3129-7
Keywords
Biosorption

Th(IV)

Cystoseira indica alga

Mass transfer model

Fixed-bed column