Abstract
A study to evaluate conditions affecting the determination of 90Sr/90Y activities in liquid samples by the triple-to-double coincidence ratio (TDCR) Cherenkov counting technique was conducted. The Cherenkov radiation produced by the 90Y beta decay was determined using a commercially available Hidex 300 SL liquid scintillation counter. The interferences of sample geometry, including sample counting vial type and volume composition, and sample colour on the TDCR were investigated. The effects of potentially interfering beta and mixed beta–gamma emitters on the TDCR Cherenkov counting of 90Sr/90Y activities were also examined. The TDCR values were used to quantify counting efficiencies of 90Y under different experimental conditions. The results demonstrated that the Cherenkov counting efficiency of 90Y is independent of sample volume and counting vial size. The effect of colour quenching was examined using yellow and brown food-grade dyes. The TDCR correction for colour quenching was found to be effective. An evaluation of counting efficiency of different beta-emitting radionuclides demonstrated that strong gamma emissions can contribute to the Cherenkov counting efficiency. Overall, measured radioactivity values deviated from reference values by ≤7.5 %, which is acceptable for screening applications in emergency situations.
This is a preview of subscription content, log in to check access.
Access options
Buy single article
Instant access to the full article PDF.
US$ 39.95
Price includes VAT for USA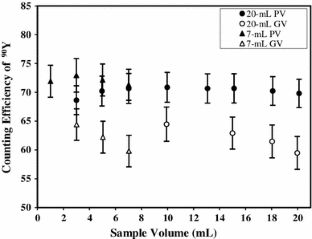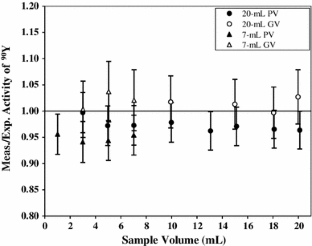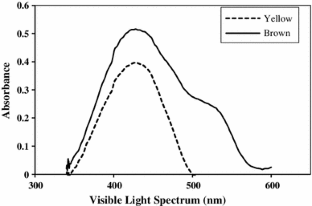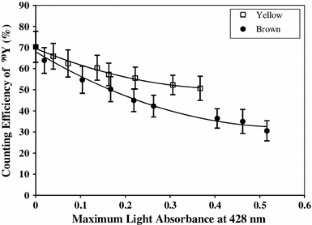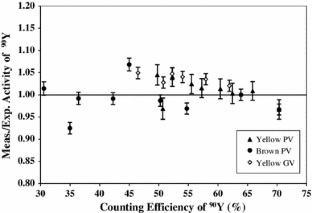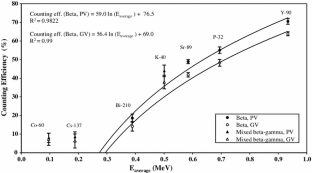 References
1.

Human health fact sheet on strontium (2006) Argonne National Laboratory, Environmental Science Division. http://www.evs.anl.gov. Accessed 29 Jan 2013

2.

Scarpitta SC, Fisenne IM (1996) Cherenkov counting as a complement to liquid scintillation counting. Appl Radiat Isot 47:795–800

3.

Stamoulis KC, Ioannides KG, Karamanis DT, Patiris DC (2007) Rapid screening of 90Sr activity in water and milk samples using Cherenkov radiation. Environ Radioact 93:144–156

4.

Vaca F, Manjon G, Garcia-Leion M (1998) Efficiency calibration of a liquid scintillation counter for 90Y Cherenkov counting. Nucl Instrum Methods Phys Res A 406:267–275

5.

Wiebe LI, McQuarrie SA, Ediss C, Maier-Borst W, Helus F (1980) Liquid scintillation counting of radionuclides emitting high-energy beta radiation. J Radioanal Nucl Chem 60:385–394

6.

Kossert K (2010) Activity standardization by means of a new TDCR-Cherenkov counting technique. Appl Radiat Isot 68:1116–1120

7.

Kellogg TF (1983) The effect of sample composition and vial type on Cherenkov counting in a liquid scintillation counter. Anal Biochem 134:137–143

8.

L'Annunziata MF, Passo CJ (2002) Cherenkov counting of yttrium-90 in the dry state; correlations with phosphorus-32 Cherenkov counting data. Appl Radiat Isot 56:907–916

9.

Guzzi G, Pietra R, Sabbioni E, Girardi F (1974) Cherenkov counting rates of radionuclides for activation analysis purposes. J Radioanal Nucl Chem 20:751–767

10.

Rao DD, Sudheendran V, Baburajan A, Chandramouli S, Hegde AG, Mishra UC (2000) Measurement of high energy gross beta and 40K by Cherenkov counting in liquid scintillation analyser. J Radioanal Nucl Chem 243:651–655

11.

Rao DD, Mehendarge ST, Chandramouli S, Hegde AG, Mishra UC (2000) Application of Cherenkov radiation counting for determination of 90Sr in environmental samples. Envioron Radioact 48:49–57

12.

Horwitz EP, Dietz ML, Chiarizia R (1992) The application of novel extraction chromatographic materials to the characterization of radioactive waste solutions. J Radioanal Nucl Chem 161:575–583

13.

Dai X, Cui Y, Kramer-Tramblay S (2013) A rapid method for determining strontium-90 in urine samples. J Radioanal Nucl Chem 296:363–368

14.

Groska J, Molnár Z, Bokori E, Vajda N (2012) Simultaneous determination of 89Sr and 90Sr: comparison of methods and calculation techniques. J Radioanal Nucl Chem 291:707–715

15.

Grahek Z, Karanović G, Nodilo M (2012) Rapid determination of 89,90Sr in wide range of activity concentration by combination of yttrium, strontium separation and Cherenkov counting. J Radioanal Nucl Chem 292:555–569

16.

Maxwell SL, Kulligan BK (2009) New column separation method for emergency urine samples. J Radioanal Nucl Chem 279:105–111

17.

Olfert JM, Dai X., Kramer-Tramblay S (2013) Rapid determination of 90Sr/90Y in water samples by liquid scintillation and Cherenkov counting. J Radioanal Nucl Chem. doi:10.1007/s10967-013-2913-0
Acknowledgments
The authors acknowledge the financial support from the Atomic Energy of Canada Limited.
About this article
Cite this article
Tayeb, M., Dai, X., Corcoran, E.C. et al. Evaluation of interferences on measurements of 90Sr/90Y by TDCR Cherenkov counting technique. J Radioanal Nucl Chem 300, 409–414 (2014). https://doi.org/10.1007/s10967-013-2910-3
Received:

Published:

Issue Date:
Keywords
Cherenkov counting

Strontium-90

Yttrium-90

Triple-to-double coincident ratio

Colour quenching