Abstract
Concentrations of 238U, 232Th, 226Ra, 40K and 137Cs are measured in collected soil samples from various locations in the Thrace region of Turkey. The activity concentrations range from 12.82 to 101.75 Bq kg−1 d.w. (dry weight) for 238U, from 5.16 to 73.34 Bq kg−1 d.w. for 232Th, from 185.54 to 5399 Bq kg−1 d.w. for 40K and from 11.42 to 90.73 Bq kg−1 d.w. for 226Ra. In addition to naturally occurring radionuclides, 137Cs activity concentration is determined between 3.05 and 46.78 Bq kg−1 d.w. for soil samples. Determination of the radiological hazard is achieved through calculations of the external terrestrial gamma dose rate in air (nGy h−1) and annual effective dose rate (mSv year−1) and the results are compared with the similar works in different countries.
Access options
Buy single article
Instant access to the full article PDF.
US$ 39.95
Tax calculation will be finalised during checkout.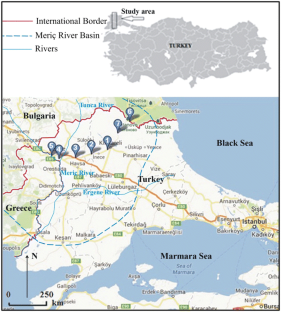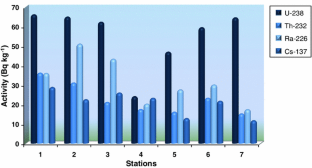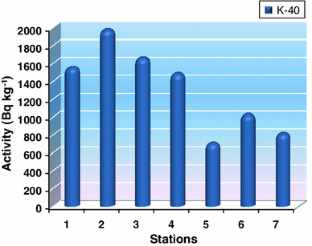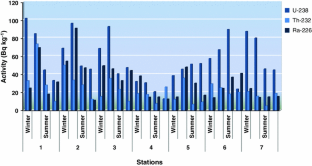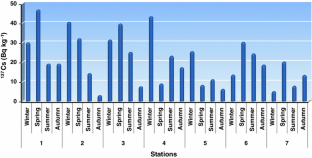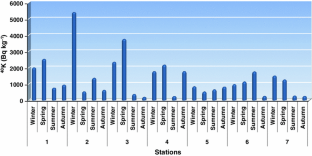 References
1.

Alvarez MC, Vivero MTD (1998) Natural radionuclide contents in Spanish coals of different rank. Fuel 77:1427–1430

2.

Lakehal Ch, Ramdhane M, Boucenna A (2010) Natural radionuclide concentrations in two phosphate ores of east Algeria. J Environ Radioact 101:377–379

3.

Taşkin H, Karavus M, Ay P, Topuzoglu A, Hidiroglu S, Karahan G (2009) Radionuclide concentrations in soil and lifetime cancer risk due to gamma radioactivity in Kirklareli, Turkey. J Environ Radioact 100:49–53

4.

Vanden Bygaart AJ, Protz R, Tomlin AD, Miller JJ (1998) 137Cs as an indicator of earthworm activity in soils. Appl Soil Ecol 9:167–173

5.

Çelik N, Çevik U, Çelik A, Koz B (2009) Natural and artificial radioactivity measurements in Eastern Black Sea region of Turkey. J Hazard Mater 162:146–153

6.

Yii MW, Zaharudin A, Abdul-Kadir I (2009) Distribution of naturally occurring radionuclides activity concentration in East Malaysian marine sediment. Appl Radiat Isotopes 67:630–635

7.

Külahcı F, Şen Z (2009) Spatio-temporal modeling of 210Pb transportation in lake environments. J Hazard Mater 165:525–532

8.

UNSCEAR (2000) Sources and effects of ionizing radiation. United Nations Scientific Committee on the effects of atomic radiation. Report to General Assembly with Scientific Annexes. United Nations, New York

9.

Kurnaz A, Küçükömeroglu B, Damla N, Çevik U (2011) Radiological maps for Trabzon, Turkey. J Environ Radioact 102:393–399

10.

Tsai TL, Liu CC, Chuang CY et al (2011) The effects of physico-chemical properties on natural radioactivity levels, associated dose rate and evaluation of radiation hazard in the soil of Taiwan using statistical analysis. J Radioanal Nucl Chem 288:927–936

11.

UNSCEAR (1988) United Nations Scientific Committee on The effects of atomic radiation, sources and biological effects of ionizing radiation. United Nations, New York

12.

Sezen N, Gündüz N, Malkarali S (2007) Meriç river floods and Turkish–Bulgarian cooperations, international congress on river basin management congress book. http://www2.dsi.gov.tr/english/congress2007. Accessed 12 June 2013

13.

Pfister H, Philipp G, Pauly H (1976) Population dose from natural radionuclides in phosphate fertilizers. Radiat Environ Biophys 13:247–261

14.

Ahmed NK, El-Arabi AGM (2005) Natural radioactivity in farm soil and phosphate fertilizer and its environmental implications in Qena governorate, Upper Egypt. J Environ Radioact 84:51–64

15.

Valkovic V (2000) Radioactivity in the environment. Elsevier, Hardbound

16.

Yu KN, Guan ZJ, Stokes MJ, Young ECM (1992) The assessment of the natural radiation dose committed to the Hong Kong people. J Environ Radioact 17:31–48

17.

Karahan G, Bayulken A (2000) Assessment of gamma dose rates around Istanbul (Turkey). J Environ Radioact 47:213–221

18.

Selvasekarapandian S, Sivakumar R, Manikandan NM et al (2000) Natural radionuclide distribution in soils of Gudalore, India. Appl Radiat Isotopes 52:299–306

19.

Kannan V, Rajan MP, Iyengar MAR, Ramesh R (2002) Distribution of natural and anthropogenic radionuclides in soil and beach sand samples of Kalpakkam (India) using hyper pure germanium (HPGe) gamma ray spectrometry. Appl Radiat Isotopes 57:109–119

20.

Yarar P, Kam E (2005) Environmental radioactivity concentrations of Tekirdag. Int Congr Ser 1276:387–389

21.

Kurnaz A, Küçükömeroglu B, Keser R et al (2007) Determination of radioactivity levels and hazards of soil and sediment samples in Firtina Valley (Rize, Turkey). J Radioanal Nucl Chem 65:1281–1289

22.

Saç MM, Ortabuk F, Kumru MN, İçhedef M, Sert Ş (2012) Determination of radioactivity and heavy metals of Bakirçay river in Western Turkey. Appl Radiat Isotopes 70:2494–2499

23.

Yalcin P, Taskin H, Kam E et al (2012) Investigation of radioactivity level in soil and drinking water samples collected from the city of Erzincan, Turkey. J Radioanal Nucl Chem 292:999–1006

24.

Doğru M, Külahcı F (2004) Iso-radioactivity curves of the water of the Hazar Lake, Elazig, Turkey. J Radioanal Nucl Chem 260:557–562

25.

UNSCEAR (1993) United Nations Scientific Committee on the Effects of Atomic Radiation, Sources and effects of ionizing radiation United Nations Scientific Committee on the Effects of Atomic Radiation. United Nations, New York

26.

Ekdal E, Karali T, Saç MM (2006) 210Po and 210Pb in soils and vegetables in Kucuk Menderes basin of Turkey. Radiat Meas 41:72–77

27.

Fajkovic H, Mikelic IL, Prohic E (2013) Vertical distribution of K-40, Th-232, and Cs-137 mass activities in lake sediment (Vransko Lake, Croatia) and their relationship with the source material and sedimentation. J Radioanal Nucl Chem 295:2273–2282
Acknowledgments
We would like to thank the handling editor Tibor Braun and two serious reviewers for the final comments and suggestions.
About this article
Cite this article
Aközcan, S., Yılmaz, M. & Külahcı, F. Dose rates and seasonal variations of 238U, 232Th, 226Ra 40K and 137Cs radionuclides in soils along Thrace, Turkey. J Radioanal Nucl Chem 299, 95–101 (2014). https://doi.org/10.1007/s10967-013-2730-5
Received:

Published:

Issue Date:
Keywords
Natural radionuclide

Uranium

Thorium

Radium

Cesium

Potassium

Soil