Abstract
The uranium mine and mill at Žirovski vrh, Slovenia, operated from 1982 to 1990. After processing, the uranium mill tailings were deposited onto the Boršt waste pile lying close to the mine. Radioecological studies focused on assessing the mobility and bioavailability of deposited radionuclides were initiated some five years ago. The mobility of 238U, 234U, 230Th and 226Ra in soil was studied by applying sequential extraction protocols. The highest activity concentrations were found at the bottom of the waste pile. Uranium isotopes were the most mobile, followed by 226Ra whose mobility appeared to be suppressed by high sulphate concentrations and 230Th. The wetland plants grown in soils contaminated with seepage waters from the tailings contained higher levels of 238U, 226Ra and 230Th compared to plants from a control site. The activity concentration of 226Ra was the highest in all studied plant species. The radiological risk to wildlife around the mine area as assessed by the ERICA Tool was negligible. Activity concentrations in bovine milk from the area of Žirovski vrh were comparable to the reference location, except for uranium where the content was higher. The combined annual effective dose for adults consuming milk from the Žirovski vrh area is 13.0 ± 1.7 μSv a−1.
This is a preview of subscription content, log in to check access.
Access options
Buy single article
Instant access to the full article PDF.
US$ 39.95
Price includes VAT for USA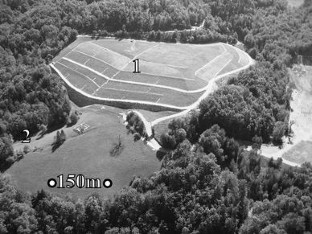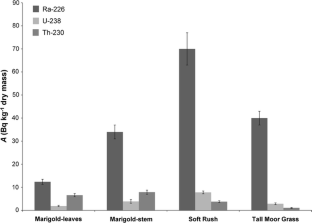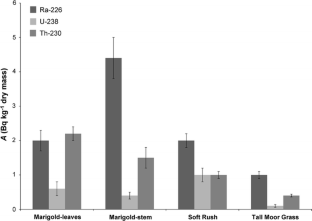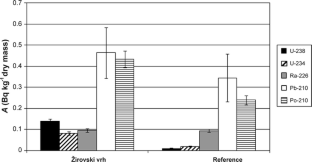 References
1.

Florjančič AP (2000) Rudnik urana Žirovski vrh. Didakta, Radovljica in Slovene

2.

Križman M, Byrne AR, Benedik L (1995) J Environ Radioact 26:223–235

3.

ISO 11464:1994(E) (1994) Soil quality—Pretreatment of samples for physic-chemical analyses. International Organisation for Standarisation, Geneve

4.

Schultz MK, Burnett WC, Inn KGW (1998) J Environ Radioact 40:155–174

5.

Rauret G, López-Sánchez JF, Sahuquillo A, Rubio R, Davidson C, Ure A, Quevauviller PH (1999) J Environ Monit 1:57–61

6.

Štrok M, Smodiš B (2010) Radiochim Acta 98:221–229

7.

Štrok M, Smodiš B (2011) Nucl Eng Des 241:1277–1281

8.

Štrok M, Repinc U, Smodiš B (2008) J Power Energy Syst 2:573–581

9.

Jaćimović R, Smodiš B, Bučar T, Stegnar P (2003) J Radioanal Nucl Chem 257:659–663

10.

Memon AR, Schröder P (2009) Environ Sci Pollut Res 16:162–175

11.

Deng H, Ye ZH, Wong MH (2004) Environ Pollut 132:29–40

12.

Archer MJG, Caldwell RA (2004) Water Air Soil Pollut 167:257–267

13.

Anawar HM, Garcia-Sanchez A, Murciego A, Buyolo T (2006) Environ Geol 50:170–179

14.

Chen SB, Zhu YG, Hu QH (2005) J Environ Radioact 82:223–236

15.

Soudek P, Petrová Š, Benešová D, Kotyza J, Vágner M, Vaňková R, Vanĕk T (2008) J Environ Radioact 101:446–450

16.

Chao JH, Lee HP, Chiu CY (2006) Chemosphere 62:1656–1664

17.

Madruga MJ, Brogueira A, Alberto G, Cardoso F (2001) J Environ Radioact 54:175–188

18.

Million JB, Sartain JB, Gonzales RX, Carrier WD (1994) J Environ Qual 23:671–676

19.

Kopp P, Oestling P, Burkart W (1989) Toxicol Environ Chem 23:53–63

20.

Linsalata P, Mores RS, Ford H, Eisenbud M, Penna Franca E, De Castro MB, Lobao N, Sachett I, Carlos M (1989) Health Phys 56:33–46

21.

Brown JE, Alfonso B, Avila R, Beresford NA, Copplestone D, Pröhl P, Ulanovsky A (2008) J Environ Radioact 99:1371–1383

22.

IAEA (2003) Safety Series No. 115

23.

Omahen G, Benedik L, Repinc U (2006) Measurements of the radioactivity in the Žirovski vrh uranium mine environment and assessment of its environmental impacts—results for 2005. Jožef Stefan institute, Ljubljana IJS-DP-9342 (in Slovene)
Acknowledgments
The authors would like to thank the staff of the Rudnik Žirovski vrh company for their cooperation and assistance. The financial support of the Slovenian Research Agency (Grant No. P2-0075) is highly appreciated.
About this article
Cite this article
Smodiš, B., Štrok, M. & Černe, M. Radioecology around a closed uranium mine. J Radioanal Nucl Chem 299, 765–771 (2014). https://doi.org/10.1007/s10967-013-2697-2
Received:

Published:

Issue Date:
Keywords
Uranium mine

Natural radionuclides

Mobility

Sequential extraction

Wetland plants

Milk

ERICA Tool